Master of Business Administration Essay Sample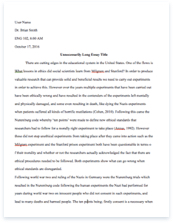 The whole doc is available only for registered users
OPEN DOC
Download Essay
Get Full Essay
Get access to this section to get all the help you need with your essay and educational goals.
Get Access
Master of Business Administration Essay Sample
Q1.What are the objectives of job evaluation?
Answer : Objectives of Job Evaluation
The decision to measure or rate jobs should only be made with the intent to reach certain objectives which are important to both management and the employee. Although there are many side benefits of job evaluation, the purpose is to work towards a solution of the many wage and compensation related administrative problems which confront the industry. The below-mentioned are some of the important objectives of a job evaluation program: 1. Establishment of sound salary differentials between jobs differentiated on the skills required. 2. Identification and elimination of salary-related inequities. 3. Establishment of sound foundation for variable pay such as incentive and bonus. 4. Maintenance of a consistent career and employee growth policy/ guidelines. 5. In organizations with active unions, creation of a method of job classification, so that management and union officials may deal with major and fundamental wage issues during negotiations and grievance meetings. 6. Collection of job facts
a. Selection of employees
b. Promotion and transfer of employees
c. Training of new employees
d. Assignment of tasks to jobs
e. Improving working conditions
f. Administrative organization, and
g. Work simplification.
There are many established methods to carry out job evaluation in a scientific manner. A four-fold system of classifying evaluation systems is presented here. Two are described as non-quantitative and two as quantitative. 1. Non-quantitative evaluation measures,
a. The ranking system.
b. The job-classification system.
2. Quantitative evaluation measures
c. The point system.
d. The factor-comparison system.
Q2.Explain the need for human resource planning.
Human Resource Planning is a mandatory part of every organization's annual planning process. Every organization that plans for its business goals for the year also plans for how it will go about achieving them, and therein the planning for the human resource:1. To carry on its work, each organization needs competent staff with the necessary qualifications, skills, knowledge, work experience and aptitude for work.2. Since employees exit and organization both naturally (as a result of superannuation) and unnaturally (as a result of resignation), there is an on-going need for hiring replacement staff to augment employee exit. Otherwise, work would be impacted.3. In order to meet the need for more employees due to organizational growth and expansion, this in turn calls for larger quantities of the same goods and services as well as new goods.
This growth could be rapid or gradual depending on the nature of the business, its competitors, its position in the market and the general economy.4. Often organizations might need to replace the nature of the present workforce as a result of its changing needs, therefore the need to hire new set of employees. To meet the challenge of the changed needs of technology / product/service innovation the existing employees need to be trained or new skill sets induced into the organization.5. Manpower planning is also needed in order to identify an organizations need to reduce its workforce. In situations where the organization is faced with severe revenue and growth limitations it might need to plan well to manage how it will reduce its workforce. Options such as redeployment and outplacement can be planned for and executed properly.
Q3. What are the factors that impact recruitment in organizations? Answer:
The influence of the various factors, as described above, be modified through goal directed recruitment efforts and career guidance? Recruitment efforts of various kinds have been launched by ministries, educational authorities, individual institutions, business and organizations in a number of countries. The various initiatives may be sorted along a continuum from (on one end of the scale) those that aim to recruit more students to existing programs, to (on the other end of the scale) those that involve changing the contents, contexts and teaching/learning approaches in order to attract more students in general and women in particular.
Assignment Set2
Q1.Trace out the growth of Human Resource Management in India. Answer:
Development of Human Resources Expanding the supply of highly skilled and knowledge manpower to support the development of a knowledge based economy through the expansion of education and training. The education system will be reoriented to enable students to acquire a higher level of explicit knowledge as well as thinking and entrepreneurial skills. Increasing the accessibility to quality education and training to enhance income generation capabilities and quality of life. Accessibility to education will be increased through the construction of centralized schools in remote areas as well as provision of adequate facilities, infrastructure and trained teachers. Improving the quality of education and training delivery system to ensure that manpower supply is in line with technological change and market demand. The schools curriculum will be reviewed to generate creativity and independent learning among students as well as incorporate new aspects of knowledge and technology and more innovative teaching methods.
Promoting lifelong learning to enhance employability and productivity of the labor force. Employers will be encouraged to promote lifelong learning through training and retraining to equip workers with new skills and knowledge. Optimizing the utilization of local labor. Efforts will be made to increase participation rate of women in the labor force by setting up facilities such as kindergartens and ensuring better access to training opportunities. Efforts will also be made to reduce dependence on foreign workers. Increasing the supply of S&T manpower. The capacity of S&T education and training programmers will be expanded and enrolment increased to achieve the 60:40 ratio of Science to Arts students in order to create critical mass of S&T personnel. Accelerating the implementation of the Productivity-Linked Wage System(PLCS). hence hrd has gained importance at present time.
Q5.Assume yourself as an HR Manager of a publishing house. You find that the morale of the employees is generally low. What steps would you take to improve employee morale? Answer:
Stage 1 – Listen Get feedback and ideas.
Stage 2 – Communicate with solutions to business issues and employee concerns. Stage 3 – Recognize business and employee accomplishments and successes. Stage 4: Listen to employees Relationships between the organization and employees are fractured following a period of upheaval. And this situation won't improve on its own. Companies must take a proactive approach, beginning with listening to employees and getting their concerns out into the open. Leaders must acknowledge employee issues and be motivated to make improvements. Of vital importance is publicizing that employee feedback is encouraged and necessary and that the organization values their ideas. Decide the messages behind the listening activities deployed, and use them consistently, for example: We know staff morale is low and want your help. We need to save money and are looking for ideas on how to best achieve that. We want to add to our top line and need your feedback on opportunities to look at. Leaders should be visible, approachable and well-briefed, so that they canfield employee questions. Interaction should be face-to-face whenever possible.
Key messages should also be developed and be used as part of regular, ongoing communication activities. Managers need to believe in and support all listening activities. They should be briefed on the rationale and approach for these activities before they meet with employees, and asked for their ideas on how listening activities should be implemented. Leaders should be visible, approachable and well briefed, so they can field questions. Listening activities Employee survey – This can encompass routinely scheduled company surveys or those designed expressly to communicate change. Employee discussion/focus groups – Include as many employees as possible. Managers with the right people skills (listening, questioning, for example) can be trained to run these groups. Management discussion groups – Led by a facilitator, these sessions are designed specifically as management briefings. Managers are guided through a process that will enable them to run employee discussion groups and to get feedback on specific topics. (This approach works best with cost saving or similar topics, rather than morale and trust issues.)
Stage 2: Communicate your solutions to business issues and employee concerns The next stage is communication. The listening activities should have created lots of ideas and feedback. In this stage, it's important to build a shared understanding of your company's future, including substantive solutions to business issues and progress being made. Build a shared understanding of your company's future, including solutions to business issues and progress being made. Who does what in stage 2?Company leaders focus on addressing concerns expressed by employees in the listening stagehand briefing managers on issues. The purpose is to create a shared understanding of the challenges and solutions facing the organization. Managers undertake specific efforts to communicate these outputs. They must create opportunities for dialogue and discussion, which leads to higher levels of employee engagement. Managers should also assure employees that they can expect honest and timely information. They should show their willingness to discuss anything on employees' minds and help employees feel comfortable asking questions and sharing solutions. Employee advisory work groups should be set up to address a number of challenges most critical to the organization.
Because this program thrives on momentum, these groups should have clear objectives and a limited shelf life. Potential activities must be honed down to focus only on their most important issues. A kick-off meeting can define the team's scope, role and timescales. Work groups should also encourage leaders to communicate progress through all communication channels. Communication activities. Public forums – Communication should take place in person through Town Hall and team meetings, site visits and brown bag lunches. Gossip is curtailed if managers become more transparent with performance data, such as sales figures and customer information. A highly visible and approachable leadership team shows that senior management cares about its workers. This alone serves to foster a more positive employee work environment. One-on-One dialogues – Discussions between managers and direct reports enhance personal communication and increase trust. Electronic media – Emails, web casts and other means of rapidly reaching out across boundaries should be employed to reinforce messages and speed the flow of information.
Stage 3: Recognize business and employee accomplishments and successes. Focusing on quick wins and success stories and recognizing employee accomplishments will help keep morale as high as possible. No one is immune from becoming despondent and unproductive when they work in a doom and gloom environment. Negativity is often exacerbated outside the workplace by personal issues and a constant onslaught of negative news stories. Focusing on quick wins and success stories and recognizing employee accomplishments will help keep morale as high as possible. Leaders and managers seek out successes and recognize and thank employees for their contributions to the company and/or team initiatives.
Every effort should be made to point out quick wins, for example, a project deadline met, a new order placed, or success in a key objective. Recognition activities Formal initiatives – include established companywide recognition programs as well as rewards such as small bonuses and plaques. Informal gestures – include such things as a warm "thank you" for a job well done, or a congratulatory email or hand-written note. Public recognition -includes acknowledging an employee or work group's contributions in a meeting with their peers, or in company publications. Being recognized publicly often has the added bonus of encouraging and motivating peers to strive for similar successes
Q3.Explain the general procedures followed in the case of a disciplinary action. Answer: Keys to handling disciplinary issues in the workplace Establish the facts of each case It is important to carry out necessary investigations of potential disciplinary matters without unreasonable delay to establish the facts of the case. In some cases this will require the holding of an investigatory meeting with the employee before proceeding to any disciplinary hearing. In others, the investigatory stage will be the collation of evidence by the employer for use at any disciplinary hearing. In misconduct cases, where practicable, different people should carry out the investigation and disciplinary hearing. If there is an investigatory meeting this should not by itself result in any disciplinary action. Although there is no statutory right for an employee to be accompanied at a formal investigatory meeting, such a right may be allowed under an employer's
own procedure. In cases where a period of suspension with pay is considered necessary, this period should be as brief as possible, should be kept under review and it should be made clear that this suspension is not considered a disciplinary action. Inform the employee of the problem. If it is decided that there is a disciplinary case to answer, the employee should be notified of this in writing. This notification should contain sufficient information about the alleged misconduct or poor performance and its possible consequences to enable the employee to prepare to answer the case at a disciplinary meeting. It would normally be appropriate to provide copies of any written evidence, which may include any witness statements, with the notification. The notification should also give details of the time and venue for the disciplinary meeting and advise the employee of their right to be accompanied at the meeting. Hold a meeting with the employee to discuss the problem
The meeting should be held without unreasonable delay whilst allowing the employee reasonable time to prepare their case. Employers and employees (and their companions) should make every effort to attend the meeting. At the meeting the employer should explain the complaint against the employee and go through the evidence that has been gathered. The employee should be allowed to set out their case and answer any allegations that have been made. The employee should also be given a reasonable opportunity to ask questions, present evidence and call relevant witnesses. They should also be given an opportunity to raise points about any information provided by witnesses. Where an employer or employee intends to call relevant witnesses they should give advance notice that they intend to do this. Allow the employee to be accompanied at the meeting
Workers have a statutory right to be accompanied by a companion where the disciplinary meeting could result in:
A formal warning being issued; or
The taking of some other disciplinary action; or
The confirmation of a warning or some other disciplinary action (appeal hearings).The chosen companion may be a fellow worker, a trade union representative, or an official employed by a trade union. A trade union representative who is not an employed official must have been certified by their union as being competent to accompany a worker. To exercise the statutory right to be accompanied workers must make reasonable request. What is reasonable will depend on the circumstances of each individual case. However, it would not normally be reasonable for workers to insist on being accompanied by a companion whose presence would not prejudice the hearing nor would it be reasonable for a worker to ask to be accompanied by a companion from a remote geographical location if someone suitable and willing was available on site. The companion should be allowed to address the hearing to put and sum up the worker's case, respond on behalf of the worker to any views expressed at the meeting and confer with the worker during the hearing. The companion does not, however, have the right to answer question son the worker's behalf, address the hearing if the worker does not wish it or prevent the employer from explaining their case. Decide on appropriate action
After the meeting decide whether or not disciplinary or any other action is justified and inform the employee accordingly in writing. Where misconduct is confirmed or the employee is found to be performing unsatisfactorily it is usual to give the employee a written warning. A further act of misconduct or failure to improve performance within a set period would normally result in a final written warning. If an employee's first misconduct or unsatisfactory performance is sufficiently serious, it may be appropriate to move directly to a final written warning. This might occur where the employee's actions have had, or are liable to ha ve, a serious or harmful impact on the organization. A first or final written warning should set out the nature of the misconduct or poor performance and the change in behavior or improvement in performance required (with timescale). The employee should be told how long the warning will remain current. The employee should be informed of the consequences of further misconduct, or failure to improve performance, within the set period following a final warning. For instance that it may result in dismissal or some other contractual penalty such as demotion or loss of seniority. A decision to dismiss should only be taken by a manager who has the authority to do so.
The employee should be informed as soon as possible of the reasons for the dismissal, the date on which the employment contract will end, the appropriate period of notice and their right of appeal. Some acts, termed gross misconduct, are so serious in themselves or have such serious consequences that they may call for dismissal without notice for a first offence. But a fair disciplinary process should always be followed, before dismissing for gross misconduct. Disciplinary rules should give examples of acts which the employer regards as acts of gross misconduct. These may vary according to the nature of the organization and what it does, but might include things such as theft or fraud, physical violence, gross negligence or serious insubordination. Where an employee is persistently unable or unwilling to attend a disciplinary meeting without good cause the employer should make a decision on the evidence available. Provide employees with an opportunity to appeal.
Where an employee feels that disciplinary action taken against them is wrong or unjust they should appeal against the decision. Appeals should be heard without unreasonable delay and ideally at an agreed time and place. Employees should let employers know the grounds for their appeal in writing. The appeal should be dealt with impartially and wherever possible, by a manager who has not previously been involved in the case. Workers have a statutory right to be accompanied at appeal hearings. Employees should be informed in writing of the results of the appeal hearing as soon as possible. Special cases Where disciplinary action is being considered against an employee who is a trade union representative the normal disciplinary procedure should be followed. Depending on the circumstances, however, it is advisable to discuss the matter at an early stage with an official employed by the union, after obtaining the employee's agreement. If an employee is charged with, or convicted of a criminal offence this is not normally in itself reason for disciplinary action. Consideration needs to be given to what effect the charge or conviction has on the employee's suitability to do the job and their relationship with their employer, work colleagues and customers.