Math Strategy for Sixth Grade Students Essay Sample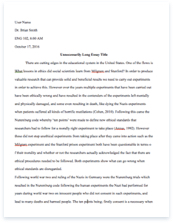 The whole doc is available only for registered users
OPEN DOC
Pages:
Word count: 411
Category: math
Download Essay
A limited time offer!
Get a custom sample essay written according to your requirements urgent 3h delivery guaranteed
Order Now
Math Strategy for Sixth Grade Students Essay Sample
            Grade school Math is considered as a difficult subject by the pupils, especially a sixth-grader math because this would be their foundation as they progress to high school. So teachers have to find ways to make their Math class interesting to their students because since it is a difficult subject, the students who find it hard to comprehend the subject matter would no longer do some ways to improve their weakness. But the responsibility does not really rely on the pupils themselves but mainly to the teachers. So as a consequence, better instructional strategies should be made inside the classroom so that things would be easier for the pupils to comprehend.
            One of the instructional strategies that could be applied by the teacher is by lecturing while encouraging the students to take down notes and writing what they feel. ("Journaling Strand Overview") Taking down notes need exertion and persistence, but if they do take down notes, their knowledge in Math will be increased as they discover the ways to organize their ideas in solving problems in math.
            Another instructional strategy is the is the group work.(Bochert) Group work must be something that the pupils have discussed in their class. Group work lets the student participate in the class because it is a means of letting the students understand in their own ways the topics.
            Another is Panel discussion. (Bergquist, 1975) In panel discussion, there will be a leader who opens and recapitulates the discussion, but the discussion is in an educational way. This is a technique to encourage concentration of the pupils in math and thinking of how each problem can be solved, and it also incites better discussion.
            Some other includes brain storming and picture making. (Bergquist, 1975) Picture making using charts and illustrations can help the student to release ideas and appreciate ideology. Brain storming is also an effective way in instructional strategy because pupils can combine all their ideas to solve a given problem. Brain storming helps liberate in a pupil his or her potentials by thinking of ideas in Math.
References
Bergquist, W. H. P., S.R. (1975). Getting Students involved in the classroom [Electronic Version] from ftp://ftp-fc.sc.egov.usda.gov/NEDC/isd/classroom_structures.pdf.
Bochert, A. Instructional Strategies [Electronic Version] from http://www.personal.kent.edu/~abochert/html/strategies.html.
Instructional Systems Design (ISD) – Assessing the Relevant Characteristics of Learners [Electronic Version] from http://www.nedc.nrcs.usda.gov/isd/isd2.html.
Journaling Strand Overview [Electronic Version] from http://www2.ups.edu/community/tofu/lev1f/jourframe.htm.