Matrix of Theoretical Models Essay Sample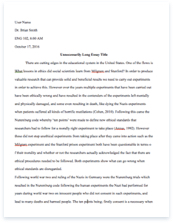 The whole doc is available only for registered users
OPEN DOC
Download Essay
Get Full Essay
Get access to this section to get all the help you need with your essay and educational goals.
Get Access
Matrix of Theoretical Models Essay Sample
Theoretical Model Description of Theoretical Model Type of health care change situation where model best applies EXPECTANCY THEORY Expectancy Theory suggests that for any This theory works when a health care given situation, the level of a person's company is looking for ways to improve motivation with respect to performance is retention and employee satisfaction. The dependent upon (1) his or her desire for ancompany would strive to achieve maximum outcome; (2) that the individual's job satisfaction and minimize dissatisfaction performance is perceived to be related to of their employees. The theory focuses on obtaining other desired outcomes; and (3) the expectations and perception and the perceived probability that his or her emphasizes rewards or pay-offs. The effort will lead to the required expectancy theory seems to be idealistic performance (Borkowski, 2005). This theory because quite a few individuals perceive a states that an employee's motivation is an high degree correlation between performance outcome of how much an individual wants a and rewards; however the application of reward, the assessment that the likelihood this theory is limited as reward and is not that the effort will lead to expected directly correlated with performance in performance and the belief that the many organizations. It is related to other performance will lead to reward.
Expectancyparameters also such as position, effort, is the faith that better efforts will responsibility and education. In order for result in better performance and is this theory to work the managers correlate influenced by factors such as possession ofthe preferred outcomes to the aimed appropriate skills for performing the job, performance levels. They must ensure that availability of right resources, the employees can achieve the aimed availability of crucial information and performance levels, and the deserving getting the required support for completingemployees must be rewarded for their the job. It is an individual's perception exceptional performance. The reward system that his or her effort will positively must be fair and just and the work must be influence his or her performance. interesting, dynamic and challenging. The Expectancies can be described as the effortemployee's motivation level should be that employees put into their activity. Thecontinually assessed. An important more effort put into an activity the highercomponent is the faith of the employees the result or outcome. The outcome can alsothat if you perform well, then a valid be determined by how realistic the employeeoutcome will be there. sees the requested activity.
If the The expectancy theory could be describes in activity is seen as unreasonable, then lessvery simple terms: effort is put into the activity (Borkowski,•What is the likelihood that effort is 2005). recognized in performance appraisals?  •To what extent does the employee believe that getting a good performance appraisal leads to rewards? •What is the appeal of the potential reward to the employee? EQUITY THEORY The Adams' Equity Theory of motivation The Equity Theory can be used by companies states that positive outcomes and high who want to improve employee's job levels of motivation can be expected only satisfaction and motivation level. To do when employees perceive their treatment to this an organization would consider the be fair. The idea behind Adams' Equity balance or imbalance that currently exists Theory is to strike a healthy balance with between the employee's inputs and outputs. outputs on one side of the scale and inputsInputs typically include: effort, loyalty, on the other – both sides weighing hard work, commitment, skill, ability, reasonably equal. If the balance lies too adaptability, flexibility, tolerance, far in favor of the employer, some determination, enthusiasm, trust in employees may work to bring balance betweensuperiors, support of colleagues, and inputs and outputs on their own, by asking personal sacrifice.
Outputs typically for more compensation or recognition. include: salary and benefits, recognition, Others will be demotivated, and still reputation, responsibility, sense of others will seek alternative employment. Onachievement, praise, stimulus, and sense of one side of the scale you have employee's advancement/growth and job security. inputs which are hard work, skill level, While obviously many of these points can't tolerance, and enthusiasm and on the other be quantified and perfectly compared, the side of the scale employee's outputs which theory suggests that managers should seek are salary, benefits and intangibles such to find a fair balance between the inputs as recognition. According to the theory, that an employee gives, and the outputs finding this fair balance serves to ensure received. When inequality exists, Adams a strong and productive relationship with refers to six methods used by the the employees. The overall result being individual to reduce the inequity contented, motivated employees (Borkowski, (Borkowski, 2005).
The six methods are: 2005). The theory is built-on the belief •Altering inputs—Reduce productivity, take that employees become de-motivated, both inlonger break times, and use sick days for relation to their job and their employer, personal activities. if they feel as though their inputs are • Altering outcomes—try to obtain an greater than the outputs. Employees can be increase in pay, a bonus, a new job title expected to respond to this in different or the person may resort to taking supplies ways, including de-motivation, reduced from the company for personal use. effort, and becoming disgruntled • Cognitively distorting inputs or outcomes (Borkowski, 2005). —describe how much harder he or she is  working. • Leaving the field—Transfer to another department or quit the organization. • Distorting the inputs or outcomes of the comparison other—the other person's job is described as routine and unchallenging. • Changing the comparison other—Find someone in the organization more like himself or herself—another high-performing worker. The method selected by the individual will depend on the situation (Borkowski, 2005). All are non-productive for the company.
The Adams' Equity Theory suggests that employees should be content if they believe there is a balance between the inputs given and outputs received, and also suggests that employees will increase their level of productivity when this balance is achieved. SATISFACTION–PERFORMANCE THEORY Porter and Lawler concluded that an The satisfaction and motivation theory may  individual's motivation to complete a task be used by a company who wants to increase is affected by the reward they expect to job satisfaction and decrease absenteeism receive for completing the task. The and turnover. This is a great concern to rewards were categorized as intrinsic and organizations because turnover and extrinsic. Intrinsic rewards are the absenteeism have a direct influence on an positive feelings that the individual entity's effectiveness (Lawler, 1983) experiences from completing the task e.g. (Borkowski, 2005).
The satisfaction and satisfaction, sense of achievement. motivation theory establishes the Extrinsic rewards are rewards emanating importance of avoiding discriminatory from outside the individual such as bonus, practices in the workplace. It is commission and pay increases. Porter and imperative that employees receive equal Lawler's model suggested that an treatment on the job. Though individual's view regarding the discrimination today is subtle, it attractiveness and fairness of the rewards continues to be problematic. The will affect motivation (Borkowski, 2005). Satisfaction Performance Model provides The model reflects that satisfaction evidence that if an individual is attracted results from performance itself, the by the value of the reward and perceives rewards for performance, and the perceived that a higher degree of effort will lead to equitability of those rewards (Borkowski, those rewards and they have the necessary 2005). The model also explains that the abilities and accurate role perceptions, amount of the reward an employee receives then higher performance will result may be unrelated to how well he or she has (Borkowski, 2005).
Also, if the intrinsic performed, and that when rewards are tied and extrinsic rewards an employee receives to factors that are beyond their control for higher performance are perceived as versus receiving rewards based on how well equitable, then satisfaction will result they perform, there will be little or no (Borkowski, 2005). If we act correlation between satisfaction and job preferentially, employee motivation will be performance (Borkowski, 2005). However, if adversely affected, and eventually rewards are received based on the quality performance will cease. If employees are and quantity of performance, there would beunsatisfied, they feel less motivated and a correlation between satisfaction and less instrumental. As a result, effort and performance (Borkowski, 2005).Porter and performance decrease. An employee's Lawler said that motivation is also perception of inequality could be affected by the individual's ability to disastrous to a company. It becomes perform the task and their perception of particularly critical then, for an the task. organization to evaluate its rewards system.
Reference
Borkowski, N. (2005). Organizational Behavior in Health Care. Sundbury, MA: Jones and Bartlett.