Maya Angelou Biography Essay Sample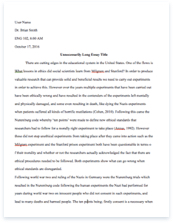 The whole doc is available only for registered users
OPEN DOC
Get Full Essay
Get access to this section to get all help you need with your essay and educational issues.
Get Access
Maya Angelou Biography Essay Sample
Maya Angelou is an amazing American author, poet, entertainer, actress, playwright, producer and director, historian and civil rights activist. She is best known for her portrayals of strong African American women.
Born April 4, 1928 in St. Louis, Missouri. Maya Angelou's given name was Marguerite Johnson, Maya and her brother Bailey spent most of their childhood living with their grandmother in rural Arkansas. Maya grew up in Stamps and learned what it was like to be a black girl in a world whose boundaries were set by whites. After five years of living with her grandmother she moved back to her mother's home in Missouri. This was a bad turn for her, when her mothers' boyfriend raped her. This violent act sent Maya to become mute for nearly five years. She was sent back to live with her grandmother because no one could stand the state she was in. Angelou's whole childhood was moving back and forth from her mother's house to her grandmother's house. This caused her to struggle with maturity. She became determined to prove she was a woman and began to rush toward maturity. She soon found herself pregnant, and at the age of sixteen she delivered her son, Guy and began a series of jobs, including cooking and waiting tables. In the 1950s she became a nightclub performer and began careers as a singer, dancer, actor, playwright, magazine editor, civil rights activist, poet, and novelist.
Much of Angelou's writing stresses the themes of courage, perseverance, self-acceptance, and realization of one's full potential. In her works she frequently presents strong female role models. Her most writings includes her autobiographical books, which starts with I Know Why the Caged Bird Sings (1970), which she describes African American life in, humorous, intelligent language rich in rhythm and texture. Her second book Gather Together in My Name (1974) focuses on Maya and her brother moving away from their grandmother. This takes place from her late teens through her mid twenties, focusing on her experiences as a mother, a Creole cook, dancer, a Chauffeurette and prostitute. Also she writes about an affair with a customer at a restaurant and her brief experience with drugs. Other Books include Singin' and Swingin' and Gettin' Merry Like Christmas (1976), The Heart of a Woman (1981), and All God's Children Need Traveling Shoes (1986).
Some of her other works include poetry Still I Rise (1978), Shaker, Why Don't You Sing? (1983), essays Wouldn't Take Nothing for My Journey Now (1993) which talks about charity, death, jealousy and taking time for yourself. She talks from her own experiences. From this book I read a short stories called Complaining. This talked about Maya's grandmother and when people would enter her store and whine about everyday things. Her grandmother would have Maya come to the front of the store and listen to the whiner. When the whiner would leave she would always say " Sister, did you hear that brother so-and-so or sister much to do complained about, well there are people who went to sleep all over the world last night, poor and rich and white and black, but they will never awake again. Sister, those who expected to rise did not, their beds became their cooling boards, and their blankets became their winding sheets. And those dead folks would give anything for just five minutes or ten minutes of what that person was grumbling about. So you watch yourself about the complaining, sister. What you're supposed to do when you don't like something is change it.
If you can't change it, change the way you think about it. Don't complain." Another book with essays is Even The Stars Look Lonesome (1998), that talks about what she cares about most. She tells us her thoughts on a wide variety of subjects. From this book I read a short story called Aging, Maya talked about growing old and not being able to see her son reach puberty. She also talked about her body changing, her eating habits changing and just becoming old and reaching her deathbed. Maya also has a movie based on her first novel I Know Why The Caged Birds Sing. This is about a young black girl growing in stamps, Arkansas during the depression. Her efforts to better herself run up the stonewall of racism; in addition, she is traumatized into silence due to a brutal rape by her mothers boyfriend. Slowly and with the loving support of her mother, Maya overcomes her many deprivations and by the time she is a high school senior, she is her class valedictorian.
Today, she lectures in the United States and overseas. She is also a Reynolds professor of American Studies at Wake Forest University in North Carolina. Through her writing as well as her activism toward the cause of improving conditions for women in Third World countries (particularly Africa), Angelou continues to spread light on the possibilities for victory that can accompany seeming defeat. In a 1987 interview, she urged her students to read, especially African-American literature, saying that it reinforces to us that what has come before us has survived and produced. Maya stressed to her students that this knowing lifts the spirit, and finished by saying, "…You pick your self, dust yourself off, and prepare to love somebody. I don't mean sentimentality. I mean the condition of the human spirit so profound that it encourages us to build bridges." The bitterness joins the many individuals worldwide, whose lives have been enriched by the bridges of hope and inspiration that Maya Angelou has built through her priceless artistic gifts, and the relentless spirit of triumph over tragedy that characterizes them.