McDonald's business operation system Essay Sample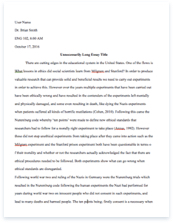 The whole doc is available only for registered users
OPEN DOC
Download Essay
A limited time offer!
Get a custom sample essay written according to your requirements urgent 3h delivery guaranteed
Order Now
McDonald's business operation system Essay Sample
In this essay, I will be discussing the importance of Data, information, and Knowledge within an organization and I will also define each one of the components thoroughly. Data, Information, and Knowledge. To begin with, there are many authors with different definitions of data, information, and knowledge. Ralph M. Stair and George W. Reynolds (2012, p.5-6.) Defines data as facts and figures that have not been modified and processed by an organization, an example of data in a business industry would be employee's personal details such as phone numbers, date of birth, name, and address.
Further, data needs to be relevant, accurate and useful to an organization because not all data is reliable and useful. Therefore, it must be processed and put into more convenient form for the users. This is known as the transformation of data into information. Ralph M. Stair and George W. Reynolds (2012) illustrates that information is data (facts) that has been put into context to give a clearer understanding of data. For instance, profit and loss statement provides information about an organisation financial health during a specific period of time. Additionally, information can be transformed into knowledge to gain further understanding. According to (Ralph M. Stair and George W. Reynolds) knowledge is information that has been processed, analyzed and interpreted in many ways to achieve a greater outcome of a situation or a problem. An example of knowledge in a business industry would be to increase sales to generate high profit.
On the other hand, Ritchie, B., Marshall, D. and Eardley, A. (1998) suggests that, for data to become information it must go through various processing stages. The first stage in the process is to attain and record undeveloped or incomplete data that has not been processed by an organization. The second stage is to process the data into the more meaningful system so that it is easier for the organization to analyse, this may include summarizing and context.
The third stage is to analyse the data and suggest whether it is relevant to the user. Although at this stage the process is still about data, however, the data is gradually developing into information. Further, Wang, K.Hjelmervik, O. Bremdal, B. (2001) suggests that information is the outcome that organisation obtains from processing, gathering, analysing and organising raw data. The objective of information process is to make raw data meaningful, accurate and relevant to an organisation goal. Additionally, information can provide businesses with the help necessary to run an effective and efficient business, especially if the information is complete and relevant to the organisation, as it can help the manager make the right decisions and shape things into the right pathway.
Moreover, there are two different type of knowledge. Explicit and tacit knowledge, explicit knowledge is a knowledge that can be organised, formalised and it is often referred to as know-what (Brown& Duguid 1998). Also, it is very easy to store, retrieve and recognise (Wellman 2009). Explicit knowledge is found in places such as databases, documents and notes. (Botha et al.2008). On the contrary, tacit knowledge is a knowledge that is based on personal experiences and intuitive, it is very difficult to explain and communicate. (Nonaka 1994). Tacit knowledge is considered as the most important source of knowledge; therefore, it will lead to achievements in organisations (Wellman 2009). However, explicit knowledge is regarded as less valuable by many theoreticians, as it is "simpler in nature". And it does not hold the experience of know-how which can produce long-term competitiveness advantage. (e.g. Brown & Duguid 1991, Cook & Brown 199, Bukowitz & Williams 1999,)
For the second part of the essay, I am going to pick an organization and fully explain how they use data, information, and knowledge to increase the efficiency and effectiveness of the business performance. McDonald is the organization that I am going to investigate the corresponding data manipulation practices. I have previously worked for Macdonald and have general knowledge about the business operation system, McDonald is a fast food restaurant that sells various products such as burgers and mini fillet etc.
They tend to order raw food from their supplier and when an order is placed with their supplier, a transaction occurs, and this transaction process records relevant information (data) such as supplier invoice amount, name, address and the quality of the products purchased. McDonald then saves and store the data of the transaction for future purposes. Furthermore, McDonald uses a technology-based system to assist with daily operation of the business, for instance whenever a customer places an order, the item (data) that they ordered instantly appears on the computer monitor in the kitchen which alerts the staff to prepare the order.
This is important for the business because it increases the efficiency and the productivity, but most importantly it provides McDonald with an insight of the products that are selling the most, so on the busiest day (Christmas day) they would increase the price of the item. McDonald collects customer details through their apps, credit cards and social media, and then use the data to send personalised emails to customers, illustrating the deals and offers that they are providing, this then attracts numerous of customers to the store. therefore, an increase in the sale as well as revenue. To conclude Macdonald accounting field uses data to figure out prices of products, popular products in sales and how well certain products e.g. Big mac is selling per week or month.
McDonald collects relevant data and then processes it to produce structured information. When a customer goes to the restaurant (McDonald) and buys a burger or a big mac, the price of the items are all data. The data does not tell the reason why the customer bought the product, the quality of the burger, or the reputation of the store, however, the store (McDonald) would evaluate patterns of purchases and numbers of customers buying specific products. Evaluation such as this can be used to gain information about customer behaviour and the price customers are willing to pay for certain items. Further, customers provide transaction information, which includes prices of the product bought, products and services they purchase often, methods of payment and time they prefer to visit the restaurant. McDonald then processes the data into information to provide the organisation with ideas and ways that they can improve their products, promotions, online services, and payments method to meet the needs of the customers, which would eventually lead to an increase in sales and revenue for the business.
Moreover, as we live in the time of technology McDonald thought of providing self-serve kiosk, tablets, and other resources to speed up the business process and improve the services of restaurant, however, it's mainly done to collect and attain data and learn about customer behaviour for future improvements of the business. In terms of tablet implementation in the restaurant, it's a strategy that McDonald uses to increase sales since the longer the customer stays in the restaurant the more likely there will purchase the product. Point of sale is another system that McDonald uses as it tracks a lot of data in a matter of seconds, so each time a customer places an order it instantly appears on different workplaces and the cashier knows exactly the amount of exchange or payment that is due. This again is an example of data that's been processed through computer system to give the cashier information that is required. The information will be passed unto the kitchen member electronically, so they know which order to prepare.
Knowledge
Based on the information identified above, McDonald doesn't just depend on the information that they extract from data to improve their organisation, but they depend heavily on their own knowledge, intuitive and experience to further expand the organisation. An example of how Mcdonald uses their own knowledge and experience to improve the way they run the organisation is through depending on the effectiveness of the knowledge acquired certain kinds of knowledge are not easy to transform
Conclusion
To conclude, I think that the main areas that McDonald could improve in is the collection of data, if McDonald can collect complete, accurate, relevant, timely, meaningful and consistent data, then the business will succeed in each department, as data is an important aspect of an organisation because without data there will be no information, therefore by collecting the right data will expand the business in the future.
However, if the data is inaccurate and not managed well, then it would waste the business resources, but when it effectively managed, it would solve each problem within an organization. Furthermore, as important as data is to McDonald, information and knowledge are also crucial for the development and growth of the business, if McDonald can process relevant and accurate data, it will give
References
Brown, J.S. & Duguid, P., (1998), Organizing Knowledge, California Management Review vol. 40, no.3
Botha A, Kourie D, & Snyman R, (2008), Coping with Continuous Change in the Business Environment, Knowledge Management and Knowledge Management Technology, Chandice Publishing Ltd.
Cook, S.D., & Brown, J.S. (1999), Bridging Epistemologies: The Generative Dance between Organizational Knowledge and Organizational Knowing. Organization Science, vol. 10, no. 4.
Gamble, P.R., & Blackwell, J. (2001), Knowledge Management: A State of the Art Guide, Kogan Page Ltd.
Ritchie, B., Marshall, D. and Eardley, A. (1998). Information systems in business. London: International Thomson Business Press.
Stair, R.M., and Reynolds, G.W. (2012). Principles of Information Systems; Ninth edition, Nelson Education: Toronto; pp. 5-6
Wang, K.; Hjelmervik, O.; Bremdal, B. (2001). Introduction to Knowledge Management; Tapir Academic Press: Trondheim, 2001.
Wellman, J. L. (2009). Organizational Learning: How Companies and Institutions Manage and Apply Knowledge Palgrave Macmillian.