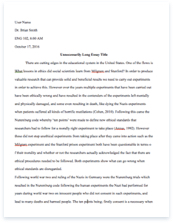 The whole doc is available only for registered users
OPEN DOC
Pages:
Word count: 738
Category: Places
Download Essay
A limited time offer! Get a custom sample essay written according to your requirements urgent 3h delivery guaranteed
Order Now
When I think of a meaningful place, I think of my bedroom. A place like my bedroom is where I can relax and be comfortable. I think that is why it is important to me, because I can be myself and feel comfortable in there. I can also just sit down and rest my body. Another reason is I can go there when I want privacy. I can shut the door, maybe even lock it and tell everyone in my household not to disturb me. My room holds most of my personal belongings there and they are important to me. Therefore I do not let any and every one in bedroom because that is my place of treasures and comfort.
My bedroom is a place where I can be comfortable and sit back to relax. When I am tired or not feeling my best. I just go to my room, shut the door, and lay down to relax. I may even turn on so music or read a book. My room is where I like to retreat so when I want to relax. The reason the room is so important to me is because it holds all of my personal belongings, which are very important to me. I also have privacy whenever I want it by resorting to my bedroom. When I am stressed out from school or work, I just like to go to my room to be to myself. A lot of times I just lay down, close my eyes and daydream about places I will love to go and see one day. Or I think about something that makes me happy. I try not to think about things I need to get done or anything that makes me feel stressed, because then I will never feel relaxed. I usually try to stay away from those sort of thoughts and usually it works out well.
My room is kind of cluttered the way it is set up. When you first walk in the bedroom, to the left of it is the tall dresser that have most of my jewelry spread all over it. I also have my house phone on top of that dresser too. Next to that dresser is my short dresser with a mirror. On that dresser I have my perfumes, make up, body wash, and all type of things that make me look good and smell great about myself. Diagonally across from the two dressers is my queen size bed with the pillow top mattresses. I have a goose feathers comforter set on my bed. The comforter is a pale pink with a lot of flowers on it. The sheets are all pink with a thread in the sheets are the 800 counts. They feel so comfortable when I am laying between them. I have four fluffy pillows on my and I sleep with two of them under my head when I go to bed. Now, on the right side of the room is my computer desk with a laptop and a printer on top of it. And right beside it I have a big entertainment center with a 49" inch television, the surround sound system and my cable on it. And last but not least, my closet have so many shoes, clothes, and coats in it. If I wanted to I can open up my own little bontique in that closet.
I am sort of a hoarder, I love to keep everything that someone special have given me. I have so many trinkets that someone have given all over my bedroom. Because anything someone gives me, I treasure the. Especially the things that my children have given me and also things from my belated Grandmother, Father and Uncle. I am honored to have some of their things. I look at all of my belongings in my room around me, and it makes me realize have sweet my bedroom is to me.
Everyone have a meaningful place in their lives and my bedroom is the place. It is my bedroom because it is a place of comfort and privacy when I need to be alone or if I just want to sit down and take a load off. I can be to myself when I need too. My bedroom sweet bedroom is always there for me when I need to relax, unwind or just be happy in it.
Related Topics