Medical Assisting Essay Sample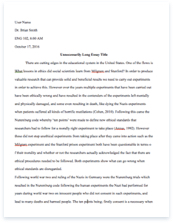 The whole doc is available only for registered users
OPEN DOC
Download Essay
A limited time offer!
Get a custom sample essay written according to your requirements urgent 3h delivery guaranteed
Order Now
Medical Assisting Essay Sample
A little bit of information about medical assisting. Medical assisting is a very versatile job many different tasks and tools. This is one of the reasons I chose to start of in this field. I eventually would love to possibly get into and R.N program after a year or two in medical assisting. There are many responsibilities of a medical assistant. Assisting the physician with various procedure and treatments,documenting patients information and updating charts ect. Some of the various thing a medical assistant will use in his or her career. Computer software programs for accounting and billing. Hypodermic needles , blood pressure monitor, wheel chair stethoscope and many other things to be able to perform her duties. (www.onetoline.com)
WAGES
Wages for a medical assistant nationally is about 13.99 hrly and 291,000 yr with about 528,000 employed. In next 7 years it is expected to be up 29% higher with an addition 243,800 job opening nationally. In South Carolina my geographical wages are 13.49 or 281,00. Projected to go about 34 % int the next five years.
I live in the upstate part of S.C. I have always wanted to work in the med field. It seems in the area I am in is short on help and care givers. ( wwww.onetonline.)
Education
Becoming an medical assistant you must have a high school diploma or equivalency, on the job training or certifications for r ma. The more education and experience you have the more qualified you become. Kaplan University is an accredited school. (www.onetoline.com) I have to tell and remind myself everyday just focus and give yourself the best chance to succeed no matter what obstacles get in the way.
Outlook
There is a 34% increase in medical assisting job for 2010-2020 much faster that other careers in this field.(www. Bls.gov) I have learned a lot about this career and the money is to bad. Researching and reading about medical assisting makes me even more aware that I will have to further my education. I want to be an rn their pay scale is better and they have more hand on care with the patients. Life and technology are growing and changing everyday so everyday will be different from the others. The part that I love the most about being in the medical field is helping others.