Medical Errors Argumentative Essay Sample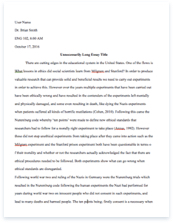 The whole doc is available only for registered users
OPEN DOC
Download Essay
A limited time offer!
Get a custom sample essay written according to your requirements urgent 3h delivery guaranteed
Order Now
Medical Errors Argumentative Essay Sample
Medical errors occur with such frequency and regularity that most states require periodic, ongoing medical education for all health care providers as part of their licensing requirement. Hundreds of thousands of patients are victims of medical errors each year and many of them suffer from permanent disabilities as a result, some even die. In its report, To Err Is Human: Building a Safer Health System, the Institute of Medicine (IOM) estimates that 44,000 to 98,000 Americans die each year not from the medical conditions they checked in with, but from preventable medical errors (Nordenberg, 2000).
A medical error, under the report's definition, could mean a health-care provider chose an inappropriate method of care or it could mean the health provider chose the right course of care but carried it out incorrectly. The Institute of Medicine (IOM) estimates that fully half of adverse reactions to medicines are the result of medical errors (Nordenberg, 2000). The statistics in the IOM report, which were based on two large studies, suggest that medical errors are the eighth leading cause of death among Americans (Nordenberg).
"A medication error is any preventable event that may cause or lead to inappropriate medication use or patient harm while the medication is in the control of the health care professional, patient, or consumer. Such events may be related to professional practice, health care products, procedures, and systems, including prescribing; order communication; product labeling, packaging, and nomenclature; compounding; dispensing; distribution; administration; education; monitoring; and use (NCC MERP, 2007)."Even the seemingly simple process of giving a patient medicine–the right drug, in the right dose, to the right patient, at the right time–is, in reality, teeming with opportunities for error. The IOM estimates that preventable medication errors result in more than 7,000 deaths each year in hospitals alone, and tens of thousands more in outpatient facilities (Nordenberg, 2000). Most medical and prescription errors are avoidable but human error will insure the potential for more errors in the future. The IOM believes that preventing future errors is best achieved by designing a safer overall system.
When asked about a variety of potential solutions, 79% of patients say giving doctors more time to spend with patients would be "very effective" in reducing preventable medical errors, while nearly as many say that requiring hospitals to develop systems to avoid medical errors (72%) and better training of health professionals (also 72%) would be "very effective." Just over half (51%) say that more use of computerized medical records instead of paper records for ordering drugs and medical tests would be very effective (Palosky, Peacock, & Holland, 2004).
Most experts agree that mandating medical error reporting, in itself, will not surmount the hesitancy of doctors. More than 20 states currently have mandatory reporting systems, yet state officials say that underreporting persists (Nordenberg, 2000). Patients can help prevent errors by being vigilant about their healthcare. They should make every effort to understand their treatment, keep organized records of what doctors they see and what medications they take, and ask questions when things don't seem right.
Identifying errorsDoctors, nurses, and pharmacists share a common goal of identifying medical errors, understanding their causes, and making system wide changes to reduce medical risks. Aggressive case finding may identify injuries and errors that are not documented in a patient's chart. Observational studies, although costly, have identified even higher rates of error and injury occurring during medical care. Patients injured as a result of a medical error spend longer in hospital and have higher hospital costs (Weingart, Wilson, Gibberd, & Harrison, 2000). Comparatively little is known about the prevalence of medical error outside hospitals. In studies completed by Harvard University, researcher noted that about half of the adverse events occurring among inpatients resulted from surgery. Complications from drug treatment, therapeutic mishaps, and diagnostic errors were the most common non-operative events (Weingart, Wilson, Gibberd, & Harrison).
After being read a common definition of a medical error, about one in three people (34%) say that they or a family member had experienced a medical error at some point in their life. This includes 21% of all Americans who say that a medical error caused "serious health consequences" such as death (8%), long-term disability (11%) or severe pain (16%). About one in seven of those who said the error caused serious health consequences (14%, or 3% of all Americans) say that they or their family filed a malpractice lawsuit as a result of the error. Of those who were involved in a medical error, 28% (9% of all Americans) say the doctor or other health professional involved told them about the medical error. The survey found that half (50%) of all people with chronic conditions say that they have experienced a medical error in their own care or that of a family member – far more than those without chronic illnesses (30%) (Palosky, Peacock, & Holland, 2004).
Consumers are most likely to cite workload, inadequate staffing and poor communication among healthcare providers as causes of medical errors – with about three in four (74%) saying workload, stress or fatigue of health professionals is a very important cause of medical errors. Nearly as many say that doctors not having enough time with patients (70%), too few nurses in hospitals (69%) and health professionals not working together or not communicating as a team (68%) are very important causes of medical errors (Palosky, Peacock, & Holland, 2004).
Reporting errorsIn chapters 2 and 4 of Bioethics:A systematic approach (Gert, Culver, & Clouser, 2006) the authors point out that the moral ideals of the medical profession require members of the profession to go "out of its way to prevent harm." They go on to explain that certain rules (eg. preventive and group-protective) govern the ethical behavior of healthcare providers and establish their "duties" including error reporting.
More than nine in 10 Americans (92%) say that reporting of serious medical errors should be required, and most (63%) want this information released publicly. Almost nine in 10 (88%) say that physicians should be required to tell a patient if a preventable medical error resulted in serious harm in the patient's own care (Palosky, Peacock, & Holland, 2004).
In 1992, the FDA began monitoring medication error reports that are forwarded to FDA from the United States Pharmacopeia (USP) and the Institute for Safe Medication Practices (ISMP). The Agency also reviews MedWatch reports for possible medication errors. Currently, medication errors are reported to the FDA as manufacturer reports (adverse events resulting in serious injury and for which a medication error may be a component), direct contact reports (MedWatch), or reports from USP or ISMP. The Division of Medication Errors and Technical Support includes a medication error prevention program staffed with pharmacists and support personnel. Among their many duties, program staff review medication error reports sent to the USP Medication Errors Reporting Program and MedWatch, evaluate causality, and analyze the data to provide feedback to others at FDA.
Both voluntary and mandatory reporting systems are operating currently throughout the nation with varying levels of success. "Experience shows that current mandatory reporting programs have not been successful" (ISMP, 2000). Underreporting, despite any mandate, is understandable when you consider that disclosure has typically exposed organizations and individual practitioners to financial penalties, punitive actions concerning professional and organizational licenses, and legal and public scrutiny. Therefore, mandatory reporting, with its attendant threat of punishment, has had the undeniable effect of suppressing error reporting and inhibiting open discussion about errors and their system-based causes (ISMP). In the end, perhaps it is not the "mandatory reporting" component that has made many such systems unsuccessful in gaining the public's confidence, learning about the causes of error, and enhancing patient safety. Instead, the root of the problem more likely lies in the design of the reporting systems, the punitive culture in which they function, and the ineffective use of data submitted to the program (ISMP).
Conversely, the success level with existing voluntary reporting systems has generally been much better than that experienced by mandatory systems (ISMP, 2000). Reports to voluntary systems typically come from practitioners or other healthcare workers who are close to the cause of the error and who can best describe the specific conditions that led to that error. Better error descriptions make effective analysis possible. This first-hand reporting and the improved analysis it affords has been used by error prevention experts to create a "road map" for improvement that easily and realistically can be extrapolated and implemented at the broadest variety of healthcare organizations (ISMP).
These practical recommendations for safe practice have been established, published, and widely disseminated throughout the healthcare community. The success of current voluntary reporting systems also stems from the trust and respect that has typically developed between reporters and recipients who use the information to improve patient safety across the nation (ISMP, 2000). Voluntary reporting systems have been largely successful in gaining new information about preventable adverse events, understanding the data through expert analysis, understanding the causation of errors, and sharing that knowledge with the healthcare community. However, using the knowledge gained through voluntary reporting to enhance patient safety is the responsibility of the entire healthcare community.
Since the release of the IOM study, there has been a greater focus on the quality of healthcare provided in the United States. Quality experts agree that one of the most common cause of errors is the medical system itself, not the individuals functioning within the system (Woo, A., Ranji, U. & Salganicoff, A., 2006). Publication of the IOM report triggered significant activity in both the public and private sectors, including the formation of the National Patient Safety Foundation by the American Medical Association, the creation of a non-punitive sentinel events reporting system by the Joint Commission for the Accreditation of Healthcare Organizations (JCAHO), and the establishment of new public private partnerships by the Veterans Health Administration and others.
The IOM report suggests that mandatory reporting systems may be necessary to hold providers accountable and deliver the necessary incentives for organizations to invest sufficient resources in enhancing safety. This recommendation likely reflects a general and growing feeling that the nation needs better healthcare information as well as a safer healthcare system, and that individual practitioners and providers must be held accountable for their actions. The report further recommends public and legal disclosure of serious errors, citing the public's right to know about such errors (ISMP, 2000). On the other hand, the report readily acknowledges that voluntary reporting systems, for both internal and external programs, are more useful and effective in learning about adverse events and improving patient safety. Thus, both mandatory and voluntary reporting systems are recommended to meet the goals of learning about errors and holding providers accountable for enhancing patient safety (ISMP).
The IOM report does not propose establishing a national voluntary reporting system, as there are already a number of good efforts in existence. However, expansion of existing programs and the establishment of new voluntary reporting systems to cover gaps in the current complement are encouraged. The proposed Center for Patient Safety has been charged with oversight of this process (ISMP, 2000). The Medication Errors Reporting Program (MERP) is operated by the United States Pharmacopoeia (USP) in cooperation with ISMP and is an active partner in FDA's MEDWATCH program.
ConclusionMost experts agree that there is much more work to do. For example, fewer than 3% of hospitals have implemented computerized drug ordering systems which one study found to reduce medication errors by 86%. In a December 2002 Kaiser Family Foundation survey, only 5% of physicians identified medical errors as a top health care concern (Woo, A., Ranji, U. & Salganicoff, A., 2006). Shortly after the release of the 1999 IOM report, Congress gave $50 million to the U.S. Agency for Healthcare Research and Quality for research into the causes and prevention of medical errors.
Beyond that, the 106th and 107th Congress introduced several legislative proposals that resulted in stalemate over issues such as whether error reporting should be mandatory or voluntary and confidential or publicly released. Meanwhile, controversy over how to best address medical errors has entered into other debates, including whether the federal government should restructure the current medical malpractice system. States have also been a part of this debate, as several now have mandatory error reporting rules and statutes with a patchwork of differing requirements (Woo, A., Ranji, U. & Salganicoff, A., 2006).
References
Gert, B., Culver, C.M., & Clouser, K.D. (2006). Bioethics: A systematic approach (2nd ed.). New York: Oxford University PressInstitute for Safe Medicine Practices (ISMP). (2000). Discussion paper on adverse event and error reporting in healthcare. Retrieved August 2, 2007, from http://www.ismp.org/Tools/whitepapers/concept.aspNational Coordinating Council for Medication Error Reporting and Prevention (NCC MERP). (2007). About medication errors. Retrieved August 2, 2007, from http://www.nccmerp.org/aboutMedErrors.htmlNordenberg, T. (2000). Make no Mistake: Medical errors can be deadly serious. Retrieved August 2, 2007, from http://www.fda.gov/fdac/features/2000/500_err.htmlPalosky, C., Peacock, C. & Holland, H. (2004). Five years after IOM report on medical errors, nearly half of all consumers worry about the safety of their health care. Retrieved August 2, 2007, from http://www.kff.org/kaiserpolls/pomr111704nr.cfmWeingart, S.N., Wilson, R.M., Gibberd, R.W., & Harrison, B. (2000). Epidemiology of medical error. BMJ. 320(7237): 774-777Woo, A., Ranji, U. & Salganicoff, A. (2006). Reducing medical errors. Retrieved August 2, 2007, from http://www.kaiseredu.org/topics_im.asp?id=137&parentID=70&imID=1