Medical Personal Statement Essay Sample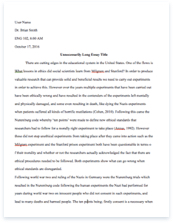 The whole doc is available only for registered users
OPEN DOC
Pages:
Word count: 576
Category: medicine
Download Essay
Get Full Essay
Get access to this section to get all the help you need with your essay and educational goals.
Get Access
Medical Personal Statement Essay Sample
As I lifted the heart out of the corpse, the only thought racing through my mind at that exact moment was that this experience would impact my life. During my junior year of high school, I had the privilege of traveling to St Louis University with my Honors Anatomy and Physiology class to see a human cadaver. After holding that human heart in my hands, I could not imagine going through my life never holding the organs of a human again. It became clear to me that my occupational choices had been narrowed to becoming a doctor. My anatomy class opened my eyes to the physiological view of the human body and to the career choices the medical field offers. Not only in school, but also out of the classroom I have always enjoyed science and helping others. For the past ten years, I have been trained by the American Red Cross to be First Aid and CPR certified.
During the summer of 2007, I encountered an elderly woman at a Barnes and Noble Bookstore who had slipped on a wet floor and severely cut her nose. I hastily made my way through the crowd, explained that I was First Aid Certified, and asked the woman if I could help her. After successfully stopping the bleeding in a matter of minutes and seeing the woman off to the hospital, I thought about how my dream job would be something of that nature on a daily basis. I knew gaining clinical experience would be instrumental in helping me better understand the various aspects of healthcare. After my senior year of high school I earned my Certified Nursing Assistant (CNA) license.
My first job as a CNA was in a small rural nursing home. It was here that I gained my first real understanding as to exactly what goes into geriatric care and how different healthcare professionals such as dieticians, physical therapists, nurses, CNAs, and physicians, coordinate together to provide complete care for residents. The following summer I was hired as a CNA at a hospital on the neurology unit, where I have continued to work for the past three years. My experiences here have been invaluable. I met a neurosurgeon whom I have come to know very well. He has allowed me the privilege of shadowing him not only in clinic and on rounds, but also in surgery.
This physician taught me the difference between being a good physician and being a great physician with excellent bedside manner, compassion, patience, and empathy all while providing excellent patient care. I cannot emphasize enough how vital my experiences of providing direct patient care in a hospital have been. I have been gifted with numerous opportunities to work side by side with physicians changing dressings, assisting with lumbar punctures, removing sutures, and other bedside procedures.
At the end of the day, family members often thank me for taking care of their loved ones; I feel that I should be the one thanking them for the amazing opportunity that helped me realize my passion for helping others through medicine. I cannot pin point one exact moment that was the tipping point in my decision to pursue a career as a physician; rather, all of my experiences through school, shadowing, and work have guided me in this direction. To show my compassion for my fellow mankind and best utilize my skills, I will become Dr. Dufner.