Medicine and Health Care in the Pre-modern World Essay Sample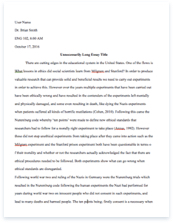 The whole doc is available only for registered users
OPEN DOC
Download Essay
Get Full Essay
Get access to this section to get all the help you need with your essay and educational goals.
Get Access
Medicine and Health Care in the Pre-modern World Essay Sample
            All human cultures have had considerable knowledge of the concepts of illness and physical health but what is today referred to as medicine has been the consequence of Western societal developments that have spanned the last three centuries. The historical study of medical practice nevertheless provides a general fact that medicine was and will probably always be a meeting and also a practice. This paper seeks to examine medicine and health care practices in the pre-modern world.
Medicine and health care in the pre-modern world
            Life and death have always been the major concerns of medicine beginning in pre-modern times and running throughout the history of medicine. Life expectancy in the pre-modern world was generally low, while maternal and infant mortality ranged so high that for many people, it was a universe full of disease. In pre-modern societies, medical practice took place in a rather open market whereby no license was to practice medicine and anyone could therefore join the practice. Because of the high scope of sickness, patients sought treatment from every possible source mainly relying on magical, religious and empirical sources as well as medical practitioners. Disease prevention and health promotion was done through books and also by word of mouth, advising people on several methods of avoiding sickness such as eating proper diets, living hygienically and rectifying any situations that posed environmental hazards. The popular culture of consulting magical had failed to prevent disease and this necessitated the need for better solutions.[1]
            Coping with affliction and sicknesses in pre-modern societies was primarily a family affair and throughout history, societies have always had specialized traditional healers who have always relied upon a mixture of both magical and physical remedies. Unlike today whereby public and state health systems take control of the health of the general public, health in pre-modern societies was not a public concern but a private matter. But this situation gradually changed especially with the emergence of the industrial revolution and the state developed a special interest in the general health of its population as the people's well-being affected its levels of productivity and prosperity, rate of growth as well as defensive capabilities.[2]
            Pre-modern medical practitioners rarely examined a patient's body for various reasons such as religious chasteness especially where women patients were involved, as well the theoretical approach that doctors used to interact with their patients so that the latter would not confuse them for surgeons. As opposed to the surgeon, the physician was supposed to think about but not touch the patient's body. Although the physician could consult such aspects as the patient's general appearance, feel the patient's temperature and pulse, as well as examine the urine and stool, doctor's relied heavily on a patient's history as the best aid to making a proper diagnosis. In pre-modern society therefore, the patient's thoughts and feelings about his illness took centre stage in the field of medicine. Doctors at this time experienced low prestige and the doctor/patient meeting was a medical interaction between equals as opposed to the modern doctor who holds a higher command over the meeting. [3]
            Medical practice in the Western world during the seventeenth century portrayed very little difference when compared with the practices of ancient Rome and Greece. In all of these areas, physicians relied upon three methods of diagnosis mainly examination of a patients' body, observation of the behavior and appearance of the patient as well as the patient's personal description about the symptoms. Medical practice was somewhat uniform both in urban and rural areas although variations in the degree of practice may have disrupted this uniformity. Epidemics such as smallpox and other diseases were controlled through quarantine measures, inoculation campaigns and isolation facilities especially if it occurred in the military. This is because outbreaks normally followed the movement of soldiers and the massive loss of live made it a necessity for community leaders to join hands with the local medical practitioners and develop workable health policies for its public.[4]
            In England, diagnosis of diseases during the seventeenth and eighteenth centuries was often very imprecise with doctors hardly making any attempt to separate sicknesses such as scarlet fever and diphtheria. While European doctors generally specialized either in surgery, medicine or pharmacy, American doctors practiced all three tasks concurrently. Delivering of babies also became a special task for the American doctors as the eighteenth century came to a close. With time however, the different fields of medicine became clearly distinguishable through the award of academic credentials although this served little to eliminate the controversies that surrounded medical functions. Physicians however constituted a fraction of less than twenty per cent of all medical practitioners who existed in any community.[5]
            Pre-modern doctors as well as their patients had a different approach to human value and private self than is the case today. In these societies, human life did not receive complete moral respect either in theory or in actual medical practice and the human being was recognized as being part but not centre of a grand design that gave rise to a view of medical practice very different from that of modern times.[6] Pre-modern England for example, was a society plagued by many sicknesses but one that was also well endowed in medicine although health maintenance and disease prevention remained individual responsibilities until the mid-nineteenth century.
Apart from individual care of one's own health, there was also the option of seeking professional services or expert advice. Medical services to the very poor in society as well as the servant classes was often from unreliable and unqualified practitioners although such services could be obtained from superior doctors either through charity, the Poor Law, or if their masters agreed to foot their bills. Doctors of every kind were often referred to but with a lot of distrust, the sick people fearing these doctors could be as dangerous as the diseases they were treating. The sick shopped around for renowned health-care givers although undergoing medication involved active negotiation and decision-making on the part of the patient and the patient to some extent controlled the type of medication that he/she would be given. Friends, family and acquaintances were also a source of help usually dispensed on a free-of-charge basis. [7]
            Medical practice was highly influenced by philosophy and Christianity, the former giving rise to learned medicine and the latter to charitable caring of the sick and building of hospitals and hospices. Towards the end of the seventeenth century, learned medical practitioners were slowly infiltrating the market, gradually replacing lay healers especially among the middle and upper classes of society who were getting secularized and abandoning magic. As a result of commercialization, most medicines were now solicited from shops rather than from the fields but lay healing and self-help still continued on a smaller scale. By the nineteenth century, hospitals had become charitable institutions for caring for the destitute and poor but also dominated the world of medicine because the learned practitioners needed a place where they could gain practical experience.
Doctors got more power in their relationship with the patients and hospital research also received a boost because the poor patients had little control of the medical processes. Medicine also changed and the patient gradually changed from a subject to an object. The French Revolution especially brought tremendous changes to the field of medicine with surgeons becoming important figures in society and medicine becoming a full profession although the loveable general practitioner who had contributed much to changes in the medical field remained active but as a very lowly figure. The 1858 Medical Act gave the medical profession a legal basis upon which it would control entry requirements, the examinations and also its discipline. [8]
            States took control of public health in Europe and in countries like Italy; the state response to repeated plague outbreaks was tremendous. Urbanization had given rise to large urban populations and disease outbreaks were common. In Europe and America, the state took full control of workplace conditions, sanitary provision, and sale of food and water supplies. Towards the end of the nineteenth century, scientific medicine emerged with such important aspects as the discovery of bacteria, the cell, antiseptic techniques, therapeutics and pathology, giving much weight to the role and status of hospitals. Infectious diseases could now be detected in laboratories and X-ray centers. Infectious diseases declined as the major cause of death and most deaths thereafter resulted from chronic illnesses.[9]
Conclusion
            The modern hospitals, health care systems and professional practitioners contrast strongly with the more open and smaller systems that existed in the pre-modern world. Many aspects of medical and health care provision have changed over time especially the relationship between the doctor and patient. Over the span of three centuries, the patient has become confined to hospitals for medical attention and has therefore lost control while the doctor has increasingly taken charge of the treatment process.[10]
BIBLIOGRAPHY
Giddens, Anthony and Griffiths Simon. Sociology. Cambridge: Polity, 2006 
Leavilt, Judith Walzer and Numbers Ronald L. Sickness and Health in America: Readings in the           History of Medicine and Public Health. Madison: University of Wisconsin Press, 1997.
Porter, Dorothy. Patient's Progress: Doctors and Doctoring in Eighteenth Century England.      Stanford: Stanford University Press, 1989.
Svenaeus, Fredrik. The Hermeneutics of Medicine and the Phenomenology of Health: Steps        Towards a Philosophy of Medical Practice. Mininova: Springer, 2000.
Wear, Andrew. Medicine in Society: Historical Essays. Cambridge: Cambridge University Press, 1992.
                [1]  Dorothy Porter, Patient's Progress: Doctors and Doctoring in Eighteenth Century England, (Stanford: Stanford University Press, 1989), 6, 10.
                [2]  Anthony Giddens and Simon Griffiths, Sociology, (Cambridge: Polity, 2006), 259
                [3]  Fredrick Svenaeus, The Hermeneutics of Medicine and the Phenomenology of Health: Steps Towards a Philosophy of medical Practice, (Mininova: Springer, 2000), 20, 22
            [4]   Judith Walzer Leavilt and Ronald L. Numbers, Sickness and Health in America: Readings in the History of Medicine and Public Health, (Madison: University of Wisconsin Press, 1997), 51-52, 54
            [5] Judith and Ronald, 45, 47,50, 54
                [8]  Andrew Wear, Medicine in Society: Historical Essays, (Cambridge: Cambridge University Press, 1992), 2-3, 6