Mental health Essay Sample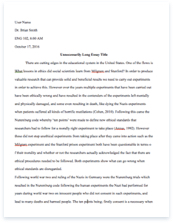 The whole doc is available only for registered users
OPEN DOC
Get Full Essay
Get access to this section to get all help you need with your essay and educational issues.
Get Access
Mental health Essay Sample
Challenges
The challenge he face in his career is to help people to be aware of his profession and to understand the job scope in the variety of fields in psychology. Generally, most people will imagine that psychologists sitting in an office and talk with their patients. They tend to be confused with the different types of mental health professionals such as psychiatrist, counsellor and clinical psychologist due to some overlapping of the job nature.
These professionals are trained to assess and diagnose mental health of clients. They will offer counselling and psychotherapy if the clients have emotional problems and mental health disorders. However, there are some differences content and scope of job that make each profession unique. These types of people have different training and educational background.
Psychiatrists are doctors who have degree in medicine. They are allowed to prescribe psychiatric medications and usually focus on the treatment of serious psychiatric disorders, including schizophrenia, bipolar disorder and severe depression. Counsellors are usually psychotherapists who have master\'s degree in mental health counselling. They provide talk therapy and help people to deal with the common life problems, such as developmental issues, stress and relationship conflicts. Clinical psychologists seek to understand, prevent and treat the psychological disorders. They help clients to identify problems in their daily life and try to diagnose mental disorders by interview and observation in order to provide appropriate therapy for the clients. Clinical psychologists are not able to prescribe medications.
According to his opinion, private service and charges may deter people in need to resist getting help. Most private mental health services charges are extremely expensive. The price is beyond the ability of a person to afford it. Affordability is a main problem to barrier people in need from access mental health services. The people who suffering from mental health problems cannot afford the high cost of mental health treatment due to the low income. It will cause them to ignore their illness and refuse to get psychological treatment.
Preferred theory
Mr. Tan Zong Yan personally favored Person Centered Therapy which focus on the need and development of individual. He believes that a therapist should be empathetic, genuine and unconditional positive regard to treat the clients. The therapist acts as a listener and encourages the client to explain her or his situation actively during the session. They show patience to listen and never judge the experience of the client. The therapist needs to help the client to understand their experience instead of give instruction and teach them what they need to do. Client will find their own solutions and make a positive change through the process. Person Centered therapy allows clients to improve their self-awareness and self-acceptance.
He frequently use psychoeducation and Cognitive Behavioral Therapy (CBT) during the treatments and incorporate of the principles of Person Centered Therapy. He offer the information and knowledge to individual that receive the mental health services, including clients who suffering from mental health condition and their families and friends. Clients are willing to view their psychological disorders as treatable when they understand the diagnosis about their mental health condition. It promote client to respond their mental health disorders actively and have better understanding of the condition. Clients and their families have the way to deal with the condition when they improve their basic knowledge the illness.
Different person will give the different meaning to certain events. It result a person to produce unpleasant emotions and inappropriate behaviors when he or she has excessively negative thought. Cognitive Behavioral Therapy (CBT) is use to change the dysfunctional emotions, attitudes and behaviors. Client and therapist try to find the problem and formulate suitable strategies to solve the problem. After that, therapist will request the client to complete certain homework in their daily life and assess the progress during the next session. For example, the therapist ask the client create diary to record the situation that cause unpleasant emotions.
Goal
His personal goals as a clinical psychologist is to promote the awareness of mental health wellbeing of the public. Mental health issues are very common in the life, people of any age and background may be affected by the mental health condition. Therefore, it is important to improve the mental health awareness and support the clients who suffering from mental health issue.
In addition, he hope to provide mental health services at affordable rate to those from low social economic class. The clients with low income have opportunity to access the appropriate treatment and improve the mental health.