Mexico Distribution Center for The Moose's Cabin Essay Sample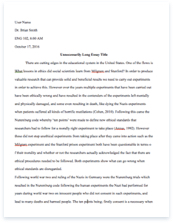 The whole doc is available only for registered users
OPEN DOC
Download Essay
Get Full Essay
Get access to this section to get all the help you need with your essay and educational goals.
Get Access
Mexico Distribution Center for The Moose's Cabin Essay Sample
Opening a distribution center in Mexico will provide The Moose's Cabin with opportunities to expand our client base. The current location in the Northeastern United States experiences extreme winter weather conditions, causing slower winter order fulfillment. "Manufacturers who want to take advantage of lower fixed rates and labor costs see the benefits of moving all or portions of their assembly operations to Mexico." (Group Sion, n.d.) Strong trade routes due to the geography and topography of the country offer both maritime and ground transportation efficiencies. Adding a location that has a warmer climate will allow greater flexibility during those months. "Mexico has a tropical climate with distinct rainy and dry seasons. Temperatures in the coastal regions range from 21° C to 27° C." (Library of Congress, 2008) The physical local for our new expansion should stay on in the Central or Western larger cities.
The hurricane season on the Gulf of Mexico coast may prohibit benefits that the westerly and central places will offer. The benefits and opportunities to expand The Moose's Cabin sending twenty-five hardworking employees and myself will reap great rewards. The company's performance trends during the last few fiscal years reveal that now is the time economically to begin expanding our products to other regions of the world. Home décor products for median income households offered online and in retail, outlets do not have close proximity to the proposed location in Mexico. Economics
The economic structure in Mexico opened an environment for businesses to open new satellite locations to take advantage of the land and labor costs. The United States entered into the North American Free Trade Agreement with Mexico. "The favorable terms of trade makes the Mexico import and export a profitable venture both for the domestic and international investor." (MapXL.com, 2011) Exposure to a new demographic offers another positive factor for The Moose's Cabin doing business from a Mexican location. Many other businesses in the United States have chosen to move into other countries to stay viable in the challenging economic conditions. To continue our level of success for this market share and potentially expand to other markets opening a new facility in Mexico is a strong business decision. "In 2006 the leading markets for Mexican products in terms of percentage of total exports were the United States, 84.7 percent; Canada, 2.1 percent; Germany, 1.3 percent; and Spain, 1.2 percent." (Library of Congress, 2008) The Group Sion's research confirms what business owners and economists believe to be true; consumers want the best products at the lowest possible prices. To offer The Moose's Cabin customers these savings an expansion site will assist in offering lower overall costs.
Political
The political environment in Mexico over the last few years has evolved shows signs of changing. The Mexican government is composed of thirty-one states and a Federal District, who participate in a multi-party democracy. The parliament organization has a senate that subdivides into an upper house and a lower house. The upper house term limit of six years is longer than the lower house limit of three years. Once a senate member reaches the end of their term, they cannot seek immediate re-election and must wait until the next election period. With the senate seats constantly churning, the country has shown a great ability to adapt to the introduction of other countries bringing business. The Library of Congress reports that the relationship between Mexico and the United States remains at the top of the Mexican foreign policy agenda. Business
An article titled "Doing the right things in Mexico" provides great tips for conducting business. The journal details that strong business fundamentals can span across many nations. Since The Moose's Cabin has created excellent practices here in the United States transitioning business to Mexico will not be difficult. The environment in Mexico promotes women in leadership roles. "Knowledge is respected in Mexico so there have been no problems with their being accepted by male employees." (Gowan, Ibarreche & Lackey, 1996) Many of our competitors chose to open expansion locations in countries similar to Mexican cultures to maximize the opportunities for growth. "These reforms, which culminated in the ratification of the North American Free Trade Agreement (NAFTA) in 1994, attracted an influx of US $148 billion in foreign direct investment (FDI) during the next decade." (Library of Congress, 2008) The labor costs of doing business in Mexico according to Group Sion have a savings of seven dollars per hour fully burdened versus the average costs in the US. "The workforce is just tremendously open to ideas creative at all levels." (Gowan, Ibarreche & Lackey, 1996)
Bibliography
APA Style
Group Sion. (n.d.). Doing business in Mexico. Retrieved October 31, 2011 from http://www.gruposion.com.mx/Doing/Doing.htm Gowan, M., Ibarreche, S., & Lackey, C. (1996). Doing the right things in Mexico. The Academy of Management Executive, 10(1), 74-81. Retrieved October 25, from http://www.jstor.org/stable/4165307 Library of Congress, Federal Research Division. (2008). Country profile: Mexico. Retrieved October 24, 2011 from http://lcweb2.loc.gov/frd/cs/profiles/Mexico.pdf MapXL.com. (2011). Mexico information retrieved October 31, 2011 from http://www.mexicomapxl.com/