Michael Jackson Biography Essay Sample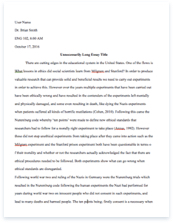 The whole doc is available only for registered users
OPEN DOC
Download Essay
A limited time offer!
Get a custom sample essay written according to your requirements urgent 3h delivery guaranteed
Order Now
Michael Jackson Biography Essay Sample
He was known as the "King of Pop" but his rein on the thrown wasn't always easy. Michael Jackson was born on August 29th, 1958. He was raised in Gary, Indiana by his two parents Joseph and Katherine Jackson. He had eight siblings he had grown up with, five brothers and three sisters. His parents were very hard on him and his brothers, pushing them to become something great. In 1996 Michael married Debbie Rowe. They had three children together, Prince Michael Jackson, Paris Katherine Jackson and Prince Michael II Jackson. He lived in Holmby Hills, California. He also owned a ranch in California called "Never land". There he had kept exotic pets such as a Chimpanzee named Bubbles. He also had amusement rides; he sometimes opened the ranch up for children events.
Michaels father Joseph Jackson, was an artist himself when Michael was young. Michael's father believed his sons had talent; he put them into a musical group in the early 1960s. At first, the Jackson Family singers were just Michael's older brothers Tito, Jermaine and Jackie. Michael joined his siblings when he was five, and became the group's lead vocalist. (Page 1of 3 Harris Friedberg "Michael Jackson") He showed great talent for such a young performer, impressing audiences with his ability to sing and dance. His older brother Marlon also became a member of the group, which became the "The Jackson 5". In 1968 The Jackson 5 got signed to Motown records. They began to top the charts with their first four major singles, "I want you back", "ABC", "The love you save" and "I'll be there". Michael was just eleven years old when all this happened. By 1971 Michael began his solo career at the age of 13.
He appeared in the film version of "The Wiz" in 1978. While doing that film he meets musical director, Quincy Jones who produces Michael's best known albums. (Page 1 of 3 Harris Friedberg, "Michael Jackson") Michael continues on with his solo career and tops the charts with many different albums and singles. He sold millions of albums as a pop singer. In 1993 Michael Jackson receives the Living Legend award at the 35th annual Grammys in Los Angeles. In 2000 Michael's album "thriller" receives its 26th platinum certification from the Recording Industries Association of America; representing 26 million copies sold in the United States. In the year of 2001 Michael Jackson is inducted into the Rock and Roll hall of fame. Also in 2001 Michael releases his first album in four years called "Invincible".
In 1993, allegations of child molestation against Jackson came out. A 13-year-old boy said that the music star had touched him. Jackson was known to have sleepovers with boys at his Never Land Ranch, but this was the first public charge of wrongdoing. The police searched the ranch, but they found no evidence to support the claim. The next year, Jackson settled the case out of court with the boy's family. Other allegations were said, but Jackson was still innocence. In August 1994, Jackson announced that he had married Lisa Marie Presley, daughter of Elvis Presley. The marriage did not last very long. They divorced in 1996. Some said that the marriage was just to restore Michael's image after the allegations of him molesting children. In 2002, Jackson made headlines when he seemed confused on stage at an MTV awards show. Soon after, he received enormous criticism for dangling his son, Prince Michael II, over a balcony while greeting fans in Berlin, Germany. In an interview, Jackson said that "We were waiting for thousands of fans down below, and they were chanting they wanted to see my child, so I was kind enough to let them see. I was doing something out of innocence." But many fans were unforgiving of the star's behavior, with former fans and media outlets asking to have Child Protective Services take Jackson's children from him.
Jackson announced that he would be doing a bunch of concerts in London as his "final curtain call." There had been some worries whether the fragile singer would be able to handle the stress of 50 concerts. Other than all of the allegations and stories of odd behavior, Jackson remained a person many people still cared about and loved, as showed by the strong response to his concert plans; set to happen at the O2 Arena in London, England, beginning July 13, 2009, Jackson saw all the tickets to his "This Is It" tour sell out in only four hours. Jackson would never get to experience the success of his comeback tour. On June 25, 2009, Jackson went into cardiac arrest in his Los Angeles home in Holmby Hills. He was rushed to the hospital after his heart stopped and CPR had failed, but he died later that morning. He was 50 years old when he died.