Micro Finance Institutions Essay Sample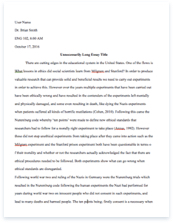 The whole doc is available only for registered users
OPEN DOC
Pages:
Word count: 883
Category: debt
Download Essay
Get Full Essay
Get access to this section to get all the help you need with your essay and educational goals.
Get Access
Micro Finance Institutions Essay Sample
Microfinance is the provision of financial services to low-income clients or solidarity lending groups including consumers and the self-employed, who traditionally lack access to banking and related services." Microfinance is not just about giving micro credit to the poor rather it is an economic development tool whose objective is to assist poor to work their way out of poverty. It covers a wide range of services like credit, savings, insurance, remittance and also non-financial services like training, counseling etc.
FEATURES:
* Borrowers are from the low income group
* Loans are of small amount – micro loans
* Short duration loans
* Loans are offered without collaterals
* High frequency of repayment
* Loans are generally taken for income generation purpose
PURPOSE:
Traditionally, banks have not provided financial services, such as loans, to clients with little or no cash income. Banks incur substantial costs to manage a client account, regardless of how small the sums of money involved are. For example, although the total gross revenue from delivering one hundred loans worth $1,000 each will not differ greatly from the revenue that results from delivering one loan of $100,000, it takes nearly a hundred times as much work and cost to manage a hundred loans as it does to manage one.
The fixed cost of processing loans of any size is considerable as several things—assessment of potential borrowers, their repayment prospects and security; administration of outstanding loans, collecting from delinquent borrowers, etc.—have to be done in all cases. There is a break-even point in providing loans or deposits below which banks lose money on each transaction they make. Poor people usually fall below that breakeven point. A similar calculation resists efforts to deliver other financial services to poor people.
OBSTACLES:
* Inappropriate donor subsidies
* Poor regulation and supervision of deposit-taking MFIs
* Few MFIs that meet the needs for savings, remittances or insurance
* Limited management capacity in MFIs
* Institutional inefficiencies
* Need for more dissemination and adoption of rural, agricultural microfinance methodologies
* INTEREST RATE:
* One of the principal challenges of microfinance is providing small loans at an affordable cost. The global average interest and fee rate is estimated at 37%, with rates reaching as high as 70% in some markets.[12] The reason for the high interest rates is not primarily cost of capital. Indeed, the local microfinance organizations that receive zero-interest loan capital from the online microlending platform Kiva charge average interest and fee rates of 35.21%.[13] Rather, the main reason for the high cost of microfinance loans is the high transaction cost of traditional microfinance operations relative to loan size.[14]
Impact[edit]
1.While all microfinance institutions aim at increasing incomes and employment, in developing countries the empowerment of women, improved nutrition and improved education of the borrower's children are frequently aims of microfinance institutions. In the US and Canada, aims of microfinance include the graduation of recipients from welfare programs and an improvement in their credit rating. 2. In the US, microfinance has created jobs directly and indirectly, as 60% of borrowers were able to hire others.
[36] According to reports, every domestic microfinance loan creates 2.4 jobs. [37] 3.These entrepreneurs provide wages that are, on average, 25% higher than minimum wage. [37] 4.Small business loans eventually allow small business owners to make their businesses their primary source of income, with 67% of the borrowers showing a significant increase in their income as a result of their participation in certain micro-loan programs. [36] 5.In addition, these business owners are able to improve their housing situation, 70% indicating their housing has improved.[36] 6.Ultimately, many of the small business owners that use social funding are able to graduate from government funding.[36]
SOME OF THE INSTITUTIONS WHICH PROVIDE MICRO FINANCE ARE AS FOLLOWS:
* 3. SKS Microfinance
* Headquarters: Hyderabad, India
Founded: 1998
Staff size: 22,733
Number of borrowers (2011): more than 7.3 million
Gross loan portfolio: $925 million
* BASIX
* Headquarters: Hyderabad, India
Founded: 1996
Staff size: 10,000
Number of borrowers (2011): more than 1.5 million
Gross loan portfolio: $281 million
*
* . Bandhan
* Headquarters: Kolkata, India
Founded: 2001
Staff size: 9,754
Number of borrowers (2011): 3.8 million
Gross loan portfolio: $733 million
* 9. Spandana Sphoorty Financial Ltd.
* Headquarters: Hyderabad, India
Founded: 1998
Staff size: 8,328
Number of borrowers (2011): nearly 4.2 million
Gross loan portfolio: $778 million
*
CONCLUSION :
Micro-finance is one of the ways of building the capacities of the poor and graduating them to sustainable self-employment activities by providing them financial services like credit, savings and insurance. To provide micro-finance and other support services, MFIs should be able to sustain themselves for a long period. Sustainability should be looked at from multiple dimensions such as demand, mission, legal and regulatory framework, ownership, governance and human resources and financial sustainability.
MFIs should be regulated but regulation should not hamper financial sustainability. It is possible to provide micro-finance services to the poor at reasonable cost provided use is made of certain methodologies – group lending, peer guarantees, and matching repayment terms with borrower cash flows. The ownership pattern and governance of an MFI are crucial to its sustainability. We examined all three options of ownership – "no owners", "member-user owners" and "investor-owners", along with the relative merits and demerits of each pattern and its impact on governance. The paper asserts that irrespective of the mode of ownership, professional management is key.