Miner: American Vs. Nacirema Essay Sample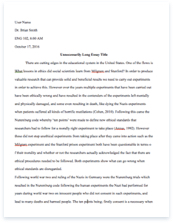 The whole doc is available only for registered users
OPEN DOC
Download Essay
A limited time offer!
Get a custom sample essay written according to your requirements urgent 3h delivery guaranteed
Order Now
Miner: American Vs. Nacirema Essay Sample
Horace Miner expresses both irony and ridicule towards the American culture in his article "Body Ritual among the Nacirema". He uses a sociological approach that is rather witty, using a fictitious North American group called the "Nacirema". The views of this culture are much like our own, depicting the importance of societal status, wealth, health and appearance. Miner introduces the readers to a society living between Canada and Mexico, originated by a founder called "Notgnihsaw", who chopped down a cherry tree to claim an awareness of truth. Instantly, this sparks the reader's attention by recognizing the similarity of the American culture. The reader might notice that "Notgnihsaw" is "Washington" spelled backwards, and Washington was the founding Father of our country. Miner continues explaining that the primary belief of this culture is that one's body is prone to unsightly imperfections and disease.
The prevention of such imperfections is vital, and the use of magic potions and remedies bought from various medicine doctors and healers are deemed necessary for use in their daily rituals. Americans worship their body, and it would be a sin to live any other way. The symbolism and similarities shown in this article express the qualitative research method. Miner uses tone and impressions that represent real events. The image is realistic. Miner has demonstrated his view from the outside, while remaining unbiased. His choice of words allows the reader to reflect on their own culture. The "shrine", for example, is the place where all the magic happens. Daily rituals are performed here in the privacy of their own homes. Children are also introduced to these rituals at the appropriate age. Only men shave daily, and women perform their own body make-overs less frequently. The "charm box" symbolizes a medicine cabinet, where all the remedies are kept, then often forgot about. The cabinet is over-flowing with remedies for everything.
Most readers can relate this to their own shrine and charm box. Miner uses the dramaturgical technique by expressing his own biases towards America's obsessions with looks and self-gratification. This expression is shown through the description of appearance, and allows the reader to easily identify with himself. For example, the group is scared of going to the "holy-mouthed men", referring to a Dentist, but that a person's mouth is the gateway to social interaction. Miner writes "were it not for the rituals of the mouth, they believe that their teeth would fall out, their gums bleed, their jaws shrink, their friends desert them, and their lovers reject them". This suggests that a person's teeth are the center for a confident and continuous connection with others. Again, this is a realistic issue among Americans. Along with this is the hospital, or referred to as "latipso" by Miner. The hospital is a temple directly for those with ailments that can't be cured by any other means. The fear of the hospital, like that of the dentist, often results in people avoiding treatment.
Fearing that if one is admitted to the hospital, the chance of recovery and of leaving is small. The beliefs of privacy and secrecy are lost. A dressed up nurse moves in a robotic manner through the temple, and aids and assists in a persons every action, even bathing and using the bathroom. The thought of ones backside exposed in the all- revealing gown is just too much. Cultural relativism is also expressed in Miner's article. Cultural relativism is defined as the view that ethical and moral standards are relative to what a particular society or culture believes to be good, bad, right or wrong. By expressing cultural relativism, the writer is able to avoid ethnocentrism. Minor appears not to view the cultures morals and beliefs as foreign, but standard. Miner refers to females finding themselves "…subjected to scrutiny, manipulation, and prodding of the medicine men". This expresses the feminist view, in that gender is directly divided. Women are exposed and definably separated. Gender oppression is generally defined as women being treated differently, or even abused by men.
This portrays violation, and that women are not allowed to voice rebuttal, because they are women. Miner also states that exposure of a woman's breast can be entertaining to men, and that a woman might gain financially from the exposure. The rituals of body enhancements and those with weight issues are directly depicted and reflect mainly to women. As a result, women are constantly in distress over their appearance as a whole. Not just facial, but the entire body. It is also mentioned that women are "… suspected of putting a curse on children while teaching them the secret body rituals". Again, this depicts the feminist view. Miner has shown collaboration in an article full of culture, inequality, standards, beliefs and morals. This has been depicted in a humorous way, and expressed by various sociological theories. The reader may interpret it many different ways, but what it comes down to is that society is constantly in awareness of the importance that their appearance reflects who they are to others. The article is ironic in that it matches that of our society and ridicules those who worship these beliefs.
References
Linton, R. 1936. The Study of Man. New York; D. Appleton-Century Co. Malinowski, B. 1948. Magic, Science, and Religion. Glencoe; The Free Press. Miner, H. Body Ritual among the Nacirema. University of Michigan. 503-507. Murdock, G. 1949. Social Structure. New York; The Macmillan Co.