Mister Pip Essay Sample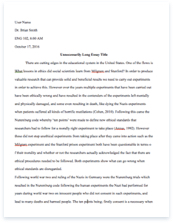 The whole doc is available only for registered users
OPEN DOC
Pages:
Word count: 673
Category: film
Download Essay
A limited time offer!
Get a custom sample essay written according to your requirements urgent 3h delivery guaranteed
Order Now
Mister Pip Essay Sample
To what extent do you agree that film directors leave a distinctive mark on the themes they create? Discuss your views with close reference to a film (or films) you have studied. As a genre it is the purpose of film to leave a distinctive mark on an audience by exploring themes that are fundamental to society. 'Crash', directed by Paul Haggis, achieves this purpose through the exploration of themes that arose from the tumultuous environment in post-9/11 L.A. Haggis's mark is all the more distinctive because the exploration of these themes raises the universal question of racial prejudice in any society; not just L.A. As a medium film is created on a superficial level to entertain but its deeper purpose is to provoke thought and analysis of the world around us. Haggis achieves this in 'Crash' by exploring the theme of racism to leave a distinctive mark that forces the viewer to question their own deeply held assumptions and prejudices.
The opening scenes of 'Crash' literally and metaphorically confronts the theme of racism head on. The scene opens with Detective Waters talking to his partner about how society 'crashes' into one another. To show the viewer that Waters words "that we miss that touch so much that we crash into each other" are significant Haggis uses a voice over as the words start and then a close-up of Waters illuminated to show his ephinay. Waters pensive words introduce the theme of racism subtly but from this Haggis wants us to understand that when different racial groups interact it is inevitable they will 'crash'. This is reinforced in the opening scene when Mrs Choi literally crashes into Ria and then immediately reverts to racism "Mexicans no know how to drive" to which Ria retorts in sarcasm "how shocked I am to be hit by an Asian driver".
This petty, racist exchange is followed by a close-up of Graham looking world weary and disillisiuoned by the racism that that is a typical everyday occurrence in post 9/11 L.A. The opening scene of 'Crash is dinstintive because as much as we might recoil from the racism we are also uncomfortably aware that it is familiar and slightly funny. From the outset Haggis sends a strong message that society………………… 8-9 lines explaining how racism and the power of language is portrayed in the opening scene. I would suggest you primarily focus on camerawork and dialogue in this scene. Try and use the keywords 'distinctive mark' once. Each paragraph must briefly touch on the message Haggis is sending the viewer IN YOUR OPINION. •Read your notes x 1 on this scene (page 12 of your booklet)
•Think about the shots Haggis has used in the first scene-why do you think they have been used?
•Why has the 'crash' quote been so emphasised in the opening scene? What is Haggis trying to tell us about society through the use of this quote?
•Discuss how language is portrayed in this scene. Ria and Mrs Choi use language in powerful ways. Both are racist through the language they use. What is Waters reaction to this? •Haggis is trying to show us in the opening scene that the world is what? That if people 'crash' into one another what will literally happen?
Body Paragraph 2
In the following scene Haggis continues to leave a distinctive mark on his audience through his thematic portrayal of racism. The scene starts with Farhad and Dorri going to A scene that leaves a distinctive mark is the carjacking of the Cabots car by Peter and Anthony………….. In this scene Haggis reinforces his thematic portrayal of racism and the power of language to show…….. 8-9 lines explaining how racism and the power of language is portrayed in the initial carjacking scene. I would suggest you primarily focus on camerawork and dialogue in this scene. Try and use the keywords 'distinctive mark' once. Each paragraph must briefly touch on the message Haggis is sending the viewer IN YOUR OPINION. •Read your notes