Model of group formation Essay Sample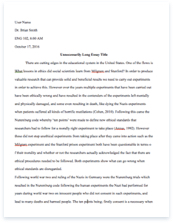 The whole doc is available only for registered users
OPEN DOC
Pages:
Word count: 745
Category: group
Download Essay
A limited time offer!
Get a custom sample essay written according to your requirements urgent 3h delivery guaranteed
Order Now
Model of group formation Essay Sample
Though very similar in composition, groups and teams are differentiated along their characteristics and functions. A group is a formal or informal assemblage of people based on common interest such as ethnicity, type of job, religion, age etc. A team however is a group of people who are actively constituted to achieve a common goal in a stipulated time. Although a group may also be formed to achieve common goals, they however do not necessarily function collectively towards such ends.
Understanding of every individual that constitutes a team is paramount for effective cohesion and collaboration towards achieving team goals. A group on the other hand does not necessarily harness the strength nor complement weaknesses of individuals. Thereby, synergy of efforts is the most distinguishing factor between teams and groups.
Features that delineate groups from teams include the leadership pattern, work process, problem solving method and participation in tasks. A group usually has one leader directing the affairs of the members while a team can have as much leaders as the number of members or tasks they are currently dealing with.
Group members are not inclined to sharing responsibilities. Tasks are delegated or handled by those interested in completing particular projects. As such, participation in groups may not be all inclusive and is always limited by interest and individual capabilities. A team however encourages participation of every member in projects.
Responsibilities are shared, and team's success is often built on the interdependence of members on one another.
Conclusively, both teams and groups encourage interactions and sharing of resources, teams has a more profound effect on the lives of its members as it encourages members to work for and with one another better than groups.
According to the Tuckman's theory of group formation, there are 4 stages of group formation.
According to this model, the Forming phase is the initial point of group formation when members are getting to know each other as well as getting familiar with group objectives. The leader is tasked with clarifying team objectives and defining roles of members. The emotions exuded by members at this stage are often pleasant and chivalrous. Excitement about the task to be undertaken is often high.
The Storming phase is the second stage. At this point, group members are familiar and are already able to register their displeasure or opinions on issues. Such things as work processes, workload, or leadership approach may be cause for grouses. Resistance to instructions and pulling through tasks are often experienced at this stage while members who are compliant may experience stress due to lack of necessary support or strong relationship with others. It is characteristic of nascent groups to fail at this point.
The Norming phase presents as a period of understanding and conflict resolution amongst team members. The strengths and weaknesses of each member are understood and complemented at this point. The ability of the leader becomes appreciated and the team progress becomes observable as members demonstrate more commitment to group purpose.
The Performing phase is the final stage where teams are able to operate with minimal friction. There is a mutual understanding of purpose and achieving team goals become quintessential to every member. Work can be delegated at this point and gaps can be filled adequately through complementary efforts of other members.
The failure or success of teams depends on the behaviour of team members. Hence, in order to optimise the potentials of every member for success, knowing the preferred roles of individuals in a team becomes the prerogative of a manager.
A typical team may consist of thinkers, doers, evaluators, strategists, implementers, coordinators etc. Knowing who is what enables the manager to harness the skills of the team members efficiently. This knowledge will help shape how the manager coordinate team interaction and assess contributions. The manager will know who best to assign to particular problems or who to expect alternative solutions from when the team is stuck.
Being aware of the preferred roles of team members helps the manager match the appropriate skills to eventualities. This ultimately creates a balanced team while promoting cohesion in the team. When preferred roles are identified, the manager will be able to use the team to better performance. Team member will recognize their worth to team and will be able to better engage each other during task execution.
Ultimately, identification of team members' roles helps a manager achieve stated objectives faster. Since each member delegated to particular tasks is adept at what they are handling, efficiency is achieved and more projects are completed within short periods.