Montgomery College Challenge Essay Sample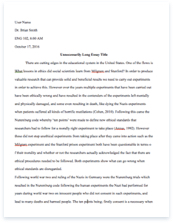 Pages: 2
Word count: 421
Rewriting Possibility: 99%

(excellent)

Category: college
Get Full Essay
Get access to this section to get all help you need with your essay and educational issues.
Get Access
Introduction of TOPIC
The Learning College and the Academic Master Plan manifests optimal results to the Montgomery College's students. The Learning College's priorities, (continued access, retention, achievement, and collaborative learning), strengthens its Master Plan coordinately (Shartle –Gallotto and Somersell, p.3). Combining the essentials of academic excellence with that of Montgomery College's vision allows students to excel the average standard while developing a strong sense of self to make memorable changes in the community. The Learning College's endless effort to change each and every student is notable in the degree of creativity each acquires through their curriculums regarding the arts and sciences (p.3). The acceleration of each student reinforces the mechanism given through constant learning opportunities and growth available for every participant.
The Montgomery College's vision remains in a continuous motion towards a greater, more profound good in th
e hearts of its students. Montgomery College recognizes the credibility it has branded by the direct
effects of "changing lives, enriching our community, and holding ourselves accountable" through their students' learning (Levine and Shartle-Gallotto, 2006, p.5). The chance to grow exists within the college's faculty and students' efforts to learn the dynamics of change. The catalysts of the Learning College increases high academic performances through its initiatives of its learning communities targeted for particular students; e.g. Learning Communities, First-Year Experience, Service Learning, Student Achievement & Retention, Outcomes Assessment (Levine and Shartle-Gallotto, 2006,p. 8).
Mechanics of each learning community is devoted to enhancing the overall experience of each student. More opportunities will arise through the change of Montgomery College, but its purpose will remain the same – student centered learning- by demand. The access to this remarkable ability places students in a multi-facet position to experience the changes the Learning College makes through the community (Shartle-Gallotto and Somersell, p.5). The Master Plan is in full effect as the Learning College develops an intrinsic motivation within the college community. Priorities are in place and the new faces of the future will graduate with the knowledge and experience to foster an ever-changing world.
References Cited
Levine, Shartle-Gallotto, and Linhart. Academic Master Plan January 2006 (2006). Retrieved October 6, 2006 from http://www.montgomerycollege.edu/planning/amp_page1.htm.
Shartle – Galotto, Somersell C., Laurie White, and Jane Blocher. Montgomery College: A Learning College. Retrieved October 6, 2006 from http://www.montgomerycollege.edu/learning/documents/monograph.pdf.