Muhammad Ali as the most Influential Person in the History of American Sports Essay Sample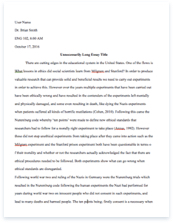 The whole doc is available only for registered users
OPEN DOC
Download Essay
A limited time offer!
Get a custom sample essay written according to your requirements urgent 3h delivery guaranteed
Order Now
Muhammad Ali as the most Influential Person in the History of American Sports Essay Sample
Introduction
Very few "superstar" athletes have managed to emerge from the shelter of their brute strength, athletic skills, and competitive spirit to become other persons for others — bigger, better, and deeper in society's stature and standing.
            One of such a privileged few is Muhammad Ali — diplomat, peacemaker, philanthropist and, yes, a former world heavyweight boxing champion.
            Called Athlete of the Century by GQ magazine, Muhammad continues to receive accolades for his contribution to sports and to society in general.  Aside from being named by Sports Illustrated as Sportsman of the Century, by BBC as Sports Personality of the Century, by World Sports Awards as World Sportsman of the Century, and by the State of Kentucky as Kentuckian of the Century, he has also received the United States of America's highest civilian award — the Presidential Medal of Freedom (CBS News, 2005).
            Several years after retiring from an illustrious professional boxing career, Muhammad continues to reap awards from other even more prestigious international bodies such as the United Nations which bestowed upon him the title of UN Messenger of Peace and Amnesty International which honored him with its Lifetime Achievement Award.  In Germany, he was cited with the 2005 Otto Hahn Peace Medal for his involvement in the U.S. civil rights movement and the United Nations. He was also named the International Ambassador of Jubilee 2000, a global organization dedicated to relieving debt in developing nations (Wikipedia, 2007).
Humble Beginnings
            In his youth, no one would have ever thought of a boy named Cassius Marcellus Clay Jr. becoming a boxer and "the greatest" at that.  "Cassius's upbringing was typical of the times. Odessa, her mother, was very religious and made sure the family went to church and to Sunday school each week. At the Virginia Street elementary school, Cassius was an average, if somewhat mischievous and talkative, student. Some people believe he may have suffered from dyslexia, a learning disorder that makes it difficult to read. He much preferred art class and working with his hands. He and his younger brother, Rudy, both enjoyed going to work with their father on a painting job. Cassius Sr. taught them how to mix paint and sometimes allowed his sons to help him lay out and letter the signs. But apart from the occasional game of touch football, the young Cassius, like his father, was not very interested in sports. It was not until he was twelve years old that he was introduced by chance to the sport that would change his life" (Christopher, 2007).
            In 1954 then 12-year-old Cassius used his bike to attend a home show at the Columbia Auditorium in Louisville, Kentucky, for the free popcorn and balloons that organizers had offered to promote the show.  He parked his bike outside the auditorium as he and his friends wandered around the show for a few hours.  And when he went back to his bike to head for home, his bicycle was gone, stolen. A man noticed him crying and asked Cassius what was wrong. He told him that his bike had been stolen and that he wanted to find a policeman. The man referred him to Joe Martin, a Louisville police officer who ran a boxing gym in the basement of the auditorium (Howard, 2007).
Still sniffing but holding back tears, Cassius went down to report to Martin that his bike had been stolen and that he wanted to "whup!" whoever had taken it.  Martin admonished, "You better learn to box first."   It was a life changing advice, one that would take Cassius to the road to greatness.  Within weeks, then 89-pound Cassius had his first bout and registered his first win in a searing amateur career that would see him winning 108 amateur bouts and an Olympic gold eight years later.
Professional Career
After his Olympic triumph, he returned to Louisville to begin his professional career. He won his first professional fight at the age 18 via a six-round decision over Tunney Hunsaker, a police officer.  He followed this up with 18 more victories, 15 by knockout, in a span of four years before the face-off with then reigning world heavyweight champion Sonny Liston on February 25, 1964, at Miami, Florida.  In spite of Clay's impressive credentials, he was not expected to beat the champ, who mistook his challenger's loudness for insecurity.  This was also the first time that the world took notice of Clay's loquacious showmanship.  During the weigh-in, he declared that he would "float like a butterfly and sting like a bee," and, to sum up his strategy for avoiding Liston's assaults, said, "Your hands can't hit what your eyes can't see" (Howard, 2007).
Liston, who was known for his powerful head and body shots, tried to stop Clay in the first round, but the challenger's superb speed and footwork kept him away from the champ's lethal blows.  By the fourth, Ali was blinded by a foreign substance that hit his eyes, but quickly recovered in the closing minutes of the round with a flurry of combinations to the face of Liston.  After another two rounds of punishment, Liston shocked the world when he did not come out for the 7th round to continue the fight; he later claimed to have injured his shoulder.  At the other end of the corner, Ali raised his hands in victory as he announced to the crowd, "I'm the greatest!"
The victory was Cassius' first ticket to greatness and the start of a series of controversies that marked his reign as world boxing champion.  He took in all comers who dared challenge him, including Frazier whom he knocked out in the first round in their rematch.  His uncanny remarks and display of arrogance and cavalier entertained his fans more than they annoyed them.  He was so sure of himself and his victories that he would even predict what round his opponent would fall.  The crowd roared in acclaim as he fulfilled his predictions inside the ring    Shortly after his championship victory over Frazier, he announced his membership to the Nation of Islam, his conversion into Islam, and his change of name from the original Cassius Clay to Muhammad Ali.   One of his opponents – Ernie Terrell – refused to call him by his new name and instead ridiculed him by calling him "Cassius" just before their bout.  Muhammad did not knock him out, but he pummeled and punished Terrell all through 15 rounds of the lopsided contest, with old Muhammad taunting him repeatedly, "What's my name?" (Boxing Memorabilia.Com)
Unfortunately, his reign ended rather abruptly two years later when he refused to serve in the United States Army during the Vietnam War as a "conscientious objector" by virtue of his Muslim religion. He was quoted as saying, "I ain't got no quarrel with those Vietcong" and "no Vietcong ever called me nigger."  His anti-war position cost him his license as a professional boxer and a bleak prospect of a jail term.  Near the end of 1967, Ali was stripped of his title by the professional boxing commission and was not allowed to fight professionally for more than three years. He was also convicted for refusing induction into the army and sentenced to five years in prison, but fought back to appeal his conviction. He stayed in the public limelight and supported himself by giving speeches, primarily at rallies on college campuses that opposed the Vietnam War. (Hauser. 2004)
The comeback
In 1970, with the help of a State Senator, he was granted a license to fight in Georgia because it was the only state in America without a boxing commission. In October  that year, he returned to the ring to stop Jerry Quarry on a cut after three rounds. Shortly after the Quarry fight, the New York State Supreme Court ruled that Ali had been unjustly denied a boxing license. In December 1970, he fought and stopped Bonavena in the 15th round of the bout at the Madison Square Garden to pave the way for another title fight against bull-strong and certified brawler Joe Frazier, an equally undefeated world champion.
Frazier, also known as "smokin' Joe" because of his bull-like temper atop the ring, dealt Ali his first ever loss in 1971 with a 15th round knockdown and a unanimous decision from the judges.   The two crossed paths once again in 1975 in another thrilling encounter called "Thrilla in Manila."  Ali settled the score with a masterful 11th round stoppage over Frazier, whose corner refused to submit him to more punishment from Ali.  He continued to rule boxing until 1979 when he relinquished his crown and announced his retirement.  Ali staged a comeback the following year and attempted to wrest the title from WBC champion Larry Holmes, but lost in the 11th round when Angelo Dundee, his long-time trainer, would not let him come out for the round.  Despite the apparent finality of his loss to Holmes and his increasingly suspect medical condition, Ali fought and lost his final battle against a young contender and future champion Trevor Berbick (Myers, 2001).
He finally retired in 1981 with a colorful career record of 56 wins (37 by knockout) and 5 losses, and as a three-time World Heavyweight Boxing champion.
Conclusion
            The end of Ali's boxing career signaled his rebirth as a person as he used his immense popularity to preach and spread peace, tolerance, and understanding among many people of the world.  He is well-known for far more than his accomplishments inside the ring as a symbol of personal courage and conviction. Since retiring from boxing and despite his debilitating Parkinson's illness, the former world champion has traveled across continents to personally deliver food and medical supplies to children in underdeveloped countries.
Ali, who became a mainstream Sunni Muslim in 1975, devotes his energies to helping charities at home by visiting countless numbers of soup kitchens and hospitals.   He lends his famous name and helps such organizations as the Make-A-Wish-Foundation and the Special Olympics. He is also involved in medical research by supporting efforts to raise funds for the Muhammad Ali Parkinson Research Center at Barrow Neurological Institute in Phoenix, Arizona. At the State Capitol in Michigan, he advocated new laws for protecting children.
He has not stopped supporting boxing and would always willingly to testify before government bodies, including the United States Senate, to push for boxing reforms.  In 2000, his name was used to pass the Muhammad Ali Boxing Reform Act, a law that regulates professional boxing to protect boxers from unscrupulous promoters and poor health and bout conditions
In 2004, Ali published a memoir entitled, The Soul of a Butterfly: Reflections on Life's Journey, in which he discusses the meaning of religion, forgiveness, and some of the defining moments in his life and career. He also the co-authored the book entitled Healing: A Journal of Tolerance and Understanding and The Greatest: My Own Story.
Muhammad Ali's life is one that has been lived to the fullest in the promotion of tolerance and understanding, in feeding the poor and the hungry, in reflecting his religion, and in reaching out to children in need "to make a better world to live in" not just through the power of a song, but through the power of his compassion and love.  No other athlete in this generation has contributed a chunkier share to this ideal than Muhammad Ali.
References
Ali, MAli, Mhammad and Ali, Hana Yasmeen. 2004.  The Soul of a Butterfly: Reflections on Life's Journey
Christopher,  Matt and Stout, Green.  2005.  Muhammad Ali: Legends in Sports.
Hauser, Thomas. 2004 Reprint. Muhammad Ali: His Life and Times. Robson Books. ISBN 1-86105-738-5.
Myers, Walter Dean. 2001.  The Greatest: Muhammad Ali
Howard, Allen Gregory.  2007.  Ali: The Boxer. http://www.ali.com/greatest/the-boxer.asp
Myers, Walter Dean. 2001.  The Greatest: Muhammad Ali
Plimpton, George.  1999. Muhammad Al.   Heroes and Icons.  Time Magazine.
Schulke, Flip and Schudel, Matt. 2001.  Muhammad Ali: The Birth of a Legend, Miami, 1961-1964