Multicultural Art Essay Sample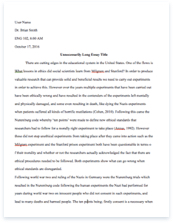 The whole doc is available only for registered users
OPEN DOC
Get Full Essay
Get access to this section to get all help you need with your essay and educational issues.
Get Access
Multicultural Art Essay Sample
At the beginning of term I started a project titled multicultural art- this has been studying art from around the world. To start the project I completed many observational drawing of artefacts. In lessons I produced a detailed drawing of a Chinese dragon in which I applied detail and used tone accurately. As part of my research all year ten pupils on the art course went a school trip to Oxford to visit two museums these were: the Ashmoleon museum and the Pitt rivers museum. By going to these museums it helped me to get a better understanding of styles used in art.
While at the museums I paid great attention to Japanese and Chinese art. I also took note of colours and materials that had been used. I then choose a culture that I was interested in and started to collect as much information into them as possible. My chosen culture is Japanese and Chinese art. I selected these because I found them interesting and wanted to find out more about them. I have used many resources so far to collect information on my chosen cultures. I have used a computer and looked on the internet and Encarta. Books were also useful and provided me with many images and descriptions.
I also went to a Chinese shop, here I brought items and used them in my research. On the school trip to the museums I took many pictures using a camera and brought postcards to show more about multicultural art. I have also researched into Chinese artists and the techniques that they use also the art work that they have produced themselves. I have looked at two artists in detail they are: Tan Oe Pang and Gu Kaizhi. I was pleased with the work that I had produced as I added as much information as possible and added images to show their own work.
I have learnt many new skills during this project and I have experimented with batiks. I have also learned how to make a coil pot, as this is what I am going to do for my final piece, and then I will decorate it with Chinese art. So far in this project I feel I have worked well and put effort into most of my pieces of art. There are many things that I need to improve on they are: finishing pieces of work because many pieces are not finished, it may be that a border is not coloured in. or maybe completing a title. All of these make the grade that I received lower than I would get if I had completed these tasks.
Most of my homework is in on time but there have been many occasions where I have had to take it in the next day after it was due in. The reason for this is because my art takes me a long time to complete. I also find it hard to start a piece of work as I may not be able to transfer my ideas onto paper and then I don't leave my self enough time to complete the task. So my main targets for the second half of the term are to work a bit faster and leave enough time to complete my work and to make sure that all of my art work gets finished.
References:
Multicultural Lesson Plans – Blick Art Materials
Multicultural art – Wikipedia
multicultural art | TeachKidsArt
Read next:
Lovesickness by Zhu Xin-Jian
Artist History
Sample Essay on The Crucible