Multicultural Literature Essay Sample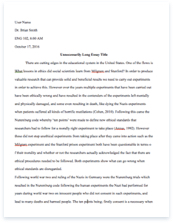 The whole doc is available only for registered users
OPEN DOC
Download Essay
A limited time offer!
Get a custom sample essay written according to your requirements urgent 3h delivery guaranteed
Order Now
Multicultural Literature Essay Sample
My fellow Blacks, we are faced with tough and challenging situations that are likely to shape the destiny of our definition as Americans. A look around America reveals that we are surrounding by perpetual hostility, social, economic and political injustices. The environment we are living in today is unforgiving; it is unrelenting in its effort to condemn us to an abyss of dejection and poverty. We are at a point where hostility and humiliation meted against us is threatening to water down the few achievements we have on our sleeves in the struggle towards reclaiming our sense of self worth.
            Today more than ever, the black American community is at the brink of reversing the gains that have been achieved in the struggle to show the rest of the Americans that we are a force worthy reckoning with, economically, socially and politically. What is appalling is that this downfall could be of our own making. As I write to the Chicago Defender, I write with confidence that my fellow black Americans will heed to the message I am about to deliver, a message that will revolve around leadership, and especially the two key figures on whose shoulders the destiny of our community falls on.
            It is agreeable that we are in a tough situation and hence out rightly we are in dire need of exceptional leadership. A leadership that espouses the community's interest firmly, persistently and without compromise. The big question is who between the two key figures is the best fit to lead the community to the Promised Land?  In my opinion and in an opinion that best serves the community W.E.B Du Bois is the man forthright, tactful and dedicated enough to represent our aspirations and push for our rights without compromising our dreams.
            It is saddening that even after more than hundred years of independence, the black community is yet to enjoy the fruits of the labor of our forefathers. More than a hundred years and the black men of America are still bound by the yoke of social and political injustice. Yet some people are saying that we wait some more that we push for economic rights while still burdened by discrimination and injustice. We have waited for long brothers and we cannot afford to wait anymore. It is the high time we analyzed whom between our leaders represents the change we want.
            On September 1895 booker T. Washington addressed a large gathering of southern whites and let them in on the new black's community strategy to reach an agreement with the whites for a peaceful coexistence. This is what we have come to refer to as the "Atlanta compromise." In this strategy, blacks are to give up their struggle towards political and social equality and in turn push for job opportunities. To Washington, the war against the rampant inequalities that exist can be only healed through a gradual economic strategy.
He advocates that we give up the fight for civil and political rights as they are down in the priority list and instead root for economic rights. He says further that having acquired a solid economic foundation, we can be sure that we shall have proven ourselves to be indispensable and we shall eventually acquire what we are fighting for today; political rights (Ronald Takaki, 1993).
            At a superficial glance, what Washington has been telling us seems plausible and appropriate. It is true that the black community has been sidelined; we live in abject poverty and are in dire need of economic empowerment. Our people need jobs to enable them compete with their whites' compatriot in the political arena.
            However, does the battle towards economic empowerment mean that we forsake an equally worthy struggle of acquiring political and civil rights? Washington tells us to forsake the latter in the belief that they will come to us automatically after we have fulfilled our economic needs.
            What is appalling with this is that the whites have come out in strong support of this compromise. Overnight, Washington is being hailed by the whites as be the key to unlocking the quagmire that has rocked our existence in America. They have even installed him as our leader without our express consent. They are contributing immensely to his Tuskegee Institute where we will be learning how to build houses and care for their firms. There is only one explanation behind this newfound enthusiasm and support.
They are happy we have chosen to pursue the economic path only, for they are unwilling to see the black population enfranchised. With a single blow the "Atlanta compromise" has watered down our aspirations and now this generation might not live to enjoy any civil liberties. Though this compromise has its benefit it is not what we need right now. We need more, and under the leadership of Washington, we will not have what we need for he himself has absconded the duties and has been compromised. We are not inferior to the whites, as he wants us to believe.
            W.E.B Du Bois in his work, The Souls of Black Folk, he has strongly noted that: "The black men of America have a duty to perform, a duty stern and delicate –a forwards movement to oppose a part of the work of their greatest leader." (DuBois, 1968) This is in reference to Washington and I agree with him.
            To Du Bois, Washington has dealt a big blow to our struggle to gain recognition as equal entities capable of shaping their own destiny. He relegated the role of the black to only being capable of becoming artisans, masons and farm boys a great insult to those of us in the professional field. This has locked to our community the opportunities that would have been there to receive educational funding from the sponsors and has single handedly confirmed the belief that blacks are inferior to whites. Blacks need more than this, we need full-recognized rights and this is what Du Bois is demanding. We should have equal rights as our fellow compatriots.
            Du Bois is pushing for civil, political and education rights. He is saying Washington has failed in his objectives. He is betraying the blacks' community's cause. He is ignoring out political and social demands. To Du Bois, only a persistent struggle will be the remedy. Artisan based education though necessary will not produce the required people to pursue this struggle. This, as a young professional black man, I agree with him. I am among the few blacks that have had exposure in the professional training and I have come to know that education is necessary if we are going to win this war.
Like Du Bois, I believe that we should press for full education rights for our population. Only education can grant us equal opportunities in the market. Elevation of our people will not come to us through artisanship but through college education Washington is misleading the people and hoodwinking them with low paying jobs. We not only want economic empowerment but we also want to be equipped with the abilities to chart our destiny and that of the nation. We want to have civil and political liberties and we are not willing to wait forever.
            So, my fellow blacks we have with us a leader we can trust, a leader who will chart this path with us. A leader who will represent our interests without wavering. It is important that we rally behind W.E.B Du Bois and shun those that have betrayed our cause. In Du Bois, my brothers and sisters, lies the key to our destiny.
References
Ronald takaki, 1993.A Different Mirror: A history of Multicultural America. Library of Congress.
DuBois, W. E. B. The Autobiography of W. E. B. DuBois. New York, 1968.