Multinational Enterprise In China Essay Sample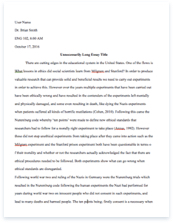 The whole doc is available only for registered users
OPEN DOC
Download Essay
A limited time offer!
Get a custom sample essay written according to your requirements urgent 3h delivery guaranteed
Order Now
Multinational Enterprise In China Essay Sample
1. What shortcomings do you see in the personnel selection system used in this company? Be thorough and justify your answers.
One of the main shortcomings I see in the current selection process at Sinotrading is that it doesn't take into account prior performance or experience in similar jobs, as well as amount of schooling and the kind of schooling each candidate has. By using the current method, just talking to someone isn't enough to tell about a person's skills and abilities, anyone can lie to get a job if they want it hard enough. An overall impression could be biased and would not represent each person's potential in a nonbiased, objective manner.
1 How would you characterize the leadership style of the CEO?
The CEO's leadership style is characterized by a lack of objectiveness and data analysis, it is more based on charisma and words rather than true skills and achievements.
2 If you were asked to consult with the project team regarding teamwork, what would you recommend?
I would recommend helping the current team by providing them assistance with designing a completely new recruitment process, this would help the company sort out the candidates to reach the best one and would increase the efficiency of the company's production. Another alternative to this option would be to hire an outsourced recruitment firm so that those who are experts in Human Resources are able to do the job that the direct employees from the company are lacking in, because obviously the people who are working in the company right now have no idea about proper hiring techniques, therefore they should not be assigned to do this duty even if they would receive training because this could distract them from their current duties. If each employee works in something they are specialized in the outcome should be more efficient.