Music Project: Who Are You Essay Sample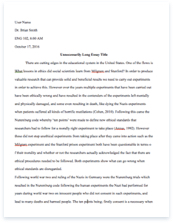 The whole doc is available only for registered users
OPEN DOC
Download Essay
A limited time offer!
Get a custom sample essay written according to your requirements urgent 3h delivery guaranteed
Order Now
Music Project: Who Are You Essay Sample
Of all the humorous and inspiring quotes I've ever read, this is the quotation that best represents how I have lived by for most of my life, and I believe more accurate words could not be spoken. Being true to myself and who I am as an individual is something I strongly trust in. In addition, having the courage and strength to stand up for what I have confidence or belief in, even when others have a different point of view or attitude, is very important to me.
In my opinion, this quote means that people who attempt to make me experience low self-confidence and esteem about myself and question my capabilities do not matter. It represents the fact that everyone has the right to express an opinion and has the freedom to do so. In conclusion, it is not necessary nor will I let people shape my thoughts of what I do and don't say. The song that I feel best relates to this quotation and my state of mind is "Who I Am" by Nick Jonas and the Administration.
"Who I Am" is a song about trying to find love and wanting to find that person who understands who you are. Additionally, it discusses that fact that you must realize you need to know yourself before you can find love. The reason why I can relate to this song is, I loathe when people try to bring me down or like me for the wrong reasons. I don't want or need someone to love me for my clothes, hair, shoes, or because of who I know. I want someone to love me because of my inner beauty, my personality, and my intelligence. I know that I must be myself because I don't feel that it is necessary for me to impress or lie about who I am for anyone because those friends who like me for who I am are more important than those who like me for being someone else.
The first verse of "Who I Am" states "I want someone to love me for who I am. I want someone to need me. Is that so bad?" This is the verse I feel that I can best relate to because it means that I want everyone to appreciate me for who I am and to be able to accept me for everything I can do. This verse is about loving someone for who they are, and also, someone loving me for whom I am. In my opinion, it means that you shouldn't pick seven things you hate or love about someone, but just to love them period.
The second verse that I feel represents how I'm feeling is "Nothing makes sense. Nothing makes sense anymore. Nothing is right. Nothing is right when you're gone. Losing my breath. Losing my right to be wrong. I'm frightened to death. I'm frightened that I won't be strong." In this verse Nick Jonas doesn't understand people how they could be so judgmental and always try and change others and turn them into the likeness that they see fit. I can relate to this song because I too have the fear of not finding someone who sees me for who I really am and who can truly love me for my talents. I believe that I have a right to be wrong. When there's a very strong feeling of love, people are used to doing wrong things in order to make an impression and they use the idea of extreme love to be forgiven from the wild things they have done. If I lose this right, I believe I'm losing the passion.
The last verse that I feel I can truly relate to states "I'm shaking it off. I'm shaking off all of the pain. You're breaking my heart. Breaking my heart once again." I want to break from the madness, pain, and conformity. More than wanting happiness I am searching for freedom. I continuously experience a bad feeling that is getting me down for a long time. I need someone to love me for the good things I do and not judge me or try to change me.
In conclusion, I can truly relate to this song and quote because they have a strong and similar meaning that I am associated with everyday. Needing someone to love me for who I am, and what I am made of is more important than having someone love me for how I look, and for the things I have. I don't understand why someone would want to change and arrange me because that's not what I call love. I need a true companion who is different from people who are phony. There is something that everyone can love about me and I just hope that they can find it without judging me.