Music Publishing Essay Sample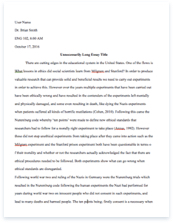 The whole doc is available only for registered users
OPEN DOC
Download Essay
Get Full Essay
Get access to this section to get all the help you need with your essay and educational goals.
Get Access
Music Publishing Essay Sample
In this assignment we are going to take a closer look at music publishing, the working patterns withing this area and the function music publishing has. First we will take a closer look at one specific publishing company: Universal Music Publishing Group (UMPG).
UMPG is the largest publishing company in the world and has offices all around the world from North America to Australasia. It is the world's largest Classical music publisher, and through its ownership of Brentwood-Benson Music Publishing it owns the world's largest Christian music publishing catalogue as well as being a global leader in Production music. UMPG stands strong in the Film and TV & Advertising area as well. By using a centralized global administrative model and a computer system that can quickly and accurately track and register songs, UMPG sees too that money collections are made fast and paid from collection societies, so that its clients can recieve the best service possible.
Some of the songs on the UMPG list are 'Sexyback' by Justin Timberlake, 'Stayin Alive' by The Bee Gees, 'Irreplaceable' by Beyonce, 'Beautiful Day' by U2, 'Be Without You' by Mary J. Blige, 'You're Beautiful' by James Blunt and many more. Other artists include Coldplay, Bon Jovi, Kirk Franklin, Micheal W. Smith, Elton John, Joss Stone, Paul Simon, Robbie Williams, Westlife and many more. In film and TV UMPG has had hit songs in Dreamgirls, The Devil Wears Prada, Oceans 13, The Chronicles of Narnia: The Lion, The Witch and The Wardrobe, Wedding Crashers, Kill Bill Vol.2, Spiderman 3, Grey's Anatomy, CSI Miami, Ugly Betty, American Idol, Lost, Brothers and Sisters, just to mention some.
Composing for Film
There are several jobs for a music composer to get into and one of them is writing for film. A film music composer can give a valuable contribution to the success of any film because the composer can create music that can intensify any film scene emotion or drama. A job like this, however, is very irregular since deadlines can vary and can be as short as 2 weeks for one hour of music. And to supplement income, film composers also work on a range of commissions. In this job you work closely together with the director from the beginning and until the finished product is ready, coming with demos along the way. Also you might be working with live musicians or conduct orchestral sessions.
The skills needed for this job is among others to be quick at working to a deadline, and be good at planning your time since the deadline can be a year, a month or a day. Many who work in this area often have a degree in music or more specifically, film music. It is of course very handy for someone writing for film music to have access to sequencing software and maybe even Sibelius, have a basic sample library and MIDI keyboard. Keyboard skills are also good to have. The main thing though is the ability to compose. You have to be good at giving the right mood at the right time, so that the music reflects the film and vice versa.
If one wants a job as a film music composer it's good to have contacts, especially with a director, maybe also set up a webpage, like Myspace to put your music on. You can also do a small video, or like a short film that combines video and music and post it on your Myspace webpage and even send it around to music editors within film companies. If one has a lot of material, it's really good to find a publisher, who can help get your name known, maybe through placing your music in advertising and then go from there. Basically networking and joining appropriate societies like PCAM (The Society for Producers and Composers of Applied Music). PCAM is an industry forum for people who work with music for adverts and they provide guidelines and commissioning models and offer the composer a network of highly experienced practitioners.
The salary for this job can be anything from £10.000 to £500.000, depending on how long you've been doing it and how good you are. If you have to pay for e.g. an orchestra to play the music it will of course be taken off the salary. But for soundtracks or live performances the salary is higher.
Some well known film music composers are John Williams, Danny Elfman and John Barry. John Williams, for instance, has composed music for films like Harry Potter, Home Alone, Star Wars, Memoirs of a Geisha, Sleepers, The Indiana Jones trilogy, Jaws and many more.
There are advantages and disadvantages with this job. The advantage would be that you can do what you love, that is, compose and also you get a specific assignment, if you can call it that, for instance if you were doing music for a film, you would have to fit the music at the right moment and shape it, which makes it more challenging, since the work that the composer does becomes both visual and audio. For a beginner, maybe someone who is a good songwriter who needs to get his name out and show his work, it can be a great opportunity to get your music in an advert on television or radio.
Also it can improve your writing abilities, if you for instance get a publishing deal, it can help you get in contact with other songwriters, producers, important people that play a key role for your networking. Also if you want to get a record deal, you want to become an artist or want to write for the big films, it's great to start in this way, because you get a chance to record your work and get paid for it, instead of maybe having it in a scrapbook on your shelf over your bed in your room, hidden safe from the public eye and ear.
If you get famous, then of course the salary is a big plus. The disadvantage of this job might be the working hours, although it doesn't have to be, if you know how to plan and structure your time. But we all know that not all musicians are great at that, so it depends on who you are, what kind of personality you have. And if you're not a famous film composer and sought after all the time for major projects then maybe the salary can be a problem. Of course it's possible to supplement with some other work, but as an artist you want to focus on your craft. But that is part of being a musician; you can't always go for the money.
A publisher's main job is to collect income for songs, mechanical, synchronisation and performance rights and he plays a key role for a songwriter's career in that he tries to get your songs used in films or adverts. He also works on developing a writer and puts money into it if it's worth it. He will introduce the writer to other more experienced writers and producers and maybe even go in to a studio to get a recording. Through a publisher you can also get in contact with bands or other artists and he can set you up for that. Many publishers have their own studio, so it is easy to record songs either the writer of the song records it or the publisher will arrange for someone else to do it. For an unsigned artist it is probably better to have a good publisher before you get a record deal.
Here is a diagram showing some of the ways a publisher can get income for a song:
Issues Facing Composers and Publishers
No one has felt the impact of music on the internet more than the independent musician. Maybe a threat from this fact would be that it might be difficult for an artist to be heard and let alone make a living from their art. Or it can be a great fulfilment of more creative control. The dilemma is very clear for any musician; they want more creative control but on the other hand also find it great to have the kind of financial support that the record labels provide. But without the musician there would be no music and maybe the internet could be a rescue. We can definitely conclude that based on sales music on the internet is here to stay.
The goal of the record company is to promote and sell records, so sometimes the creativity and excellence in the creation of a piece of music seems to get lost in all the fuss. So maybe with the opportunities that technology presents to the artist there will be more focus on the bare art of music. Another good point about the internet is that maybe the artist is better able to start from scratch and from there grow into a superstar, instead of having signed with a record label and expecting the hit record to happen right away. But it takes hard work, especially if you need to do it by yourself.
One internet site that would be helpful for a composer is www.avantnoise.com. It's a site that allows artists to set up their own webpage and sell their music from it. It's free and for everyone. And you can set a price for your music then people can come in and download it. It's also possible to get management, publishing and copyright options.
What about technology and those who are not familiar with it? How hard do you have to work, and how much do you need to know? Today, it is expected that, as an artist, you would know about the music computer soft wares and that you are able to record yourself, but if everyone does it, will there even be a higher standard in the music that is released? Is it good that it is so accessible for everyone? Maybe, yes, then everyone gets a chance to showcase his or her music without having to be signed to a record company. But then, what if you need support or help to record something? What if you want to get promoted or you need someone to handle the legal and financial business.
A record company will provide all that and more for you, so it is really not all that bad. And how safe is it anyway to distribute music over the internet? There is really no security. It is a dilemma and I must say myself that I am confused about what is the best. People are hungry for a revolution of some kind in the whole music industry, but can anyone point out which way to go or how the new way should be? -Probably not. But all this is fairly new, so maybe in a couple of years things will be clearer and we will be able to work out how to shape the music industry so that composers and publishers are happy. The playing field is wide open.