Mussolini's Foreign Policy Essay Sample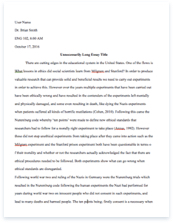 The whole doc is available only for registered users
OPEN DOC
Download Essay
Get Full Essay
Get access to this section to get all the help you need with your essay and educational goals.
Get Access
Mussolini's Foreign Policy Essay Sample
Such was Mussolini's belief in the importance of foreign policy that apart form a brief period from 1922 to 1936 he acted as his own Foreign Minister and thereafter retained control his son-in-law Count Galeazzo Ciano. Mussolini's style abroad, as at home, was that of the bully rather than the negotiator and here too he firmly believed that in politics it was more advantageous to be feared rather than liked. In foreign policy he challenged other countries one after the other to create the impression of being a difficult person who had to be bought off with victories of prestige. Running about biting everybody was how the South African leader, Smuts, described him at the end of 1923. While he told foreigners that his policy was one of peace a co-operation, at the same time he told Italians that his aim was national grandeur.
During its first year of rule, Fascism gave the world the opportunity to judge its ideas on world policy, not only by official declarations but by actual proof. On the 27th of August 1923 an opportunity fell to Mussolini to show that Italian foreign policy was powerful and dynamic. An Italian general and four members of his staff were shot while working on frontier arrangements between Greece and Albania for the League of Nations. Two days after the murders, the Italian government presented an ultimatum to the Greek government which demanded an official apology and the payment of an indemnity of 50 million lire within five days. When the Greeks refused Mussolini ordered a naval bombardment and occupation of the island of Corfu. The Greeks appealed to the League who with the help of the Council of Ambassadors succeeded in finding a solution. Italy received an apology and the 50 million lire in compensation. The Corfu incident appeared to suggest that aggression did pay and was seen as a triumph by Italian nationalists.
Only weeks after the Corfu incident, Mussolini sent a military officer to govern the city of Fiume, which he claimed was falling into anarchy. Mussolini managed to secure an agreement with Yugoslavia in January 1924 in the Pact of Rome in which Fiume was annexed to the Italian state. However, as the city was cut off from its surrounding countryside it did not develop its potential and proved to be a financial drain. Yet it did prove that Mussolini could use the traditional methods of diplomacy when it was necessary. In the 1920s Mussolini also showed himself anxious to win a dominant position in Albania, across the Adriatic Sea. He sought to turn Albania into an Italian puppet by lavishing money and arms. The result was the establishment of a protectorate in Albania in 1926. Libya, an Italian colony since 1912, was brought under review. Free speech and other liberties were withdrawn.
Mussolini gloried in the image of international statesman. He knew that he could not afford to isolated in the councils of Europe and so attentended many international conferences in the 1920s as well as signing a number of treaties. He rushed to Locarno to set his seal on the treaty agreeing to the Franco-German border. He eagerly participated in the Kellogg-Briand pact outlawing war. In 1938 he revelled in the limelight as the arbiter of peace at the Munich conference. However these were chiefly an exercise in public relations as Mussolini was prepared to sign a treaty just for the effect it would have on the public and without bothering too much on the details of what it contained. Treaties were just pieces of paper with no binding force if circumstances changed. Meanwhile, the rise of Hitler and the Nazis worried Mussolini and in 1934 he made clear his opposition to a union between Germany and Austria Anschluss In January 1935 a formal treaty was signed with France. Then at Stresa in April, Italy, France and Britain jointly condemned Hitler's re-armament plans and committed themselves to close and cordial collaboration to maintain the status quo in Europe.
Mussolini once declared My objective is simple I want to make Italy great, respected and feared.
Believing that France and Britain would curtail Hitler's aggressiveness, Mussolini turned his attention to North Africa to Abyssinia. Its resources were said to include great riches. Using the Italian defeat of Adowa in 1896 and Italy's subsequent expulsion from Abyssinia as well as the death of 30 Italian soldiers at Walwal in 1934 it was also the last unoccupied area of Africa. Mussolini on the 3rd of October 1935 launched his attack, without first declaring war. Modern weaponry including poison gas, aircraft and tanks, ensured victory over the poorly equipped Ethiopians. Haile Selaisse, the emperor of Abyssinia appealed to the League of Nations and economic sanctions were imposed. Thee however proved of little use as they were only partial and oil and coal were excluded and some states refused to abide them. The attack and conquest of Abyssinia led to the break up of the Stresa Front and the withdrawal of Italy from the League of Nations in December 1937.
A further consequence of the Abyssinian attack was that it drove Mussolini to have closer ties with Hitler's Germany. Hitler was the only major leader not to have criticised Italianaggression and relations between the two now started to improve. Both Hitler and Mussolini supported France and the Nationalists during the Spanish Civil War. For Mussolini there was the attraction of appearing as the staunch opponent of communism and perhaps gaining naval bases in the Balearic Islands from a grateful Franco. Large quantities of planes, weapons and ammunition as well as some 75,000 men were also supplied. However the Spanish Civil War was expensive commitment which brought little reward except to strengthen ties between Rome and Berlin. In November 1937 Italy joined Japan and Germany in the Anti-Comintern Pact.
In September 1938 Mussolini won prestige as a peacemaker when he appeared as the man behind the Munich Conference. Germany's eventual seizure of the rest of Czechoslovakia in March 1939 pushed Mussolini into proving that Italy also ha the will to conquer and expand. Accordingly, in April he seized Albania, which was an Italian protectorate. In May 1939 Italy signed the Pact of Steel with Germany, which committed Italy to military undertakings.
When Germany invaded Poland and World War II was declared Italians were thunderstruck, as they had not expected war until 1943. Mussolini that Italy was not ready for war unless huge quantities of raw materials and armaments wee forthcoming. Hitler was thus forced to go to war without the aid of his Italian ally.
As the Germans swept all before them Mussolini became convinced that unless he acted quickly the war would be over and Italy would have made no gains. Thus on the 10th of June 1940 Italy joined the war in the side of Germany against what he called 'the reactionary democracies of the West. This was a decision that ultimately led to his downfall and the collapse of the Fascist state. Any examination of Mussolini's foreign policy show that his was a complex and contradictory personality, all too willing to believe in the myth of his own infallibility. He had little capacity for long-range planning and was more concerned with the winning of prestige for himself and his Fascist state.