My favorite holiday Essay Sample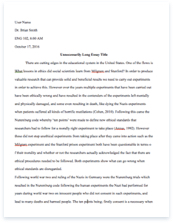 The whole doc is available only for registered users
OPEN DOC
Download Essay
A limited time offer!
Get a custom sample essay written according to your requirements urgent 3h delivery guaranteed
Order Now
My favorite holiday Essay Sample
As far back as I can remember, Christmas has been my favorite holiday. The gatherings with family and friends, passing out of presents, and decorating the house are among the most pleasant of my wintertime childhood memories. Of all of the customs which my family followed, decorating the exterior of the house with bright Christmas lights was and continues to be my favorite Christmas tradition.
Once discovered that decorating Christmas trees with lit candles was not a safe idea, something had to be done to make it more safe. In 1882, Edward H. Johnson, an associate of the inventor Thomas Edison, coined the idea of connecting small lights together to be hung on his Christmas tree inside of his New York City home. His idea was not initially accepted as it was seen by local newspapers as a publicity stunt, but his story was eventually published and gained the much deserved attention. By 1900, businesses began decorating their storefront windows with lights, though average people could not afford the lights because they were expensive. The first recorded use of Christmas lights outdoors was in San Diego in 1904 and then New York City in 1912. Hanging strings of small colorful bulbs on the exterior of houses and buildings came many years after the use of the lights indoors, and continues to be a widespread tradition today and enjoyed by many, including myself.
Work Cited
NotLogical. "It All Started with the Christmas Tree." Weblog comment. What is the History Behind It and How Did It All Get Started? Wikipedia, n.d. Web. 09 Dec. 2012.