My First Holy Communion Essay Sample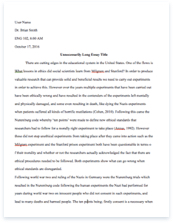 The whole doc is available only for registered users
OPEN DOC
Pages:
Word count: 505
Category: journey
Download Essay
A limited time offer!
Get a custom sample essay written according to your requirements urgent 3h delivery guaranteed
Order Now
My First Holy Communion Essay Sample
Each child's journey to becoming a stronger believer in their own religion begins with their parents' active participation in their faith formation. As a catholic, my journey started with baptism when I was born and it became stronger when I received my First Holy Communion. First Holy Communion is a Catholic Church ceremony. It is the colloquial name for a person's first reception of the Sacrament of the Holy Eucharist. Catholics believe this event to be very important, as the Eucharist is one of the central focuses of the Catholic Church. It is the day when we partake in Lord's last supper. Before receiving the Holy Communion I need to attend special catechism classes and prepare myself to receive Jesus into my life. I was very eager not only to receive communion but also my new extravagant suit that I am going to wear on that day, Sunday, 27 September 2009. My parents invited all my relatives and friends to attend that unique function and they printed invitation cards too!!! They took me to the one of the finest tailors at Orchard road to stitch my white suit. There was a long queue and I had to wait patiently for my turn, which I learnt during my Catechism classes.
The tailor took measurements for my suit and also shared a secret with me. Let me let the cat out of the bag to you. He was an alumnus of my school. Finally, I stitched a complete suit which was quite expensive. To match my suit we also bought a white tie and white shoes. The day, 27 September 2009, was the most memorable day in my life that I wore the best clothes of my life!!! Upon wearing I looked like a charming Indian prince in an European outfit. My parents had also arranged for photographers and videographers. There were many enormous flashes of lights on me. Among 100 children receiving the Holy Communion, I was chosen for offering the wine bottle to the priest because of my best attire. I really felt proud.
However, I had more fears hiding within me. I was concerned about my behavior. What will happen I bite the communion as my teacher told me that there was once a man who purposely bit the communion and blood oozed out of the mouth. Well, it sounded scary. Then, I was scared whether things will go wrong that day. I was given the responsibility to carry the bottle of wine as mentioned before. What if I drop it down due to my nervousness? Well, they did not take place. All were smooth. Everyone who came for the ceremony complemented me for my outfit. After that ceremony in church, we headed to a Swiss hotel at Raffles Place for lunch. Finally but not the least, my friends and relatives greeted me and gave me presents to make the day just more memorable it was in my life, thanks to a fine white outfit which made me look handsome.