My Greatest Fear Essay Sample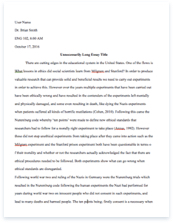 The whole doc is available only for registered users
OPEN DOC
Pages:
Word count: 786
Category: fear
Download Essay
A limited time offer!
Get a custom sample essay written according to your requirements urgent 3h delivery guaranteed
Order Now
My Greatest Fear Essay Sample
            Everyone have their own fears. Either of simple things like needles, to shadows some people did not outgrow from their childhood. There are a lot of fears listed in books and web sources. Some of these sound rather ridiculous. But for those with these phobias, such matters is a battle between life and death. It is an innate fear, and cannot be simply changed.
            I am not any different from the next person. I also have my own fears. Although I am at the stage where I am trying to face them, I am yet to find fulfillment in doing so. It is not a fear I share with other people because I am not settled with the idea that they could turn away from me. I don't want them to feel any sort of pity for me, and let that be the only reason for their staying with me. Yes, my greatest fear is for me to be completely alone.
            I do not know how I came about to have that fear, perhaps it was an effect during an event in my childhood I no longer have any recollection. I just don't want to be alone. It's okay if I am left in my room knowing that there was someone else within the house. I have talked about this with my friends, and they asked maybe I was just being lonely. On the contrary, I have thought about it myself. I didn't talk to doctors or have my parents bring me to a specialist. But the very thought of being alone, abandoned in a place wherein I could not reach others, scares me. I only imagine the scenario to a certain extent, but never far enough to find out that nobody else would be there.
            But I try, and with that, I search for the logic behind my fear as well. I don't know the exact reasons why I am afraid of being by myself. However, as a growing adult, I should try to find reasons behind this fear. If I am unable to find these reasons, then I should try to move one by finding  results. I know the best cure starts with the initiative to receive the cure. The first step, I believe is to face the fear. Perhaps a more subtle step for me is imagining myself taking that next step. Then, maybe when I find the courage, I could have a friend help me get over the early stages of the problem. I don't just need the cure, I want to get over the fear. I sometimes cannot stand the mental image, and I fear what could happen in real life. In the end, I know I should still face it.
            According to the website Just be Well, this fear could have originated from a point in my life wherein I was suddenly abandoned by the person I was with. That was the point when I suddenly felt helpless and lost, like a child in a store. This grew to a fear which will constantly bother the psyche. Unfortunately, the cause of this fear cannot be directly related to a cure, which then would have to be from something else entirely.
            From the same source, it was written there that this is a mental condition. It is a state of mind wherein the ideas of being alone cannot be alleviated. However, with the help of certain technology, there are now ways to help cure the kind of fear I have. That is through hypnotism. Since it is the mind which is involved in fears such as mine, probably brought about by trauma, then it is the mind which we have to interfere with. The idea is to not let the fear lead my thoughts, but to have those thoughts lead the fear. My mind has to take over.
            In this light, I am given much ideas of what to do with the fear I have. The knowledge of not being alone is a start in my mental theater. I have to lead my life by having my mind over that fear. I should not be carried away by it. As mentioned, I know I must take the initiative to change my habits to counter the fear. Perhaps after taking those few steps, admitting that I have a fear and that I need a cure for it, I should take the next one.
Works Cited
Just Be Well. "Hypnotherapy And NLP: The Fear Of Being Alone." Just Be Well           Hypnotherapy and NLP. 2008. 31 March 2008 <http://www.justbewell.com/phobia-fear-being-alone.html>.