My Memorable Moment Essay Sample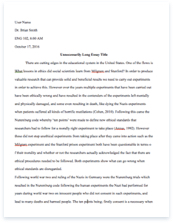 The whole doc is available only for registered users
OPEN DOC
Download Essay
A limited time offer!
Get a custom sample essay written according to your requirements urgent 3h delivery guaranteed
Order Now
My Memorable Moment Essay Sample
September 11, 2013
My Meaningful Expirence
The service that i attended and served at was one of the most memorable moments in my life. I will never forget getting off that bus and seeing all of the kids who needed school supplies for that coming school year. When i was in 8th grade, i went with my church downtown to a school to hand out school supplies to kids who did not have enough money to buy there own. It was a bittersweet occasion because it was unfortunate to see all of those children who were not able to have their own supplies but on the other hand, I was pleased and so blessed to be one of the people to help them out. Before we opened everything up, i got the great opportunity to meet some of the kids waiting in line. There were kids from ages five to 18 there that were all smiles and their eyes were bright with anticipation, just to get school supplies. The kids there were so sweet and it made my heart warm to see them getting everything they needed to get and i was fortunate to be one of the people that the kids looked up to. It was so meaningful to me because it was like seeing the world from a whole new perspective. I go from living in a nice place, getting my own school supplies, living in a nice neighborhood and going to a nice school, to going downtown, to see kids who have never really had the experience to do what i do and they are still some of the most kind hearted people i have ever met. It is amazing to be apart of a situation where you see things from another side and that those people do not need everything in the world to be happy.