Narrative: A History of Southern Miss Essay Sample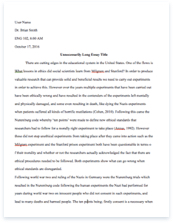 The whole doc is available only for registered users
OPEN DOC
Download Essay
Get Full Essay
Get access to this section to get all the help you need with your essay and educational goals.
Get Access
Narrative: A History of Southern Miss Essay Sample
Southern Miss. These words can be heard at any time and spoken in so many ways. One may hear it from a Golden Eagle fan at Homecoming, where school spirit and support are always a highlight. One may say it when speaking of campus and all of the new and exciting things going on -everything from intense research in polymer science to students winning prestigious national awards. One may hear it when our campus is being recognized for outstanding achievements like the baseball team making it to the College World Series and our academic programs hosting students from all fifty states and over seventy countries.
You can feel the awe-inspiring dedication when Dr. Martha Saunders announces the receipt of a six million dollar donation to the university, or when our Gulf Coast campus is recognized for obtaining important research from the only remaining buoy during Hurricane Katrina. It is to be certain, when the words "Southern Miss" are spoken; it is always with an overwhelming sense of pride. With a history of over one hundred years of excellence, Southern Miss has come quite a way from its beginning in 1910.
Originally named "Mississippi Normal College", the university began as the first state supported teacher's training school. Starting out with just five original buildings, 120 acres to work with, and a class of just 227 students overseen by 17 faculty members, Southern Miss began its journey. When looking upon campus during this time, one would see the classic architecture of College Hall, which continues to serve as a main academic instruction building. Further north of campus stood the Presidents Home, which today is called the Ogletree House and is home to the Southern Miss Alumni Association.
Three other buildings, Forrest County Hall, the Industrial Cottage, and Hattiesburg Hall, were also included in the original construction of campus. In 1924, Southern Miss incurred its first name change to "States Teachers College". During this time, Southern Hall and the George Hurst Building were built. These buildings still stand today and endure the hustle and bustle of Southern Miss' approximate 16,000 student population. Although times have changed since those early days, intelligent academic instruction remains the heart and soul of Southern Miss.
After hard times brought about by the Great Depression, Southern Miss began to make a name for itself with the football team. Originally formed in 1912 with just thirteen men, the team now grew and began playing throughout the Gulf South area. Much similar to that growth was the construction of the Aubrey K. Lucas Administration Building, which still houses our university president and vice presidents. The 'open-door' policy that our administration is famous for began during this time and has held true through today.
In 1940, Southern Miss underwent its second name change. "Mississippi Southern College" as it was then called, continued on with the growing tradition and made headlines thanks the football teams first ever undefeated season. In 1953, Mississippi Southern College went live with the WMS campus radio station. The ten watt station broadcasted student successes as well as campus updates. This informative source is similar to today's version of WUSM. The 1960's threw Mississippi Southern College for a loop with another name change and we finally got our initials correct -USM.
The University of Southern Mississippi also experience cultural change with the civil rights movement and the admittance of our first African American students. Today, Southern Miss is home to students from every background and is leading the way in cultural diversity. Hosting students anywhere from Croatia to China and everywhere in between, Southern Miss is attracting students from all over the globe thanks to our academic, athletic, and artistic programs. Southern Miss decided to expand its boundary lines in 1972 with the development of the Gulf Coast branch in Long Beach.
Originally built as the Mississippi College for Women, the Gulf Coast campus is a flagship site for both marine research and media journalism. The 1980's gifted Southern Miss with a reorganization of the five academic colleges and the creation of the International Programs office. Moving right along with the millennium, Southern Miss graduated in 100,000th student in 2000. In 2003, a campus wide campaign helped shape our identity and gave us the well known Golden Eagle head logo, a symbol seen not only in Hattiesburg, but throughout the world.
The University of Southern Miss is famous for many things -being accredited in all four areas of the arts, taking more students overseas to study abroad than almost any other university in the nation, and leading the way with over 90 degree options; most importantly, Southern Miss has taken its history and its rich background and applied it to the future. We are a university that is creative in how we instruct, how we function, and how we making campus less of an institution and more of a home. We are bold in how we are not afraid to branch out to meet the needs of our students and ensure we offer the best.
We are determined to give back what our founders and alumni gave us -a beginning. Southern Miss is reaching its Centennial Celebration and the growth and development is astonishing, but the true thing to remember is that the best is yet to come. Southern Miss will lead the way for many years to come. When you hear the words "Southern Miss", you'll think of past, present, and future. When you speak the words "Southern Miss", you will feel the love and dedication to this university run thru your veins. Southern Miss -one hundred years of excellence with a future brighter than you've ever imagined.
Read next:
Benjimin's theory that the 'aura' of art decays in the age of mechanical reproduction
Dorthea Lange
Do all the arts have features in common