The Narrative of the Life of Frederick Douglass, and Running a Thousand Miles for Freedom Essay Sample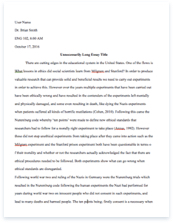 The whole doc is available only for registered users
OPEN DOC
Download Essay
Get Full Essay
Get access to this section to get all the help you need with your essay and educational goals.
Get Access
The Narrative of the Life of Frederick Douglass, and Running a Thousand Miles for Freedom Essay Sample
For over two hundred years the institution of slavery was legally sanctioned and morally rationalized by a society that prided itself on religious, and later, republican virtues. Two slave narratives, the Narrative of the Life of Frederick Douglass, and Running a Thousand Miles for Freedom, both autobiographies, show the idea of what it was like to be a slave and how slaves coped with the hostility. The narratives of Frederick Douglass and William Craft portray the attitude towards religion, the meaning of freedom, and the attitudes towards the education of blacks.
These topics, which are revealed in the narratives, give a better understanding of the slaves' point of view in this episode of American history. Religion was something white men turned to for solace when they knew that treating slaves was inhumane. Douglass says that religious slaveholders are the worst (Douglass 76) and he finds them to be the meanest and cruelest compared to others because "religion of the south is a mere covering for the most appalling barbarity" (Douglass 76).
Douglass' master, Thomas Auld, turns to religion to find comfort for his brutality from whipping a young slave until he causes "warm red blood to drip; and, in justification of the bloody deed, he would quote this passage of the Scripture-'He that knoweth his master's will, and doeth it not, shall be beaten with many stripes'" (Douglass 59). Religion allowed slaveholders to conceal the immoral spite they had towards the slaves. Craft views the slaveholders' malicious behavior with "a thorough hatred, not for true Christianity, but for slave-holding piety" (Craft 10).
On the train to Pennsylvania, an elderly lady believes that she is doing a good deed by altering her husband's will so the slaves were not freed (Craft 64). Her son, a Christian minister, tells her not to worry and to send her "soul to hell for the sake of niggers; but to sell every blessed one of them for what they will fetch" (Craft 65). Craft finds it hard to believe that white men who are Christian can still perform such acts of cruelty on slaves.
Craft's narrative focuses on religion in the black society whereas Douglass' mainly focuses on religion in the white society. Craft says "that God is just, and will not let the oppressor of the weak, and the spoiler of the virtuous, escape unpunished here and hereafter" (Craft 9). In one case, a fellow slave begs, "God bless you, broder, and may de Lord be wid you. When you gets de freedom, and sitin under your own wine and fig-tree, don't forget to pray for poor Pompey" (Craft 54). The slaves believed that God cared for them and that he would bring them to freedom.
When Craft and his wife Ellen arrive safely at Philadelphia, they pray and express their "heartfelt gratitude to God, for his goodness in enabling us to overcome so many perilous difficulties, in escaping out of the jaws of the wicked" (Craft 80). The white men support their cruel acts with passages from the Old Testament but they overlook the following: "Thou shalt not deliver unto his master the servant which is escaped from his master unto thee. He shall dwell with thee, even among you, in that place which he shall choose in one of thy gates, where it liketh him best: thou shalt not oppress him" (Craft 98).
Freedom is the escape from the "jaws of slavery" (Douglass 26). Freedom defined is the liberty of a person from slavery, detention, or oppression. Douglass and Craft both pursue freedom and the only way to obtain it is to escape to the South. Douglass and Craft both experience close encounters in their journeys to freedom. They risked capture and the severe consequences of attempting to run away. When they reach the southern states, they experience satisfaction and bliss. "I felt like one who had escaped a den of hungry lions" (Douglass 97).
Both Douglass and Craft are at first suspicious of the abolitionists' good intentions, but soon they begin to feel more comfortable. Running a Thousand Miles for Freedom is Craft's narrative about his escape from slavery. The Crafts traveled by public transportation all the way from their home in Georgia to freedom in Philadelphia, Pennsylvania, even staying in hotels along the way. Their boldness was made possible by the brilliance of their disguise-which involved race, gender, and class disguise to conceal Ellen, a black slave woman, as a white slaveholding man.
Craft's freedom was not guaranteed in Boston because of the Fugitive Slave Bill passed in 1850 but he then fled to Great Britain. Douglass' narrative deals with the merciless conditions of slavery and only a minimal portion of it is about his escape to New Bedford, New York. He does not talk much about his escape for the fear that revealing the method would allow slave holders to read about it and to prevent other slaves from attempting the same thing (Douglass 97).
Douglass also recalls horrific beatings that took place at times for no apparent reason. "Mr. Severe was rightly named: he was a cruel man. I have seen him whip a woman, causing the blood to run half an hour at the time; and this, too, in the midst of her crying children, pleading for their mother's release. He seemed to take pleasure in manifesting his fiendish barbarity" (Douglass 23). There was a point in the story where a female slave was bought by Mr. Covey only for the reason of breeding (Douglass 65).
In both narratives, the slave owners tried to keep the slaves uneducated so they could prevent revolts. It is said that a slave that could read and write would no longer obey his or her master without question or thought, or even worse could forge papers that said he was free and thus escape to a northern state where slavery was outlawed (Douglass 46). Regardless of this, Douglass and Craft learn to read and write to their advantage. Douglass finds that "to make a contented slave, it is necessary to make a thoughtless one.
It is necessary to darken his moral and mental vision, and, as far as possible, to annihilate the power of reason" (Douglass 91). Slaves have to feel that slavery is right. Douglass believed, that this could only be brought about only when a slave ceases to be a man (Douglass 91). Craft's narrative did not talk much about experiences with education. The only experience in the narrative that dealt with education was when Ellen Craft needed to sign her name on the paper so she and William could stay at the hotel (Craft 34).
Craft, however, did give an example: the indictment of Margaret Douglass from Virginia on teaching her slave girl Kate how to read the Bible. Margaret was sentenced to a fine and imprisonment. Craft also talks about their learning experience when they are in the Free states such as learning how to write their names, but it is not as gripping as Douglass' experience in trying to learn to read and write from whatever sources he could find. Douglass, with the little money he had earned doing errands, bought a copy of The Columbian Orator.
From reading this, he became convinced of the injustice of slavery and the right of all people to be free (Douglass 47). From that point on, Douglass began to detest slavery. The more he reads the book, the more he begins to hate overseers and masters. Education gives him the view of his "wretched condition, without the remedy (Douglass 48). It opens his eyes to the horrible pit which had no ladder for him to climb out of (Douglass 48). Douglass envied his fellow slaves for their stupidity, for they did not know what was going on around them (Douglass 48).
His desire for freedom was eating him up inside. For over two hundred years, the institution of slavery was legally sanctioned and morally rationalized by our American ancestors. Eventually, slavery was put to an end in 1827. Two slave narratives, the Narrative of the Life of Frederick Douglass and Running a Thousand Miles for Freedom, provide us with what the African Americans lived through and the condition of their people during the tyrannical years of slavery.