National and Local Provision for Football Essay Sample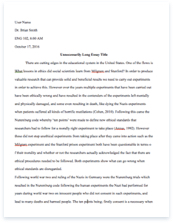 The whole doc is available only for registered users
OPEN DOC
Pages:
Word count: 1075
Category: football
Download Essay
Get Full Essay
Get access to this section to get all the help you need with your essay and educational goals.
Get Access
National and Local Provision for Football Essay Sample
Football is enjoyed by millions of people worldwide every week. So it is important that there is good way that players can develop from the grass roots of football when they are young to then become the elite world stars of tomorrow.
The F.A (football association) is a prominent force in the development of football at grass roots level throughout the country 'we are committed to developing the game at all levels to ensure that as many people as possible have the opportunity to play their part'
Statistics of people taking part in England
* 3 million affiliated participants
* 40,000 affiliated clubs
* 2200 leagues
* 11500 registered coaches source=F.A website fig1
Responsibilities
'Grass-roots' football in the United Kingdom is the responsibility of the 43 County Football Associations throughout England. These are independent bodies, which are affiliated to the Football Association, and are responsible for all aspects of the game at local level. One of the key tasks undertaken by County Football Associations is the affiliation of local competitions e.g. the Milton cup organised by the Kent county football association and leagues e.g. the Medway news city boys league run by the Medway football association, registering players to clubs and the organisation of match officials and the administration of discipline.
Sports development officer's role
Football in swale
Local football leagues in the swale district are mainly Sunday leagues and are all affiliated to the Kent county football association but all run independently, with their own league and cup competitions. As it currently stands in Swale there is a very tough route for talented footballers to progress to elite football. In swale although there are a lot of football facilities (see appendix 1) there is not a clear way for children to move from school/local football teams into academies or professional football teams.
Fig 1 below is a possible route for a grass roots player and how they can progress through to elite football but in swale this route is not evident. Although there are many different schools throughout swale they do not compete in a competitive league with each other they only enter the Kent youth cup. There are also many different leagues with teams based throughout swale (e.g. Medway league) but they do not have representational squads that are made up of the best players from the league and swale do not have a district football team unlike in athletics where you can represent swale at regular competitions because these teams are not present there is a smaller chance of the young footballers being seen by professional clubs because they do not send their scouts out to regular Sunday league matches but only to match of significance E.g. Kent cup final
A regular Route for grass roots players to progress to elite
Fig2
(Fig2 shows possible routes for aspiring footballers)
The red arrows show David Beckhams route to the professional game but this route is breaking down today as only 0.6% of the 500000 registered footballers in England register in football academies, and a further 1.2% in centres of excellence. Also, no football academies or centres of excellence have registered the maximum number they can. This maybe because the big clubs neglect minor leagues because of lack of profile or because of the leagues poor organisation. The solution maybe to involve an independent body when leagues or competitions are being set-up to make sure they have adequate exposure to academy scouts. The boxes shaded grey show where the local provision for football breaks down because there is no district teams or rep squad meaning players are not shown to football academies e.g. Gillingham F.C. regularly.
Disabled Provision
There seems to be no disabled clubs in the region, but there are obviously opportunities (as shown on disabled football team websites e.g. Wimbledon disabled football team website) for the mentally or physically handicapped to participate in football in other areas of the UK. There are physically handicapped referees in the area, and there is now National "Multi-disabled Soccer Association" which runs North and South. Chelsea football club has a very successful handicapped football team, who were the European champions. Scotland has a National Cerebral Palsy Squad, which competes in international tournaments. There is also the English national disabled football team which won the disabled football world cup in 2002. Disability grassroots football coaching in England is also set to receive a major boost with the creation of hundreds more specially trained Disability football coaches. The grassroots initiative funded by FA community partner McDonald's will see the number of Disability football coaches increase by 100% over the next four years. Although handicapped teams tend to be more privately run this scheme will help shift disabled football into the public sector.
Female provision
Within Sittingbourne there is a small provision for female footballers, under Kent rules females can play in boys teams until the age of 10 from then on they must join all girl teams of which there are only a few locally E.g.- Sittingbourne ladies and Westbourne girls. This is poor in comparison to London where there is many female teams and football academies e.g. Millwall lionesses. But with new schemes female football participation and route to success will increase because the National Coach Hope Powell launched a new F.A. initiative to identify talent and help England achieve their aim of winning the 2007 World Cup. Where the country's most talented young footballers are given quality coaching every day and also receive a good education.
Conclusion
The provision for football in the U.K. in general is good with many publicly accessible facilities (see appendix 3) but as the football league is becoming overwhelmed with foreign players other countries provisions are developing better than ours e.g. Frances vastly higher number of excellence centres are proving to be useful as they are producing some of the worlds finest footballers over the last decade e.g. Thierry Henry, David Trezeguet. The local provision for football in Swale is quite poor. Although there are many facilities and leagues publicly available there is a breakdown in the route from grassroots to elite football with no district football team to allow players 2 be seen by scouts, emphasised with only 7 players progressing to professional football through Sittingbourne football club within its 124 year history. (appendix2)