Nationalism in 20th century Europe Essay Sample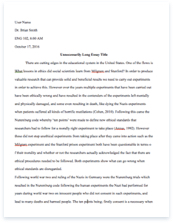 The whole doc is available only for registered users
OPEN DOC
Download Essay
A limited time offer!
Get a custom sample essay written according to your requirements urgent 3h delivery guaranteed
Order Now
Nationalism in 20th century Europe Essay Sample
Any discussion of 20th century European nationalism would inevitably touch on the horrible time of Nazi German Nationalism. Indeed, the supremacist tendencies of the German people at this race would correlate highly to values we associate with the word nationalism – blind love of country, high esteem of countrymen over foreign people, unity of a people under a common flag – these were all in display during the years of Hitler's party. Yet, it would be dishonest to us to simply dismiss the concept of nationalism as something negative simply by the way it was used by the Nazi Party.
How do we define nationalism? With such an abstract term, we must first attack it by asking ourselves: what is a nation? Etymology tells us of a Christian nation, a British people, the Black Nation, the Caucasians, the Asian race. Perhaps one way we can define a nation is that a nation is a collective of people who see themselves as a nation. While quite circular, it fits our needs. A nation is nebulous, voluntary and shared. You cannot be a part of a particular nation if you do not consider its members the same as you, either through race, religion, or values. While a nation is by itself nebulous, nationalism entails the formalization of the nation through concrete institutions. These institutions may consist of political, geographical or other measures made to formally define the scope of the nation. This has been seen in the rise of nation-states, from the former colonies of the European powers in South East Asia and elsewhere to the new states in the Slavic and former soviet areas.
As a concept, nationalism is important as it is the foil to the trend of globalization. Instead of promoting open borders, nationalism promotes the strict definition, protection and maintenance of those borders. Additionally, nationalism allows for the greater self-determination of a nation. By institutionalizing the nation through governmental and political structures, the nation ensures that their own collective is responsible for their own collective's fate.
Bibliography
Anderson, B., 1965, Imagined Communities, Verso, London.