Nature of Logic and Perception Essay Sample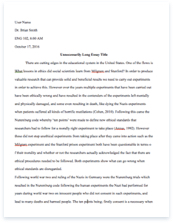 The whole doc is available only for registered users
OPEN DOC
Download Essay
A limited time offer!
Get a custom sample essay written according to your requirements urgent 3h delivery guaranteed
Order Now
Nature of Logic and Perception Essay Sample
Introduction/Thesis Statement
            This paper entitled "Nature of Logic and Perception" intends to: A) reintroduce the following psychological concepts or terminologies by explaining the nature of logic as it relates to critical thinking and how I personally understood it; B) outline my own perceptual process; C) describe the types of perceptual blocks that influence my views; D) explain the critical thinking process and how it is altered by perception; and E) address the following: 1) identify an instance in your life where your perception of the reality situation was far from the actual reality; 2) what did you think was going on; 3) what was really going on?; 4) why was there such a difference; 5) what happened?; 6) what did you learn?; and 7) how did your critical thinking process change?
Definition of Terms
            "Perceptual Process" is technically defined as "the sequence of steps that begins with the environment and leads to our perception of a stimulus and an action in response to the stimulus (The.., n.d.). "Perceptual Blocks", however, include the following: 1) difficulty in isolating the problem; 2) tendency to delimit the problem too closely; 3) inability to see the problem from various viewpoints; 4) seeing what you expect to see (stereotyping); 5) saturation; and 6) failure to utilize all sensory inputs (Perceptual.., n.d.). Last but not least, "Critical Thinking" is defined as "the mental process of analyzing or evaluating statements or propositions that people have offered as true" (Alsagoff, 2007). It also entails "reflecting upon the meaning of statements, examining reasoning, as well as, forming judgments based on the facts" (Alsagoff, 2007).
Instance in My Life Where My Perception of the Situation was Far From the Reality  
There was a time when I was torn between two jobs that I believe I would love to make a career of or focus on. It actually began when I have been accepted to become a part of a certain research company. I wanted to join the company but I have also been promoted at my mother's bakeshop, from just being one of the cake designers, I was given the privilege to manage one of the branches of her bakeshop. This has been extremely excruciating on my part. So what I initially did was to ask for the Human Resources Department of the bakeshop, as well as, that of the research company, if I could have a few more days before I finally sign the contract. This move of mine would buy me some time to rethink things over and sort everything out. Fortunately for me, both the representatives of the Human Resources Department agreed to my request. I took advantage of the time provided to me and thought of a decision-making model that I could use to be able to guide me through. Since critical thinking should be involved in the crucial decision that I have to make, I resorted to the four-step sequence decision-making model known as the rational model (Decision.., n.d.).
The four steps referred to include the following: A) identification of the problem, wherein I had to accept and recognize that in spite of the happiness I felt when I was picked by the research company, as well as, when I was promoted in the bakeshop, it is not at all easy to give up one for the other. I cannot just resign from the bakeshop, where I have worked for over eight years now. I cannot just refuse the promotion that I deserve for the dedication, commitment, and perseverance that I have shown. On the other hand, I cannot just say no to the research company, which I passed an excruciating interview from and which I am so grateful of; B) producing alternative solutions, for instance, when I thought that maybe it is possible to keep both jobs and that it is possible not to pick one over the other; C) selection of solution, wherein I considered that since research can actually be taken home, and the bakeshop is very near my place and that I can be on-call, I chose to accept the promotion and took the research job,  as well; and last but not least D) Implementation and evaluation of the solution, wherein, immediately after such critical thinking, I made up my mind, I signed the contract the research company issued. Then I also assumed the managerial position in the bakeshop.
What I thought was going on/What was really going on/Why there was such a difference/What happened/What I learned/How did my critical thinking process change?     
Explaining further, and to answer the rest of the questions as well, coming from the personal experience briefly detailed above, the instance in my life where my perception of the reality situation was far from the actual reality is the fact that I positively saw that I could handle two full-time jobs at the same time. I am extremely optimistic during that time that I actually thought or focused only on the opportunities that were presented to me, all ready to be grabbed. The problem is that things turned out not the way they seemed, those opportunities were not just chances; they are also challenges and excruciating choices that I have to think about before making any decision, much less taking on both jobs. This is where some of the "perceptual blocks" presented itself. First of all, I had difficulty in isolating the problem (Perceptual.., n.d.). Second, I also was not able to see the problem from certain viewpoints, in fact I just saw the good side of it, and I did not entertain the other aspects (Perceptual.., n.d.).
Last but not least, I also experienced stereotyping, I only saw what I expected to see and this is the fact that those two jobs are opportunities (big ones) to me (Perceptual.., n.d.). There was a difference between what I saw and what was really going on because of the "perceptual blocks". Unfortunately, what happened was I ended up making the wrong decision even if I thought I already applied the best critical thinking model there is. It is fortunate, however, that I learned: A) more about critical thinking; B) that it is important to assess logically everything before making a decision since things are not really the way they seemed to be; C) that there are perceptual blocks that needed to be considered before finalizing any views that I have; and last but not least D) that it altered the critical thinking process that I usually carry out because of the perceptions that presented itself in the personal experience that I have shared.
References  
Alsagoff, Z. A. (2007). Introduction to Critical Thinking. Retrieved August 7, 2007
            http://www.slideshare.net/zaid/introduction-to-critical-thinking
Perceptual Blocks. (n.d.). Retrieved August 7, 2007 from
http://www.ojp.usdoj.gov/nij/rest-just/ch4/cul&div.html
The Perceptual Process. (n.d.). Retrieved August 7, 2007 from
http://www.csun.edu/~vcoao0el/de361/de361s101_folder/tsld003.htm