Negotiating a Starting Salary Essay Sample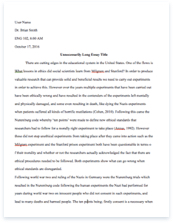 The whole doc is available only for registered users
OPEN DOC
Pages:
Word count: 2165
Category: company
Download Essay
Get Full Essay
Get access to this section to get all the help you need with your essay and educational goals.
Get Access
Negotiating a Starting Salary Essay Sample
With internet access available to nearly everyone, job seekers are armed with more information than ever before. Information can be obtained for job openings, job descriptions, and even salaries. Sometimes when filling out an application, a box will ask for a salary desired. Some advertisements ask to send your resume with salary requirements. These are sometimes tough questions to answer. How much does that job normally pay? Is the job applicant worth the top pay? This paper will explore the various factors involved when attempting to negotiate a starting salary. Topics such as helpful internet sources will be introduced, along with salary ranges, and helpful interview techniques will be discussed to better position one self to obtain the salary desired.
Some basic concepts should be understood before attempting to negotiate a starting salary. First of all realize that a job in New York City will most likely pay more than the same job in rural Ohio. Geographic locations and cost-of-living play a major role when determining salaries. For example, comparisons were made for an entry level job as a bank teller in Elyria, Ohio and New York, New York. The results were interesting. The median expected salary for a typical Teller in Elyria, Ohio is $20,913; with the 25th percentile being $19,642 and the 75th percentile at $22,645. The median expected salary for the same job in New York City is $24,274; with the 25th percentile being $22,799 and the 75th percentile at $26,284 (www.Hotjobs.com).
Supply and demand also play a part. If job candidates are plentiful then negotiating power is limited. However, some fields are in high demand and college graduates in those fields will find they have their choice of employers. For instance, according to The American Almanac Of Jobs And Salaries, the occupations with the largest job decline are sewing machine operators. This data covers the time period from 1996 to 2006 and they are in decline by 26 percent (xxviii). Conversely, according to Enhanced Occupational Outlook Handbook, the fastest growing jobs are computer related. From 1998-2008 computer engineers, computer support specialists, computer systems analysts, and database administrators are expected to grow by 108, 102, 94, and 77 percent respectively (18).
A third concept to remember is that every individual is unique. Every individual has gifts and abilities to bring to the employer. This can be anything from a charming personality which is useful in sales, to an analytical mind which can be useful in the computer field. These personal gifts will also play in role in negotiating a starting salary. With these three basic concepts in mind, how does one go about determining their worth? A good place to start is the internet.
There is a wealth of information on the internet to help determine your worth. At www.Hotjobs.com a salary wizard is available free of charge. For the purposes of this paper a sample was done. First pick a job category, the category selected was sales. Then enter the desired zip code. Zip code selected was 44111 (West Side of Cleveland). Then click the search button. The next page that comes up asks for a job title whose description closest resembles yours. Account Representative was selected. Now at this point there are two options: a Basic Report, and a Premium Salary Report. A Basic Report was done and the results were pretty accurate. 25th percentile was $22,214, median was $27,479, and 75th percentile was $33,330. This student has been an Account Representative in Cleveland for three years and is right around the median in this salary range.
For those who are serious about negotiating a salary a Premium Salary Report can be purchased for a fee. Another salary range will be issued after more information is collected. A personalized report can be obtained by giving more information about you. Questions will be asked about your employer size, your background, your last performance review, and education.
Salary range can be further explored with government reports. National compensation and wages are offered at The U.S. Department of Labor's Bureau of Labor Statistics web site- www.bls.gov.
Personal contacts in the industry can be very helpful. Send an email or make a phone call to some one you know and see what information they can give you. Contacts in the company for which you are applying for is an extra bonus. Past or present employees of the company you are interested in can be very helpful. Some questions to ask include:
* Is the first offer normally at the lower end of the range?
* Who gets a high offer and why?
* Is there a common skill or trait that the top earners have in common?
These questions can help an applicant when the interview process begins (www.hotjobs.com).
Every position at a company has a salary range and a job applicant needs to have one as well. Think about yourself and what your financial needs are, what you absolutely need to get by. In other words, what's your comfort level? What would your ideal wage be? Keep in mind that salary is just one aspect of compensation. Be open to adjustments. For example, a company that offers day care services as one of their benefits is meaningless for a single person without kids. However, for an applicant who is a parent day care has great value. Something else to remember is you can trade a higher salary in exchange for something you are lacking. This can be job security, regular raises to position you higher in the salary range, or any number of things (www.Hotjobs.com).
Trying to determine your salary range may seem overwhelming but it can be done. For those who can afford to, hiring an expert is sometimes an option. Executives will do this on occasion. Various sources are available such as, coaches, compensation consultants and employment attorneys. These experts can do the legwork for you and many times dig a little deeper into the company in which you are interested. Their reach goes a little further than the average person due to their extensive network. These paid experts will analyze the data they receive and then meet with the job applicant to see how this fits in with their own financial needs. A major benefit that comes with these experts is the coaching you'll receive before you begin your negotiation process, which can help in receiving the highest pay in the pay range (www.Hotjobs.com). Once a job applicant has an accurate salary range, he or she is better prepared to negotiate when it comes time to interview.
The interview is the best time to present your abilities to the organization. The job candidate who does this well is more valuable at the end of the interview than in the beginning and is more likely to get the desired salary. "The level of salary is a predictor of the level of responsibility you will have within the company," says Human Resources expert Lori Kocon. "And since future salaries, salary increases and bonuses are based on this one; an increase of just $1000 in the negotiated salary may represent $15,000 to $ 30,000 over the next ten to fifteen years" (www.xtremerecruiting.org).
An article in Employment Digest titled "10 Tricks for Negotiating a Higher Starting Salary" taken from an internet site, a job seeker is given valuable information to consider when going in for an interview. Some is common knowledge; a lot of it is not.
First and foremost, look and act professionally. The negotiation begins when you first walk in the door. You never get a second chance to make a first impression. Be sure your clothes are clean and pressed. Make sure you have made every effort that you are personally groomed as well.
Secondly, know your salary range before you leave the house for the interview. Follow the tips given earlier on how to acquire the salary range. If you know someone at the hiring company they may be able to help you with the actual salary guidelines for the position.
Be patient and do not bring up pay until the job has been offered. In Don Lussier's book, Job Search Secrets, Lussier charges that money is often a screening device. If asked, "What do you expect to make in this position?" the answer that you give could determine the length of the interview. If you ask for too much or too little the interview will be brief (Lussier, 201).
Don't be the first to give a set amount. Instead ask for the salary range for the position before you offer the figure you had in mind. According to HR managers spoken to for this article the ranges go anywhere from 10-30 percent. Sometimes managers can even go higher, as much as 20 percent higher than the previous highest figure (www.xtremerecruiting.org).
Be sure to keep your full attention. The person you are negotiating with may give off some clues. Be on the lookout for both verbal and non-verbal signs of what the company needs are, also its values and aspirations.
Silence is not necessarily a bad thing. Be comfortable with it. While negotiating, the person who is uncomfortable with silence will end up filling the void by speaking-many times with a concession (www.xtremerecruiting.org).
Be your own biggest cheerleader. Do not be modest about your strengths or confess too many of your weaknesses. Be pleasant, but firm. Now is the time for you to shine and boast about your accomplishments (www.xtremerecruiting.org).
Avoid making decisions on the spot. If the interviewer says the offer is final, say that you will need a day or two to think it over (www.xtremerecruiting.org). If they insist on an answer that day some red flags should go up and Don Lussier has some opinions about this in his book, Job Search Secrets. Lussier suggests you ask yourself some basic questions like, why do they want an immediate commitment? Are they in financial trouble? Is the boss a tough person to work for? Lussier further suggests that if the interviewer does not answer your questions to your satisfaction you should decline the offer and only accept it if your are in dire need of a job (Lussier, 206).
When negotiating, keep in mind you are negotiating for the future as well as the present. If the salary is not flexible maybe something else is. Remember that salary is only one component of total compensation. See if you can increase the value of another benefit such as deferred compensation, relocation assistance, vacation time, commissions, or a company car (www.xtremerecruiting.org).
The last tip given in the article is, be sure. Be absolutely sure when you turn down an offer that you are certain that you must do so (www.xtremerecruiting.org). No one likes to have second thoughts especially when it comes to turning down what possibly could have been a great situation for you.
Sometimes salary negotiations do not go as well as you would have hoped and the offer is unacceptable. There are some techniques to use in this situation too. First, if the offer is truly unacceptable to you be prepared to deal with the consequences, meaning not getting the job. Second, tell the interviewer exactly what is lacking in the initial offer. It can be any number of things: money, vacations, and responsibilities, whatever the issue is the job applicant needs to communicate specifically what it is. Third, give a proposed solution. Tell them exactly what it will take to make it a "done deal". Let them know that if this can be done you will start work right away. The employer would be more likely to try and make it happen if they know you are serious. Lastly, appeal to their power and position in the company. Say something like, "If you have the power…". Most managers will enjoy the positive comment and if they can get it done for you they will (www.collegegrad.com).
These negotiating techniques highlight just some of ways a job applicant can better position themselves for a better starting salary. Salary wizards on the internet will give you a pay range. Various articles at career related web sites can give you some valuable insights. And of course your local library will always have books on hand to guide you through your job and salary search as you prepare yourself for the challenges of the working world of the 21st century.
Works Cited
Farr, Micheal J. and LaVern L. Ludden, Ed.D. Enhanced Occupational Outlook Handbook 2000-2001 ed.
Caroline Levchuck. "How to Determine Your Salary Range". 10-30-2004.<www.hotjobs.com>
Lussier, Don Job Search Secrets. Lincolnwood: NTC/Contemporary,1998
Wright, John W. The American Almanac of Jobs And Salaries 2000-2001 ed.
"The Unacceptable Offer Negotiation Technique". 10-31-2004. <www.collegegrad.com>.
" 10 Tricks for Negotiating a Higher Starting Salary". June 20,2004. Employment Digest. 10-24-2004. <www.xtremerecruiting.org>.