Negotiation Skills Case Study Essay Sample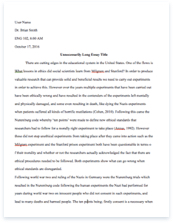 The whole doc is available only for registered users
OPEN DOC
Pages:
Word count: 1196
Category: skills
Get Full Essay
Get access to this section to get all help you need with your essay and educational issues.
Get Access
Negotiation Skills Case Study Essay Sample
Mark is the assistant manager of a book store that is part of a national chain, and it is the week of Thanksgiving. He is one of the store's six salaried employees, and the others are fulltime or part-time hourly employees. Besides Mark and the general manager, there is Dick, the other assistant manager, who is getting ready to accept a position elsewhere and who has the accumulated time to give notice at any minute. There are also two section leaders and one community events coordinator. The latter has already given notice to the general manager that she will be vacating her position at the end of December, but there has been no public announcement about this forthcoming vacancy.
The much coveted salaried positions are announced in each store when they are being vacated, but employees usually know before the posting if someone in management is planning to leave. There is fierce competition among hourly employees to secure such positions since there is a huge pay advantage for those who move into management.
When Mark comes to work today, he finds out that Dick has given the general manager his letter of resignation, effective immediately. He is clearing out his locker when Mark arrives, and the general manager is in a state of shock. He has asked Mark to meet with him to figure out what to do to find a replacement—fast. Since the chain has the policy of posting vacancies and moving applicants through the interview process on both the in-house and district level when it is a management position that becomes vacant, what the present management needs most right now is time and knowledgeable staff to carry on store operations at this busiest time of the year in retail.
(Many of the employees are new hires who have come on board just for the holidays. Much of their time has been spent reading massive employee manuals, and their actual floor time has been minimal. Most of these are high school and college students who will be working while they finish their fall semester, take exams, and try to have a social life. They have neither the commitment nor the knowledge of the stock to do much beyond ring sales. One of Mark's responsibilities as assistant manager is scheduling staff, and he has already been asked to accommodate these new hires repeatedly.)
The saving grace is that the store has a few older fulltime hourly employees who want to move into management. They know the store's operations inside out, and they are
totally reliable even though their pay is quite low. One of these is a 59-year-old woman who helped open the store five years ago, and although she has applied for a salaried position every time one has become available, she has been passed over each time. She is hard working, reliable, knowledgeable, and has excellent customer service skills, yet managers don't want her to be promoted.
This woman is a vegan and has refused to work in the store's coffee bar because of what she would have to serve to customers. The chain's CEO has recently insisted that all of the stores' employees be cross trained to work in every area of each store, and she has failed to willingly undergo training to work in the coffee bar because of her dietary practices. She also feels that when she came to work for the store, she did so with the understanding that she would sell books and not handle food or make complicated beverages with appliances she was intimidated by. This one fact has earned her the reputation of being uncooperative despite her many positive qualities. She cannot afford to quit this job because of financial problems.
Because of her longevity with this store, Mark agreed to let her take vacation days from Thanksgiving until the following Monday. Most employees were scheduled to work on "Black Friday," but she had put in her request far enough in advance that Mark agreed to let her have the time off. This was before he knew the other assistant manager who usually oversaw the training of new hires would be departing without prior notice. Now he is in a real bind: he will have to retract the offer to let this woman have the time off without having her quit her job too. If she did, the store would be truly compromised. She has the knowledge and the skills to accurately instruct and supervise the new part-timers, but she has already been granted leave for the time the store will need her most.
As Mark wonders what to say to get her to willingly work on these days she has been given off, he remembers her ongoing pursuit of a salaried position. Right now only Mark, the general manager, and the departing assistant manager know about his impromptu retirement. The hourly veteran Mark now needs will be arriving in a few minutes, and she and others will find out soon enough about this sudden vacancy. The one thing Mark knows for certain is that all the employees scheduled to work on these days may not work beyond their scheduled hours since there is no funding available for overtime. What could Mark say or do to make her agree to work the days she has been scheduled to take off?
Objectives
Mark must try to get his experienced hourly employee to agree to work on the days he has already agreed to let her take off.
Questions
How prepared is Mark to ask this woman to give up her vacation days?
1. What concessions might he offer?
2. How should he open the discussion with her?
3. What are possible reactions to his request?
4. What should Mark do now?
5. Is a win/win possible?
http://www.businesstrainingworks.com/Negotiation-Skills-Case-Study.html
Questions
1. What concessions might he offer?
Company can offer Sponsored holidays later during the Thanks giving day. Say go in a trip company will pay the same Increase in
designation.
2. How should he open the discussion with her?
Open a discussion:
Make her belief as a Team worker and essential part of the company. Motivate her. As she was abandoned (neglected) due to her decline of working in a coffee bar and cover up that negligence
Tell the fact that company needs her to problem (describe the proble) 3. What are possible reactions to his request?
Of course she decline the offer or may be demand extra compensation. Be prepared for it 4. What should Mark do now?
Before going to old lady, Mark should discuss with GM that instead of cursing that lady we have to trust on that lady. As she is experienced and Iam going to offer her alternative solution like sponsored holidays and increased in hierarchy level. Now meet with Old Lady:
• Built a confidence and explain a company situation… Like there are bad time and good times, she is a essential part of our team. • Offer Remunerations(sponsored holidays, increased in designation and benefits) 5. Is a win/win possible?
Nops it won't coz company had to give a compensation and lady may cancel her holidays