Negotiation team of current employees Essay Sample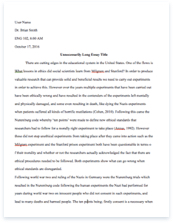 The whole doc is available only for registered users
OPEN DOC
Download Essay
A limited time offer!
Get a custom sample essay written according to your requirements urgent 3h delivery guaranteed
Order Now
Negotiation team of current employees Essay Sample
1. To prepare for the negotiations, the union created a negotiation team of current employees that would be responsible for bargaining with Magic Carpet Airlines (MCA. ) After gathering the team for bargaining, they met as a group to determine their goals for the negotiation and decide what information they would need to conduct the negotiation. First, they decided on an initial opening offer that was based on average working conditions and wage rates similar to other companies that also fit their needs.
One interesting and smart move that they made was using the basis of other employees like pilots and mechanics to create similar proposals that these unions already negotiated in their contracts. Another important thing to note was that they sent out a survey to find out what the employees main objectives were for the negotiation. It is important that they found out exactly what was most important for the union members so that they could make them happy. They also used previous contracts to help them to determine what needed to be improved and what wasn't working anymore.
The union was able to use the knowledge of MCA's financial history to prepare data that would be within financial reach for MCA. They also did research by using government sources like the Monthly Labor Review to review wage, unemployment, and cost-of-living.
2. The union's primary objective was to address wage determination by implementing duty rigs to the contract. The flight attendants were concerned because they were only being paid for time spent in the aircraft and an hour for preparation and are not compensated for the time spent waiting in the airport.
If duty rigs were implemented, the flight attendants would be paid a fixed percentage of the time they were on duty. Along with this issue, other concerns were job security and working conditions. The attendants were concerned that if a merger or buyout were to happen, they would not be guaranteed anything. They addressed their desire for seniority to be continued with the new company. They also wanted protection from layoffs.
The attendants also wished for sick leave benefits because they were not being allowed to use the time that they had accrued and were having to submit permission five days in advance to switch flight routes with co-workers. Their two broad objectives were increased wages with a duty rig clause and increased job security.
3. The union had four main strategic strategies. The first was making sure that union members were well informed of the negotiation process. This meant that after each bargaining session, the committee would mail out a brief letter about the negotiation.
They made sure to leave out major details to keep union members from being disappointed. They also created a newsletter that would be mailed out every two weeks. The second strategy was getting union members involved. This helped show the company that the members were invested in this process. Increasing their commitment would show reliability of their claims. To get the members more involved they created a committee of members to be on to assist with negotiations and made a slogan to print on t-shirts, buttons, and pens. This was similar to what United Airlines did to pressure management into agreeing to their terms.
It increases awareness to the public and brings pressure to upper management. The third strategy was to try and convince MGA that their demands were important and to be taken seriously. This was done by researching what permits and would be needed if it came down to it they would strike. The union committee also mailed copies of the newsletter to each manager's home. The fourth strategy was not moving forward with a decision unless the entire team had agreed on the issue and negotiations would include every committee member.
In my opinion, I found their strategies reasonable because if they want these changes they need to be able to work as a team and fight for what they deserve. I also think it is smart to use a power strategy on management because they don't take these negotiations serious.
4. MCA's main goals were focusing on the financial aspect of the negotiation. They wanted to keep costs as low as possible but still provide worthy service. They claimed that the financial health of the company was in trouble and they could possibly go bankrupt.
Although, research showed that their statements had never showed a loss. They were also concerned about making changes because of their new marketing agreement. One of them also said that they did not want to make any concessions.
5. The strategy of MCA was to first let LPA present proposals. After hearing them, they would either say no and then would say they needed to caucus and not decide on the next meeting for negotiating. When they finally had decided, they only gave LPA a two-day notice. They also suggested using similar grievance plans that the union pilots had.
MCA did not have a negotiating plan, a proposal, or a great team structure. Members of the team had issues going on between them and were not prepared for the meetings and showed up late to the meetings. They added Ross into the team, he was from a different company and had to prior knowledge of past negotiations and frankly didn't seem comfortable being around Orleans. He did not contribute and ended up just leaving the meeting. MCA negotiators had no real strategy in my opinion. They failed to take this seriously.
They would purposely create frustration by deciding to caucus and then would just agree to meet another day. They had to accountability for the company.
6. Without regulations, bargaining power of the union and MCA has shifted. MCA can deny concessions from the LFA and the LFA can choice not to accept proposals from MCA. This would eventually cause LFA to strike of course but since airlines are not regulated, issues like the ones in this case have arisen. MCA not being regulated has created a viscous cycle of negotiations and contracts.
The airline industry was regulated in routes and fares that they charged. After, they could pretty much do or pay whatever they liked. This was the reason why MCA wanted concessions on everything and didn't really care to negotiate.
7. Management didn't really want to negotiate in the beginning. They preferred keeping the original contract and didn't want to concede on anything. Now it seems like they are playing dirty tricks by trying to convince the union into signing the wrong document. The fact that this happened twice definitely leads me to believe it was done on purpose.
This is why it is always important to thoroughly read through a contract before signing it. After this happened, they gave a speech to the union about having to give to get. This seemed to move everyone forward a little and come to an agreement on more issues. They also approached the union member while they were at lunch, my suspicion was they were trying to catch them off guard and get them to agree to something hastily.
8. I think that ethics has played a crucial role in this negotiation from the beginning. The company has not respected LFA from the beginning and has tried to hard ball them into agreeing to terms that are not on their agenda. They have made snide comments to them and even lied to them about making a mistake copies over previous documents.
MCA seems only concerned with money and the members chosen for the team could honestly care less about these negotiations. From the beginning, LFA caught on to the fact that they were not involved because they have continuously questioned the team's credibility and whether they are acting out of good faith.