New international restaurant on campus Essay Sample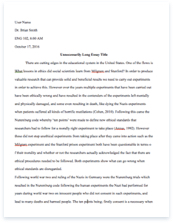 The whole doc is available only for registered users
OPEN DOC
Get Full Essay
Get access to this section to get all help you need with your essay and educational issues.
Get Access
New international restaurant on campus Essay Sample
1 Why data/ information collection is important in marketing
Data/information collection is used to determine market change and to analyse market needs. Once the customers' needs have been investigated, the company can plan its marketing segment and position, in order to satisfy and meet existing and potential customers' needs. This can help to maximise profits in an organisation.
In addition, data/information can be used to evaluate an organisation's status, through analysing if the business is meeting the desired service of the customers with the actual service of the business. Such information can improve the existing service, hence the value of the business.
Finally, data/information collection can be used to predict competitors' actions. Organisations can use the collected data/information to improve their marketing strategy in order to retain and attract more customers.
2 How data/information can be used to make better marketing decisions
Data/information such as questionnaire data, can indicate the strengths and weaknesses of current competition or an organisation that may be loosing sales can discover reasons for the loss.
Such data/information aids a company to strengthen its weaknesses, use strengths, find unpredicted ideas and find a niche. It can also enable an organisation that is looking to start-up, make important decisions in terms of best location and pricing. Predictions can be assessed, where concrete information from research will clarify the targeted markets interests and needs, meeting target audience expectations.
Consumers behaviour and purchasing habits can also be evaluated. Positioning on strategy can be identified and evaluated, checking the consumers most important criteria to the type of business.
An existing organisation can review their service quality and find indicators for losses or where their market lies at the moment. It could be a case that their strategy is unfashionable with current market trends or employees service quality has weakened.
Through such information, an organisation can gain a competitive advantage and approach a problem in a company, for example, check why sales have desreased. Understanding the customer will give more accuracy to marketing decisions.
3. How members of your group collected the questionnaire data? What methods were employed? Any interesting anecdotes?
Firstly, we prepared the questionnaire and then applied two methods to complete the questionnaires, with the aim of preventing bias.
Method one: 5 out of 21 questionnaires were conducted with the interviewer filling in the questions after respondents gave verbal answers. The interviewer asked questions exactly as written, with all the options and instructions read out. Questionnaires were placed in front of the respondents to allow them to review the options before giving an answer.
Method two: Other questionnaires were completed by allowing respondents to physically complete the questionnaires themselves, without any interaction from the interviewer. In this case, the interviewer stood back for support in case the respondent needed to query a question.
4. What difficulties (if any) were faced by your group members in collecting data?
An important difficulty that we faced was being rejected, as some people did not want to participate in filling in the questionnaires. Another difficulty involved open-ended questions not being filled. Open-ended questions were important, to be able to discover what people think and to gather detailed information. In the second method, respondents also misunderstood questions. For instance, respondents completed the ranking scale inaccurately by assigning the same number to different parts of question 11 and rectified their mistakes after they realised it. Moreover, some of the questionnaires were not answered. As a result, such questionnaires were discarded.
5. In retrospect, what could you have done to improve the data collection process?
If we gained another chance, the wording in some questions would be changed. For example, respondents usually did not understand and asked what we meant by the term "eating environment". Moreover, we should have also expanded on some elements of the research, such as being more specific about our meaning of 'cleanliness'.
In future data gathering, we will combine the two methods that we used in this research, where we will not allow respondents to fill the questionnaires completely by themselves. Additionally, as interviewers, we will not fill the questions for respondents, but will provide additional support to ensure that respondents understand the answering criteria, for example whether to tick one box only or to ensure that all questions are answered. This will prevent wrongly answered questions and bias. For example, in the first method we used, when the question about charity was asked face-to-face (see Appendix 1, Q.16), 4 out of 5 participants answered I don't know". However, we believe that without our direct presence, they would have said "No". Without face-to-face introduction with the interviewer, respondent may have felt more comfortable to answer such questions. Furthermore, in future data collection, timing will be considered, since the majority of our questionnaires were given during lunch time, which can indirectly affect respondents' perception of service.
6. What were the views of respondents on the questionnaire data collection?
Respondents gave us different responses: some of them noted that the questionnaire was too long, boring and difficult to understand, while others said that it was clear in its objectives and would have been a good tool to use if the opening of an international business was really planned. This gave us the confirmation that students really feel the need for such a business opening on campus.
ABSTRACT
This business plan is aimed at examining the potential in the market for an international restaurant to be opened on Loughborough University campus. This decision was based on the observation of a lack of variety of restaurants on campus. We analysed the marketing potential using a range of different theoretical models, for example, the 7Ps approach to the marketing mix and the SWOT analysis. Market research results indicated that quality and price are the most important factors to build in the strategy. Based on heavy promotion and low prices, we have built a penetration strategy.
SECTION 2: MARKETING MIX – THE 7P's
1 PRODUCT
The product has been specified as the central component in the marketing mix, given that it offers the practical needs and wants of customers (Jobber, 2007). Products are used to tackle customers' needs and requirements according to the result which was conducted from marketing research (The Times 100, Website ).
Product is defined as an organisation that is developing a system based on satisfying the needs of its customers continuously. As a result, the customers are not being served by its competitors, but instead by the organisation itself (Levitt, 1969).
Products can be divided into two categories – tangible and intangible. Tangible means something which you can physically see and touch, such as food in this case; whilst intangible means something which the customers cannot physically touch, such as the service provided in our restaurant.
As a service provider, our business will be offering both tangible and intangible products.
1.1 Product features
In order to ensure the quality of our food, a system of Total Quality Management (ISO 22000) will be applied (See Appendix 5). Providing good quality food is one of our key marketing strategies, as results from our research illustrated the greatest weaknesses of our competitor (See Appendix 1, Graphic 1 and 2), and also helped us identifying customers' needs (See Appendix 1, Q.11). This also provides us a good opportunity to privilege our restaurant in comparison to our competitors. However, our restaurant will not provide a wide range of food as we are most concerned about the quality of food. Our results also demonstrated that respondents were least concerned about the variety of food (See Appendix 1, Q.11).
With respect to the quality of the food, health implications are also another important factor (See Appendix 1, Q.14). Since Loughborough University focuses greatly on the level of sport, we have considered the health implications on our food and nutritional facts will be given. Our restaurant will use raw materials with the least amount of additives; organic food will be sold as well. Providing a range of international food is another marketing strategy for our business. This is because there is a very limited offering of international food on the Loughborough University campus. Loughborough University also consists of students which come from different parts of the world. Moreover, our restaurant will serve English, Italian and Indian food as they are the three highest preferable foods from the data collection, (see Appendix 1, Q.12). In order to enlarge our market segment, Chinese food will also be provided in our restaurant due to the fact that the second largest population in Loughborough University is represented by Asians (See Appendix 1, Table 3). The business will also provide Halal food, potentially expanding our customer base and representing an understanding of many international students needs (See Appendix 1, Q.10).
Apart from providing a range of international food, our restaurant will also offer a range of sandwiches. Moreover, 'Deli of the Week' will be introduced in our restaurant, and we will be providing a different meal every week. This meal will be prepared with the unspoilt materials of extra leftover ingredients. By this method, we will save money and offer different dishes to our customers.
1.2 Branding
Branding is a promise between the company and customers, as well as other people who are related and have interacted with a company. Building a brand name would close the gap between a company's promise and the way of providing the service (Restaurant Report, Website).
Having a positive brand reputation can lead to becoming successful in business and making profits (Herbig & Milewicz, 1995). A good brand reputation can lead to attracting more customers. However, if the company fails to perform its identified goals and meeting the marketing indication, it will be considered as a negative brand reputation and, as a result, lose customers. Continuously fulfilling and updating customers views of the brand is therefore vital (Milewicz and Herbig, 1994).
In this case, our restaurant will build a positive brand reputation by selling high quality international foods which contain the lowest amount of additives as possible, nutrition facts, as well as Halal meat. We will also differentiate by donating certain percentage of our profits to charity. In addition, we will continue to examine our customers' needs and opinions in order to attract more customers while retaining the existing ones.
2 PRICE
As pricing generates a revenue for the company, it is a crucial element of the marketing mix. Other 6P's are variable costs for the business. Pricing is a demanding issue: cost Analysis (Break even analysis, profit-loss account and balance sheet), supply and demand, competition, positioning and willingness to pay of target group should be considered when pricing strategy is being decided.
2.1 Cost Analysis
"Cost may seem in contradiction to the outward-looking marketing oriented approach, but in reality costs do enter the pricing equations" (Jobber, 2007, p. 481). "There are three basic components of cost; materials cost, labour cost and production overheads. In the service industry, all product and service costing involves the allocation of costs to cost units" (Gowthorpe, 2005, pp. 339 – 344). All expenses and income have to be considered to decide the reasonable price of the products. We assume that incomes can cover fixed cost. Therefore, the larger the amount of sales, the more revenue the business will produce.
Pricing directly affects sales revenue. A company has to relate sales revenue to costs. The pricing objective is to maximise sales revenue over costs, and achieve profit. For this purpose, we will use a costing software programme which will decrease costs at least 8%. Moreover, to control start up costs we will hire equipments (e.g. cooker), since we do not want to pay large amounts at the beginning and leasing can be extended for long periods of time (Ezine Articles, Website). Moreover, to buy the raw material at cheaper prices, long term agreements with the suppliers will be made. These decisions are based on the assumption that the business will not have a bankruptcy. Furthermore, energy costs made 4% to 7% of total operating expenses. According to the National Restaurant Association (NRA), most operators can save 20% to 30% a year on energy expenses (AllBusiness). Therefore, we have an energy saving plan to reduce the costs (Appendix 6).
2.2 Cost Analysis
Supply and demand are significant elements to set the prices. Demand has two categories: elastic and inelastic demands. Since most participants are satisfied with the products that are served in EHB but dissatisfied about the price (See Appendix 1 Q.7), the demand for our products is price elastic. This means greater demand will be obtained when a discount or promotion is applied. In the long term, the demand for the products can change into price inelastic, by making our customers committed. Hence, we can change our prices more conveniently in future.
2.3 Competition
"Competition factors are important determinants of price. At very least, competitive prices should be taken into account; yet it is a fact of commercial life that many companies do not know what the competition is charging for its products" (Jobber, 2007, pg 478). We think our products are competitive in the market since, people most care about food quality (See Appendix 1 Q.11) and approximately half of the participants are dissatisfied with the range of the products served in EHB. (See Appendix 1 Q.7) Moreover most respondents reported that they would buy international food if it doesn't cost more than others.
Regarding product-line pricing, we need to care about whether the prices of our products fit into an existing product line. Most participants who eat in EHB stated that they pay £4.00- 5.99 on average. This result is taken into account when setting the menu prices.
2.4 Positioning Strategy
Positioning can be defined as choosing of target market and creating an advantage which supply a discrepancy. We are planning to be different by serving international foods to students with reasonable prices in a comfortable environment which will fill a gap in the market on campus since EHB serves mainly fast food with high prices and deficient eating seats. However, since many people use price as an indicator of quality, we will set the prices slightly lower than the competitor's. Additionally considering promotions, and our fixed price strategy, we will make a difference in the market.
2.5 Strategy
Each individual item has a fixed price but the introduction of meal deals which means the sum of certain items will cost less. Additionally, according to economies of scale, we will evaluate which product is purchased most within 3-4 months after starting the business. There will be a mass production of these, which will then be put on sale to increase the sales and attract more customers. Moreover, when we reach the break even point, we plan to increase the prices of the most popular food items to make more profit.
Considering the factors above and the price-sensitive target market, we will combine low prices with heavy promotions. This will get the market share fast and use a marketing oriented pricing: specifically our pricing strategy is Rapid Penetration Strategy. Penetration Pricing Strategies are used for entering large markets at a low price (More-for-small-business.com). Using the penetration strategy will attract customers, quickly increasing the market share and retaining them. If the competitor reduces its prices, this can cause a disadvantage when using penetration strategy, although we assume that they will not decrease their prices.
3 PROMOTION
Promotion has effects on potential consumers' interpretations of the business through informing and raises an awareness and recognition of the organisations vision. The promotion mix composes of advertising, personal selling, sales promotions, public relations, direct marketing, internet and online promotion, sponsorship (Jobber, 2007). The promotion mix can be used to achieve marketing objectives.
Due to the central location of EHB, promotional budget and amounts of marketing can be limited, as it is on a small scale. Our organisation will be using appropriate elements from the promotion mix, as detailed below.
3.1 Word of Mouth
Word of mouth is an extremely important aspect of promotion. Students trust their friends more than a poster advertisement and word can spread fast on-campus. This is an important factor before the business opens, as students will be inquisitive about what the business entails.
3.2 In Store Marketing
Employees helping customers with queries and promoting current offers will be a part of customer satisfaction. A good experience from employees' attitude will reflect on word of mouth. Building long term relationships with customers will reduce future marketing costs.
Special promotions at a cheap price like 'Deli of the Week', TV screens promoting the business, in-store display boards promoting charitable earnings and posters are all part of internal marketing. Menus will highlight that nutritional information is available at the back of the menu and be placed near to queuing lines for customers to read whilst waiting. This will emphasise our commitment to good health and be an advantage over our competitors, who only provide such information online. All writing will be written in first person format, giving a personal edge to the relationship of the organisation and customers.
3.3 Direct Marketing
Flyers will be handed out around the campus, detailing special offers. Students can also ask questions about the business directly to the promoter. Flyers can be distributed at Halls (on and off-campus), the Health Centre, International Office and Students Union. Posters will be put up on posts and buildings.
3.4 Public Relations / Media
Promotions on the Loughborough University website, Loughborough student radio station, television and the student magazine called 'Label'. These modes of media are most relevant to the student market.
3.5 Incentives
A promotions launch party, offering incentives on food can promote the food on offer and the ambience of the business. Both direct mailings and loyalty programs increase customer retention and customer share development (Rust, 2000). Improving customer satisfaction through the use of promotion and pricing can also increase customer commitment.
Long-term incentives include a customer loyalty card. Verhoef (2003) indicated that loyalty program with economic incentives would lead to a greater customer retention and stated that "creating close ties with customers is a better strategy for enhancing customer loyalty than using economically oriented programs" (p. 30-45). Customers will get one point for meals that cost over £4. Once the customer has gained 10 points, they will receive a free incentive, such as a free drink. Since EHB competitors currently use the university ID card for top-ups, it is unlikely that this business will gain the chance to use the same card.
3.6 Additional Promotions
Once the business reaches its breaking point, a delivery service may be introduced by using an auto rickshaw (traditional small Indian automobile). It will be a prominent point of promotion that reminds students of the business: increasing brand awareness and adding a personal touch. Once home delivery is available, leaflets will show the offer of home delivery if the order is over a certain amount and in the radius of 3 miles from the campus.
Giving money towards charity through profits is another way to promote the restaurant, together with taking part in students' activities, such as raising money in Charity week. This creates a positive image to consumers about the values of the business and can indirectly promote an ethical, trustworthy organisation.