New Urbanism Essay Sample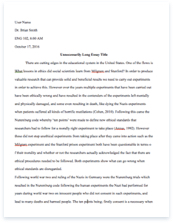 The whole doc is available only for registered users
OPEN DOC
Download Essay
A limited time offer!
Get a custom sample essay written according to your requirements urgent 3h delivery guaranteed
Order Now
New Urbanism Essay Sample
New Urbanism is a reaction to sprawl and is based on principles of planning and architecture that work together to create human-scale, walkable communities. New Urbanism is having a growing influence on how and where metropolitan regions choose to grow and elements such as garages in the rear of houses, neighborhood greens and mixed-use town centers. New houses within neighborhoods, for example, must provide modern living spaces and amenities that consumers demand (and that competing suburban tract homes offer). Stores and businesses must have sufficient parking, modern floor plans, and connections to automobile and pedestrian traffic, and/or transit systems. The design of neighborhoods, which can be defined by 13 elements [1]:  1) The neighborhood has a discernible center.
This is often a square or a green and sometimes a busy or memorable street corner. A transit stop would be located at this center.  2) Most of the dwellings are within a five-minute walk of the center, an average of roughly 2,000 feet. 3) There are a variety of dwelling types — usually houses, rowhouses and apartments — so that younger and older people, singles and families, the poor and the wealthy may find places to live. 4) At the edge of the neighborhood, there are shops and offices of sufficiently varied types to supply the weekly needs of a household. 5) A small ancillary building is permitted within the backyard of each house. It may be used as a rental unit or place to work (e.g., office or craft workshop). 6) An elementary school is close enough so that most children can walk from their home.
7) There are small playgrounds accessible to every dwelling — not more than a tenth of a mile away. 8) Streets within the neighborhood form a connected network, which disperses traffic by providing a variety of pedestrian and vehicular routes to any destination. 9) The streets are relatively narrow and shaded by rows of trees. This slows traffic, creating an environment suitable for pedestrians and bicycles.
10) Buildings in the neighborhood center are placed close to the street, creating a well-defined outdoor room. 11) Parking lots and garage doors rarely front the street. Parking is relegated to the rear of buildings, usually accessed by alleys. 12) Certain prominent sites at the termination of street vistas or in the neighborhood center are reserved for civic buildings. These provide sites for community meetings, education, and religious or cultural activities. 13) The neighborhood is organized to be self-governing. A formal association debates and decides matters of maintenance, security, and physical change. Taxation is the responsibility of the larger community.
VM Houses is a new residential project designed by PLOT [2]. It is a growing infill neighborhood inspired by the extension of Copenhagen's relatively new subway line. The VM Houses (shaped respectively like a V and an M when seen from above) recently won the Forum Prize for best new building in Scandinavia. While the article does not speak to whether the design of this property was intended to adhere to all the principles of New Urbanism it is touted as a revolution in community design, and many of its physical features are in line with this trend. First I will describe which of the features are in line with New Urbanism, and have potential to impact other aspects of community live not explicitly discussed. Then I will point out was appears to me to be a deficit of the building design, and the motivation of the builders highlighted in this article.
The VM Houses development sits on a square perimeter block, bounded by two canals and planning required  that one section be shorter than the other due to an established neighborhood of single-family homes on the west side. The south-facing block into a V and the north-facing block into an M, ensures that the apartments, instead of just looking at one another, all have orientation toward the landscape, and that both evening and morning sun can enter the courtyard. The shape causes diversity in residences, there are 76 floor plans in 221 units—with none repeated more than a dozen times and well over a dozen of them unique. This aspect facillitates a wide variety of people and family situations to live there, allowing the VM Houses community to reflect the diversity of the entire city's population, and potentially to blend into the diversity of the surrounding area as well.
The way the two building are situated creates a micro-community for all residents of the building which is physically close and viewable for the apartments. The courtyard is a safe and public place for children, and the view of the canals lends a kind of peacefulness and nature feeling to living in a city.  While the complex itself does not have stores and entertainment, because it is situated near the metro line it makes access to these things both safe and easy.
It is not clear how the streets around the VM Houses are situation and whether the extended neighborhood flows into the development but because of its location to the metro it is possible that the VM Houses projects can nucleate and become a center for the neighborhood, especially if it can use the courtyard for neighborhood concerts occasionally. Parking for this building appears from the photos [2] to be underground minimizing the waste of large land areas. Finally since all residents of the VM Housing project are linked together as a community it is certain they have a self-governing body, and consider the good of the whole project as good for each.
The only lacking thing in this development with regard to New Urbanism is that the architect did not seem to be concerned about interactions between the development and the surrounding neighborhood, and how the development could evolve. This strategy was used in many U.S. building "projects" in the 1950's which were subsidized, and became islands of decay isolated from their communities. Thus in accordance with New Urbanism, evolution of this complex should have been planned to reach out beyond its 1 block perimeter, with walking paths, parks, or other community centers. Future planning around this building ought to include this aspect if it wants to make the most of this innovatively designed new building.
Reference:
[1] New Urbanism: Comprehensive Report & Best Practices Guide. Ithaca, NY: Robert Steuteville, 2006.
[2] Plot Lines: In Copenhagen, two OMA alums create an ingenious housing complex with a staggering variety of apartment layouts. Tom Vanderbilt 2006, July Metropolis Magazine.