New Urbanism Essay Sample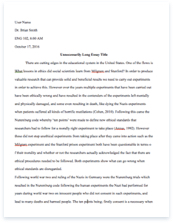 The whole doc is available only for registered users
OPEN DOC
Download Essay
Get Full Essay
Get access to this section to get all the help you need with your essay and educational goals.
Get Access
New Urbanism Essay Sample
Introduction
New Urbanism is a totally new concept of city development that targets developing new kind of neighbourhoods that are convenient and practical to the residents. The advocates of the movement announce a change from hostile, inconvenient practices to new ways of organizing streets. Offering residents completely new ways of city planning and organisation, architects and developers who support the concept are introducing new planning principles and fundamentally reshaping the old, traditional concept of the city. These developments, if they get accepted on a national level, can trigger drastic changes in urban development and economics.
New Urbanism as Reaction to Sprawl
New Urbanism has appeared as a reaction to the city sprawl that has generated preplanned, development often perceived as one that seriously damages the lives of communities. This pattern, also named conventional suburban development (CSD), appeared after WWII when the "compact, mixed-use neighbourhoods" were replaced with "the emergence of modern architecture and zoning and ascension of the automobile" (Steuteville 2004).
The problems with sprawl have instigated architects and developers to adopt a different pattern of development known as new urbanism. The frequently cited inadequacy of sprawl was the consumption of large countryside areas for development even in case of relatively slow population growth. Spread of small population groups over vast territories made transportation difficult.
As a result, use of automobiles had increased, and people who lacked a vehicle were at a serious disadvantage, being forced to traverse long distances with great difficulty in order to reach the most necessary places such as bank branch or local supermarket. Meanwhile, commutes increased in length even for those with cars. Cities began to lack distinct centers, and "the American landscape where most people live and work is dominated by strip malls, auto-oriented civic and commercial buildings, and subdivisions without much individuality or character" (Steuteville 2004).
Principles of New Urbanism
The concept of New Urbanism can be used at different levels, from constructing a separate project to the infill in existing towns and cities. It can be applied in suburban areas as well as urban retrofits. Throughout different areas, the principles of New Urbanism remain similar.
The principles as outlined by the Congress for New Urbanism are as follows:
Walkability: Most places have to be located no farther than a 10-minute walk from homes, and street design should make walking secure and pleasant
Connectivity: street grid is interconnected, traffic dispersion easy, and pedestrian routes well-connected
Mixed-Use & Diversity: neighbourhoods have multiple facilities and suit people from different cultures and socioeconomic groups
Mixed Housing: diversity of housing options.
Quality Architecture & Urban Design: architecture should satisfy aesthetic demands and comfort requirements
Traditional Neighborhood Structure: center with public space surrounded by residential buildings. Transect planning: "Highest densities at town center; progressively less dense towards the edge".
Increased Density: greater concentration of basic facilities in one place which permits more effective use
Smart Transportation: greater train traffic; opportunities to use bicycles, rollerblades, scooters; walking made easier
Sustainability: burden on the natural environment minimised; decrease in the use of fuels
Quality of Life: quality of life improved (Congress for New Urbanism).
New Urbanism in Practice
 Emerging as a reaction to sprawl trends, New Urbanism is aimed at the creation of more resident-oriented neighbourhoods that will better meet the needs of the people. New urbanists make their neighbourhoods walkable and friendly to pedestrians. Instead of making blocks that are intended only for single use, they create multi-purpose neighbourhoods that can be put to multiple uses. The neighbourhoods constructed in the New Urbanism style offers a range of housing options to people, extending the possibility of choice. Thus, they contain various options "from apartments over storefronts to single-family homes with yards" (CNU). Houses, rowhouses, and apartments guarantee that the menu of housing meets the needs of the wealthy and poor, as well as different age population groups, families and singles.
Those who are restricted in their mobility including the handicapped, the elderly, the children and those without a car will find it much easier to live in a neighbourhood constructed in accordance with New Urbanism. There access to basic necessities is ensured by participatory planning. This feature guarantees easier access even when mobility is limited.
Unlike in the sprawling communities, in those planned under the principles of New Urbanism there is a distinct center of the neighborhood. This center is often a square or a memorable corner where a transit stop is situated. The center dominates the landscape, with most of the other buildings located within five-minute walk from it.
Easy reach to basic necessities is ensured not only through relatively easy transportation, but also through placing stores and offices supplying a wide range of products and services at the edge of the community. In this way, people can secure basic necessities close to their homes. There should also be an elementary school, playgrounds for children, and every building has "a small ancillary building" that "may be used as a rental unit or place to work (e.g., office or craft workshop)" (Steuteville 2004). The neighborhood center also includes space for civic buildings that are placed in the center or at the end of major streets. These are the "sites for community meetings, education, and religious or cultural activities" (Steuteville 2004).
Special attention is devoted to parking and transportation with the aim of making it easy and convenient. Thus, New Urbanism envisages that parking lots will be removed from the streets, and "parking is relegated to the rear of buildings, usually accessed by alleys" (Wikipedia). Traffic in the narrow streets will inevitably reduce speed, and thus will not interfere with the movement of pedestrians. The neighborhood's network of streets carefully disperses traffic flows, simultaneously providing for pedestrian movements. Place is found for bicycle travel.
The main idea is to make the neighbourhood community-oriented. This goal is also achieved with the help of self-governing present in New Urbanist communities. Local residents are an important voice in the planning of the neighbourhoods and in the process of maintaining the looks and functioning of the place. The system envisages the formation of a local association or board that will supervise maintenance and security of the neighbourhood, making decisions in these areas.
Economic Benefits
The system created under New Urbanism is indeed resident-oriented, convenient and flexible. Although it requires expenses associated with pre-planning of the neighbourhood, it may actually prove economic in terms of saving expenditure on transportation. If residents are able to reach places on foot, this will reduce the need to buy a car, and for those who have already done so this will reduce their spending on gas.
The cost of overcoming environmental degradation inherent in most present-day neighbourhoods will also be reduced. The economic life of the community will also be aided by the fact that most important services are available on site, raising consumption possibilities for those with limited mobility and improving their quality of life.
Living in attractive and sustainable communities built with the help of applying New Urbanist principles, residents will also enjoy high value of their property that is more likely to remain stable over time. As communities offer their residents better amenities and greater life quality, the price of property is likely to remain high, as the example of Seaside, Florida, demonstrates.
Residents are also likely to enjoy healthier lifestyles which will improve their health. Able to replace driving with walking, they will spend less time behind the wheel and more in physical activity. This in itself can help them lower their health care expenditures and minimise illness and treatment frequency. Besides, the elderly in particular may be better able to access medical facilities and prevention centers. Sports facilities including fitness centers, stadiums, and swimming pools will become more accessible.
Businesses will also profit from decreased spending on vehicles and fuels, which will help people free up money from other expenses and spend more on other things. Proximity to clients will be another advantage that will spearhead business growth, as retailers, for instance, will be able to save on expensive advertising in mass media and reach their clients through local promotional campaigns. Besides, "smaller spaces promote small local business incubation" and lead to "lower rents due to smaller spaces & smaller parking lots" (Congress for New Urbanism). Proximity to clients will also allow businessmen to promote their activities through direct, first-hand interaction with customers.
Overall, the business system can be expected to benefit from the improvement in access to business facilities by the workforce. Relieving people of the need to make lengthy commutes and trips between office, store and home can make them more flexible in their choice of employment positions given the possibility to access places that earlier were poorly attainable. At the same time, experts note that the real challenge associated with the creation of New Urbanist communities is "persuading policymakers, lenders, developers, and citizens to support the integration of office jobs with retail centers, housing, and civic uses in walkable centers and real neighbourhoods" (Rood 2003).
However, such improvement can drastically reshape the nature of work and commute in areas where it has been implemented. Contributing to greater flexibility of the workforce, enhanced urban planning in line with the trends of New Urbanism can improve the distribution of the workforce, making it more effective. In this way, the economy of the area will be improved by the switch to New Urbanist planning policies.
Implementation of New Urbanism
The first place built under the New Urbanist concept was Seaside, Florida, built on 80 acres of land in 1981. Since the project was complete with only a few streets in 1988, it began to be cited as an example of successful urban development that provided a superior quality of life. The place gained worldwide fame for "its architecture and the quality of its streets and public spaces" (Wikipedia). The public's appreciation of the developers' efforts became obvious when the price for lots surged from $15,000 in the early 1980s when they first began to sell to about $200,000. Now the housing prices in the area reach millions of dollars, and the place attracts crowds of tourists.
The success of this relatively small-size project sparked enthusiasm around the nation. Architects began to build similar projects in many other American cities including "Haile Village Center in Gainesville, Florida; Harbor Town in Memphis, Tennessee; Kentlands in Gaithersburg, Maryland; Addison Circle in Addison, Texas; Orenco Station in Hillsboro, Oregon; Mashpee Commons in Mashpee, Massachusetts; and Celebration in Orlando, Florida" (Wikipedia). These projects, built all over the US, signified the triumphant pace of the New Urbanist concept in the nation. Many people saw New Urbanism as an effective tool in responding to the sprawl problem and the inefficiencies in urban development associated with it.
Another important breakthrough in the publicity granted to New Urbanist projects was the construction of Celebration, near Orlando, Florida. This neighbourhood was built by Disney Corporation in 1996 and since then remains the most famous project built along the New Urbanist lines. Although Disney did not openly state that Celebration was developed in the style, architects claim that it was built according to principles close to New Urbanism. The 5,000 acre town was not universally acclaimed. Some criticized its "heavy-handed rules and management" and "would attack new urbanism as insipid nostalgia" (Steuteville 2004). However, many reports point to the fact that many residents were actually pleased with the facilities and planning at Celebration.
Conclusion
New Urbanism is a promising trend in the development of modern towns and cities. Reverting to the time-tested concept of development that places a discernible center inside the community, focusing development on neighboring areas, New Urbanism is an effective alternative to the modern sprawling developments. Overcoming the main drawback, the need for transportation leading to lengthy commutes and restricted mobility for large population categories, New Urbanism creates convenient, resident-friendly communities. The result is an improvement in residents' life quality, economic benefits, and environmentally friendly policies.
References
Congress for the New Urbanism. New Urbanism. [cited 2006 April 4]. Available from: http://www.newurbanism.org/pages/416429/index.htm
Congress for the New Urbanism (CNU). [homepage on the Internet]. New Urbanism: A Tour. [cited 2006 April 4]. Available from: http://www.cnu.org/about/index.cfm?formAction=tour&CFID=13616485&CFTOKEN=55084996
Rood, T. Community by Design: New Urbanism for Suburbs and Small Communities. Journal of the American Planning Association 2001; 69(3): 323+.
Steuteville, R. The New Urbanism: An alternative to modern, automobile-oriented planning and development. New Urban News. 2004 July 8. Available from: http://www.newurbannews.com/AboutNewUrbanism.html
New Urbanism. [cited 2006 April 4]. 31 March 2006. Available from: http://en.wikipedia.org/wiki/New_urbanism