NHS Change Management Essay Sample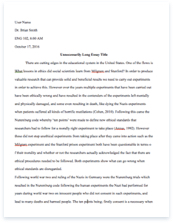 The whole doc is available only for registered users
OPEN DOC
Pages:
Word count: 389
Category: health
Download Essay
Get Full Essay
Get access to this section to get all the help you need with your essay and educational goals.
Get Access
NHS Change Management Essay Sample
This is a supplementary report, aimed at aiding further explanation of the change that took place at NHS UK. This paper reviews literature on various models and frameworks, provided by many researchers and scholars and links to varied aspects of change that was initiated at NHS. It illustrates how the change has been implemented through proper planning and control, effective people and process management. However NHS did fall short on some aspects of the change plan, which are illustrated in our findings. Further research is recommended in area, as majority of the work available talks about the effective implementation and management of the change plan. Textual analysis is used as the research methodology.
2.1 The National Health Service, UK
Since its launch 60 years ago, the NHS has grown to become the world's largest publicly funded health service. It is also one of the most efficient, most egalitarian and most comprehensive. The NHS was born out of a long-held ideal that good healthcare should be available to all, regardless of wealth. At its launch by the then minister of health, Aneurin Bevan, on July 5 1948, it had at its heart three core principles:
* that it meet the needs of everyone,
* that it be free at the point of delivery,
* and that it be based on clinical need, not ability to pay
2.2 The Change Plan
These three principles have guided the development of the NHS over more than half a century and remain. However, in July 2000, a full-scale modernisation programme was launched and new principles added. These require that:
* The NHS will provide a comprehensive range of services
* The NHS will shape its services around the needs and preferences of individual patients, their families and their carers
* The NHS will respond to the different needs of different populations
* The NHS will work continuously to improve the quality of services and to minimise errors
* The NHS will support and value its staff
* Public funds for healthcare will be devoted solely to NHS patients
* The NHS will work with others to ensure a seamless service for patients
* The NHS will help to keep people healthy and work to reduce health inequalities