Nick Carraway – Character analysis of The Great Gatsby Essay Sample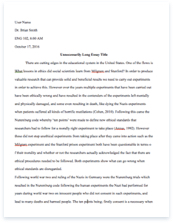 The whole doc is available only for registered users
OPEN DOC
Download Essay
Get Full Essay
Get access to this section to get all the help you need with your essay and educational goals.
Get Access
Nick Carraway – Character analysis of The Great Gatsby Essay Sample
* Nick, is the narrator of this story. Every single episode is described as he sees it. This can be seen by the usage of the first person when Nick expresses himself "In my younger and…" (page 1).
* As Nick explains us in the first chapter, he is from a wealthy family and comes from the mid-west part of the U.S. We also know that Nick lives in New-York, Long Island, in an area called West Egg. He studied at New-Haven and graduated in 1915. That is where he met Tom Buchanan. He knows Daisy too because she is his cousin.
* He says he is in the bond business. He thinks the bond business is a good one because "everybody I knew was in the bond business".
* At his arrival in New-York, he becomes the neighbour of a rich man: Mr. Gatsby. This is how Nick gets involved In the relations between the Buchanan's and Gatsby.
* Nick has a quite strange relationship with Jordan Backer a GOLF PLAYER, in fact, it can be said that it is a quite ambiguous relationship. This relationship will end at the end of the book "I don't know which of us hung up with a sharp click, but I know I didn't care."
* Nick is a fair person, for every event or person he encounters; he always has a judgement for it. That makes him fair but an honest man too.
* It's only at the end of the novel that Nick realizes that Gatsby is a great person.
Daisy:
* Daisy Fay Buchanan is the character on which the book focuses on more after Gatsby. She is Tom Buchanan's wife and she too comes from a wealthy family of the Mid-Western part of the States as Nick is. She is connected to Nick because they are cousins.
* At first, Daisy looks like a joyful person with a lovely husband and a child, but as the novel goes on, she seems to become more and more a cold woman.
* She knew Gatsby when she was younger and was fully in love with him but when Gatsby left for the war she married Tom Buchanan "…and I didn't lay eyes on him for years". She will have a relation with Gatsby after all because she feels more in love with him than with Tom.
* Daisy can be seen as a careless woman, the accident of Myrtle is a good example to this observation. In fact it seems like she lives on another planet, her own planet.
* This is due to the fact that she was always spoiled in her life. She was in a wealthy family of the mid-west which can explain her spoiled childhood and as regards her life as a woman because she had so much charm, beauty and as Gatsby says "innocence", she could attract a lot of men who would then spoil her a lot. This can be verified by the fact that Tom spoiled her with a very expensive necklace and later Gatsby will spoil her too by giving her a mansion.
Tom Buchanan:
* Tom is also from a rich family in the mid-west of the U.S.
* He is a big man with pumped up muscles which gives him extraordinary physical features. He is an ex American football player where he played for Haven University. There is where he met Nick Carraway.
* Tom, coming from a wealthy family made him a spoiled man. He never really worked in his life which can explain all the days off he has.
* Tom is a very selfish man, he has everything he needs, a family, and wants more: Myrtle. Tom uses Myrtle to reach his needs.
* He has a relation with Myrtle which he doesn't bother keeping secret. This shows he doesn't care of what others think and has no respect for his wife.
* Nick sees Tom as a friendly person at the beginning of the novel but as it goes on, his friendship towards Tom vanishes as it is then followed by Daisy "I couldn't forgive him…"
Jay Gatsby:
* Gatsby is the main character in this novel. He is plenty of money although it is not quite sure where it all comes from.
* Two main things are his objectives for life. The first one is to have an enormous amount of money, which he is never satisfied with and second of all is to get his second part, his image, his love: Daisy Fay Buchanan.
* Gatsby fell in love with Daisy just before he would of gone to war but when he came back he couldn't find her anymore and was then that he set up his two goals, make money and find Daisy.
* The reader has a certain suspicion towards Gatsby for being involved in the black market that is when he offers Nick to make some easy money "Well this would interest you. It wouldn't take up much of your time and you might pick up a nice bit of money".
* Gatsby has a way of wanting to have things out of the normal, in fact, when he wanted Daisy he went to get her. Another good example can be seen when Gatsby and Tom are arguing for Daisy. Gatsby wants Daisy immediately so he says abruptly to Tom that is insulting him: "Your wife doesn't love you", Gatsby gets always straight to the point.
II. Take notes on two important themes that you perceive in the book.
Social Theme:
* Main theme of the novel, it is one of the most important themes F. Scott Fitzgerald wants to show to the reader.
* Shows us how social life was in the 20's
* Social Status was one of the most important features in the 20's; it could overcome sentiments like love or even friendship.
* Two good examples of these are when Myrtle married Wilson and then he became a poor petrol vendor leading Myrtle to get in a relation with Tom who is a man of higher ranking and with more money "The only crazy I was when I married him. I knew right away I made a mistake". On the other hand Daisy married Tom which is a high ranked person but she decided she'd love Gatsby instead because he is richer and more powerful, which is what Daisy was looking for.
* When Gatsby dies, his close friends wouldn't want to come to his funeral because they say that he was a good friend when he was alive for the money but now that he is dead, he has no more money and he can no longer be a friend "Let us learn to show our friendship for a man when he is alive and not after his death".
Moral theme:
* Nick Carraway is the character which has the most moral values in the whole book.
* Nick will remain a friend to Gatsby when he is alive and when he is dead, this shows the great friendship he has towards this man. Another issue Nick will defend about Gatsby is his interest.
* F. Scott Fitzgerald presents us the higher class as a careless class in the mid 20's, in fact, Daisy and Tom can be a good example to this.
* Every time Daisy and Tom are faced to a problem they will automatically escape leaving no sign whatsoever of where they have gone. An example could be Gatsby's death. When Gatsby died, instead of facing the consequences of his death, Tom and daisy decided to travel. This gives the reader an idea of how selfish and careless towards other people members of the higher class were in the mid 20's.