Nike Free Essay Sample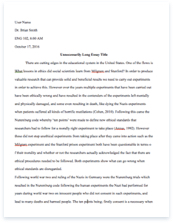 The whole doc is available only for registered users
OPEN DOC
Pages:
Word count: 2011
Category: Nike
Get Full Essay
Get access to this section to get all help you need with your essay and educational issues.
Get Access
Nike Free Essay Sample
Nike is the company with one of the most recognised logos in the world – the "swoosh" logo. They are the worlds' largest sports and fitness company and are a leader in sports equipment research and development earning an estimated US$14 billion in revenue. Nike anticipates the needs of the consumer and this innovation is what sets them apart from its competition. They have a desire to design products which will give definite technological benefits whilst enhancing an athletes' performance. Nike have a sports research laboratory in Oregon in the United States and this research and development centre identifies the physiological needs of athletes. This laboratory takes and idea and researches and prepares a design brief. The brief is then passed over to Nikes design kitchen who talk to coaches regarding training methods etc and also discusses athletes' wants and desires. Ultimately a design is born. Nike Free
Nike Free was designed to imitate barefoot running as during Nike's research they discovered that coaches were training their athletes on grass with no shoes. These coaches believed that the athletes were stronger, less prone to injury and were healthier. Sports shoes were somewhat restrictive and Nike recognised a need to change this in order for athletes to become faster. Nike developed a comprehensive picture of the biomechanics of barefoot running and developed prototypes using materials which would closely mimic barefoot running. The goal was to use Nike Free in conjunction with more traditional, supportive running shoes acting as a training technique. During studies athletes' were found to have become stronger and more flexible.
Marketing Mix
Product Details – Footwear designed to imitate barefoot running and used as a training tool. Nike Free has shown to give significant improvement in speed, lateral movement and co-ordination in the range of 10-20 percent. These results were based on wearing the shoe for only two hours per week over a 6 month period. Product Strategy – Nike and the use of the Nike logo indicates to the consumer that the company is savvy, current with the times and innovative. They aimed this product at the consumer maintaining the company's position as a product innovator. In 2011 they started packaging in boxes that use 30% less cardboard indicating that they are protecting the environment. Pricing Strategy – Nike spends a great deal of money to promote their image and therefore this is passed on to the consumer. The price is set based on the value the consumer places on the product. Nike positions itself in terms of technology, quality and design so commands premium pricing. Nike use a "Price Skimming" technique by setting the price high to help establish a high-quality image for the new product. The price will decline gradually as the shoe has been on the market for a while and the next new product is close to being released. When the product goes on sale Nike uses a psychological strategy of pricing because consumers tend to think that a price ending in ".99" is cheaper than "00". Distribution Channels – Nike is located in Oregon USA and does not own any factories.
Their product lines being equipment, footwear and apparel are produced by over 600 contract factories around the world and employ more than 800,000 workers. Nike has over 500 Nike stores and 20,000 retailers and has 15 contract manufacturers in India. By having shared distribution channels among the varied product lines it lowers cost. Nike manages a worldwide virtual company and control their activity from Oregon and Tennessee and developed jointly by technicians in USA, South Korea and Taiwan. Many components are supplied by firms in Vietnam, Indonesia, Japan, Malaysia and Nike outsources distribution to firms that specialise in Logistics services. Nike uses a Vertical Marketing System or VMS. This involves the key members of the distribution process being the producers, wholesalers and retailers and they work together to get the product to the consumer. Nike also use e-commerce strategies to promote its distribution process and this has generated a wide distribution base through electronic advertising.
Promotion- At this stage of the product life the website – store.nike.com offers free shipping, coupons and "Members only offers" to anyone who becomes a member of the Nike. Retailers such as "Rebel Sport" and "Athletes Foot" are currently offering discounted prices on the "Nike Free". I believe that Nike have effected a "Push Strategy" as they have had to educate retailers on the benefits that the Nike Free can provide. The Core, Actual and Augmented Product – The core product or the benefit for Nike Free are improvements in speed, lateral movement and coordination. It is considered a training technique and is like "A Gym For Your Feet". The actual product is a shoe that closely copies that of barefoot running. The heel fits snugly in the shoe and the inner sole allows the foot to sit naturally in a neutral position. The outer sole can move and flex independently allowing the foot to move as naturally as possible. The augmented product is the customer service say from "Athletes Foot". They measure and fit the shoe perfectly to your foot. This shoe is tailored to the athletes' individual need. Product Life Cycle – Nike Free would be in the maturity stage of the products life.
Advertising is used to persuade rather than provide information and shoe prices are currently being reduced. Marketing Communications – Advertising and marketing teams wanted to tell the truth about the Nike Free. It was marketed as a training shoe. They invented a campaign called "Reincarnate" which was about athletes leaving their old self behind as they became stronger and better athletes. Athletes like Roger Federer were used in a TV commercial called "Power to your feet". In Australia Nike reintroduced the Reincarnate campaign using Socceroo star Marco Bresciano and track athlete Craig Mottram. Not only did Nike use TV commercials but also employed outdoor advertising on billboards, buses and trams, a DVD documentary on Craig Mottram, print advertising and advertising on websites. The Nike Free website shows how it was developed and the benefits of a training shoe. It also shows the models and technical specifications. It utilised sportsmen and women to show how they left their old self behind and worked to change themselves into a better athlete.
Marketing Mix – From the evidence I have observed the following target market, segmentations strategies and competitive position techniques have been applied. Product – Nike free was the product selected to target the serious sports men and women wanting to improve their performance. Nike wanted athletes to have the barefoot experience, which promotes good biomechanics for runners, into a shoe. They were usilising behavioural segmentation. They could also be employing a multiple-segmentation strategy as Nike is known for its savvy, hip, and new age image so could also be targeting the younger teenage market. Pricing – Nike used a "Price Skimming" technique and targeted serious athletes that are willing to pay for improvement in performance by using Nike Free as a training tool. Athletes purchasing this type of shoe needed to be prepared to pay for it. Teenagers seem to be lured to new hip products and I found in my research that even though the pricing was quite high, teenagers had these shoes on their wish list as they were new, hip and popular with their peers. Place/Distribution – After initially taking the Nike Free direct to the consumer using mobile van, footwear specialists and running experts, they distributed their product to retailers. These retailers would need to be training in the sale of Nike Free.
Due to the fact that many sales staff are young, the staff were trained by Nikes Sports Knowledge Underground which is like a video game with information provided in short sound bites. Promotion – A push strategy was used to promote Nike Free. A great deal of personal selling was involved. They employed labour intensive methods and drove mobile vans in areas like Australia, USA and Europe which attracted large numbers of runners. These were staffed by footwear and running experts offering a chance to test the Nike Free shoe. Initially Nike took the barefoot experience straight to the consumers. Once again, the promotional avenue that was taken indicates that Nike were targeting serious athletes using behavioural segmentation. Nike realised that Nike free needed to be positioned as an additional training shoe in your training bag and not as a replacement for traditional running shoes. Obervations and Findings
Initially after talking to sales staff at Rebel Sport I was under the impression that Nike Free was a shoe that was craved by teenagers in the 13 to 18 year old market. I was advised by one particular staff member that these shoes were very popular with teenagers but parents were returning the shoes because they fell apart after only a few months of wearing them regularly. It wasn't until I began my research that I was aware of what Nike Frees main purpose was. I learnt that they weren't just a fashion statement but actually had a purpose which was to use these shoes as a training tool to improve running performance and give athletes the "barefoot" experience. The target market that I once believed to be primarily teenagers changed to that of both athletes and teenagers. I believe that the segmentation strategies used were behavioural segmentation as well as demographic segmentation. Overall they were using a multiple-segmentation strategy. Needs and Motivations of The Target Market – The target market was athletes and the teenage market. Athletes wanted and were motivated by the fact that they could have a shoe that could enhance their performance.
They wanted the benefit of increased strength, increased speed and flexibility. Teenagers were after a hip, savvy look and a shoe that was comfortable and were motivated by peers as this was a "must have" shoe. The marketing mix provided a product that had not been considered before. Nike successfully anticipated the need of the consumer and used the "Price Skimming" technique to maximise profits. The fact that the Nike Free was expensive appeared not to be off putting to its customers. When discussing this shoe with an athlete their response was "Well if it costs that much then it must work – right?" The Place in the marketing mix was very effective as they took the shoe directly to the consumer and even offered for the athlete to test the shoe.
This was a positive move and further motivated to athlete to purchase. The promotion of Nike Free was very successful. They were able to reach all areas of advertising from billboards, TV, blogs, internet to printed media such as magazines. It was a constant reminder that if you want to be a better athlete – reincarnate! Profile of a typical consumer – A typical consumer of Nike Free would be a male or female between the age of 13 to 28 years old who are in the prime time of their sporting life. These consumers would be highly competitive in their chosen sport wanting to achieve their best. Once the benefits of Nike Free were conveyed to them the athlete would consider them a "must have" to remain competitive. This consumer may also be somewhat fashion conscious. Conclusion
Nike aims to bring innovation and inspiration to every athlete and developed a product that measurably improved an athletes' performance. Nike strive to be competitive and remain at the forefront of product innovation and design. I believe Nike Free achieved success due to identifying a need that satisfied the consumer and gave them the benefit that they desired. Nikes pricing, place and promotional strategies applied were successful and have helped the company maintain its' leading edge in the global market.
Bibliography
P Rix, Marketing: A Practical Approach, Edition7, 2011, McGraw-Hill Aust Pty Ltd , 82 Waterloo Rd, North Ryde Nike: Product Development from concept to customer, 25/1/13, wwwaafribiz.com.au/case-studies/nike-developing-nike-free www.nikefree.com 25/1/13
www.marketingteacher.com/lesson-store/lesson-three-levels-of-a-product. 27/1/13 www.nikeinc.com 27/1/13
www.slidesharecdn.com 28/1/2013