Nike/ Reebok swot Essay Sample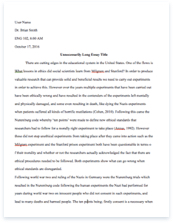 The whole doc is available only for registered users
OPEN DOC
Download Essay
A limited time offer!
Get a custom sample essay written according to your requirements urgent 3h delivery guaranteed
Order Now
Nike/ Reebok swot Essay Sample
1. Strenghts:
-Low manufacturing cost since the manufacturing chain comes from south Asia were labor costs are low. -Since Nike does not own the physical factories, production can be switch to another location if necessary. -Nike wass worth 15 billion in 2011. They have a strong position in the shoe market. For example their gem "Just do it" has been recognized worldwide. – High return on equity up to 24.5 % in 1993. Although the return on equity was 21.41 %, it still a very profitable company. -Significant retail presence with more than 300 retail chaing carrying their products.
2. Weakness
-Profitably is highly dependant on the footwear industry since other products are not as strong. -Human rights violation by their contractors in South Asia. Below minimum wage pay in Indonesia and swet shops all over south Asia. – Nike products can be pricey and are not accesible for low value customers.
3. Opportunity
– Increase presence in to emerging markets and developing countries. That way Nike can increase brand recognition. – Expanding their other products rather than footwear. Nike should promote their other products as they promote footwear. – Promote more social awareness with the Nike foundation. Nike should promote more campaigns to stop hunger and poverty.
4. Threats
– Strong competition from Adidas, Reebok and Puma.
– Accusations of poor work conditions.
– The increase of counterfeit products in overseas markets.
Reebok Swot Analysis.
1. Strengths
-Low manufacturing cost since the manufacturing chain comes from Asia were labor costs are low. -Since Reebok does not own the physical factories, production can be switch to another location if needed.
– High return on equity up to 27.2 % in 1993. Today is own by Adidas. And generates about 10 % of Adidas net sales.
– Strong branding contracts with famous Athletes to promote their brand.
-Reebok has products in cheaper products as well as in higher value products.
2. Weakness
-Reebok brand is not the leading brand in sporting goods.
-Human rights violation by their contractors in South Asia.
– Since reebok is a diversify company, they may lose market share if not managed effectively.
3. Oportunity
– Higher demand for sporting goods with population increase. – Investing in technological development can help reebok improve their market share. – Increase their presence in countries were their subsidaries are. Since they can reduce delivery cost in those countries.
4. Threats
– Fake and duplicate products is hurting Reebok sales.
– The industry depends on fads , and they may not be predictable. – Changes in goverment regulation in their foreign contractors may increase production cost. -Reebok lost their NFL contract that they held for 10 years in 2012 to Nike.
Porter five forces analysis on the footwear industry
1. Threats of new entrants:
– There are low entry barriers in this industry, therefore is easy to enter the footwear industry. To compete with stablished name brands such as Nike, Reebok and Adidas its require high capital. The retail network may cost millions of dollars to create. New shoemaker company's from different countries enter the market often, but they cannot compete with the big players in the industry unless they spend millions of dollars in advertisement.
2. Threats of substitutes
– Customers can pick between different brands. The thread of substitutes is high in the footwear industry. Also, when one company launches a new product, the competitors can come up with a similar on a short period of time. There are not many unique products in the industry. Therefore, any product can be subtitute with another from a different shoemaker.
3. Bargaining power of suppliers
– Suppliers have not much power. The wide network of suppliers makes it easy for footwear companies to determine the prices. Suppliers are usually abuse by the industry making them reduce labor cost and poor work conditions. In the 1990's, south korean shoe makers had to move to Indonesia to reduce labor costs since Nike would not buy from them at a higher cost.
4. Bargaining power of Consumers
– Consumer have a lot of control in this industry. There are many substitutes and competitors. Consumers have access to many different options for the same product. The difference in quality and price is low between competitors and customers switch brands often. The main players in the footwear industry fight for customers through millions of dollars in advertisement. Nike spent more than 2.35 billion dollars in advertisement in 2009. Adidas spent € 1.007 billion in 2011 and reebok spent € 235 million.
5. Competitive Rivalry between existing players
– Competition is very high in this industry. Quality is important in the industry, but price is a very important factor in the industry. Main players like Nike, Adidas, Reebok and Puma spend millions in advertisement to convince customers to buy their brand. Most of them have low manufacturing costs, and are able to compete in price with each other.