Nike Sprints Ahead of the Competition Argumentative Essay Sample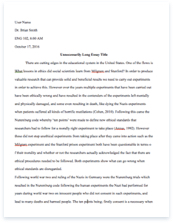 The whole doc is available only for registered users
OPEN DOC
Download Essay
A limited time offer!
Get a custom sample essay written according to your requirements urgent 3h delivery guaranteed
Order Now
Nike Sprints Ahead of the Competition Argumentative Essay Sample
1)The question "Should Nike switch from a focus on celebrities to a focus on its products in its advertising" is a classic example of a management decision problem where a particular problem confronting the management of a company (Nike in this case) and they are then required to make a decision of what course of action to pursue.
Clearly in this case it is a very important decision and it may determine the continued future success of the company and so it would be folly to make it based on an opinion or a educated guess and so it is vital that the basis of the decision that is made is the robust, reliable and relative consumer information data and Market Research is the means of acquiring this data and forming the correct decision path.
Market Research has been defined as the following by the American Marketing Association on the website ESOMAR Marketing Glossary http://www.esomar.org/index.php/glossary-m.html (2007): "The systematic and objective identification, collection, analysis and dissemination of information for the purpose of improving decision making related to the identification and solution of problems and opportunities in marketing."It is further defined by the European Society for opinion and Marketing Research as:"A key element within the total field of marketing information.
It links the consumers, customers and the public to marketers through information which is used to identify and define marketing opportunities and problems; to generate, refine and evaluate marketing actions; and to improve understanding of marketing as a process and of the ways in which the specific marketing activities can be made more effective."(Malhotra 2006, p6)So in order to answer the question initially raised it will be necessary to carry out appropriate Marketing Research. The objective of any research done will be to obtain a body of information/data that is sufficient to allow the Nike Management Board to make an informed and considered decision.
In order for the decision-maker (Nike) to have the confidence to do this the information presented to them by Market Research must be of a certain defined quality and quantity that meets some of the following criteria:Accurate – information should be valid and reliableCurrent –
Information should be as up to date as possibleSufficient – The amount of information available, more gives a better pictureAvailable – The information must be easily accessible and interpretableRelevant – The type and format of information needs to make sense to the decision-makerOf all of these factors listed above the most important is 'Relevant' because the information obtained must be targeted at the particular decision that needs to be made. Having a concise database of how many MP3 players were bought in the UK in the last 2 years will have no bearing at all on the management decision problem posed to Nike regardless of how accurate and complete this database is.
So it is important for Market Research to be done to assist Nike in their decision and it is equally important that the research is focused on the particular market field that the decision is based upon (in this case the Athletic foot ware market) and that the information so obtained is accurate, current, sufficient and easily available.
The role of Marketing Research in providing this support to the marketing decision maker can be summarised as helping them to understand:The nature and scope of target market(s)The forces that shape the marketing systemHow to evaluate marketing mix variableHow to evaluate success and failures of marketing decisions (Malhotra 2006, p6)This support is done by formulating an appropriate Marketing Research Design. This is a strategy that defines the particular marketing research efforts to be made and how they will be conducted. For the Nike situation the following design is recommended in the following stages.
Exploratory Research – It is recommended that a series of focus groups are conducted which involve sales employees working in retail outlets for Athletic footwear (including Nike stores). These Focus groups should be carried out in the countries which have been identified as key Nike markets, this should include (but should not necessarily be limited to): The USA, UK, Germany, Japan and China and should be carried out across these countries so that any regional variations can be taken into considered. Each of the focus groups should consist of 8 – 12 individuals.
The conducting of these focus groups and the associated discussion that they will encourage will enable Nike researchers to gain value insights into perceived customer behaviour and should help to determine some main drivers for why customers buy athletic shoes. It will allow the researchers to form an understanding of customer demography and their motivations, interests and attitudes.
The Market Research objective is to establish some associated principles of human decision-making and the role of social influence. The question could then be posed, what kind of advertisement campaign would best appeal to the majority of the customer (realised and potential) base? This main question begs a number of associated questions: What is important to customers when advertising brand? What influence do celebrity endorsements have on perception of a brand?It would also be of benefit to define some of the criteria that is used by consumers when evaluating and selecting footwear. Is it foot support? Comfort? Design? Fashion? Price? Or are there other elements involved? New ideas can be developed and discovered e.g. people looking for shoes specially designed for particular sport like football or dance. All the information obtained by this series of focus groups could be used as a platform for future marketing strategy decisions. However by carrying out a focus group only a small sample is being considered which sometimes can be unrepresentative of the population and hence not show the a true picture of researched phenomena.
The next step of the market research design implemented should be an analysis of the information that, has been obtained (and collated) and from this to draw conclusions in order to design an effective quantitative study which in turn will be aiming to confirm the original findings of the focus group exercise. With this data it will be possible to pass on to the next stage of the research design.
At this point the next step of the entire strategy will be to carry out Conclusive research. This will make use of descriptive research, further classified as a multiple cross-sectional design where the data obtained would be subject to quantitative analysis. Surveys will be a method of conducting the research. Surveys should be carried out in different countries – the same ones where the focus groups where conducted and the surveyed population would be aged 15+. Surveys would enable the market researchers to have a much larger representative sample and should hopefully confirm the findings obtained from the original focus group exercise.
If the quantitative research was carried out first then it may not be possible to get a full understanding of motivations and the values of athletic footwear customers. It could also be misleading and the information provided could lack of relevance and accuracy. It is important to be aware of the various different research errors which have the potential to reduce the accuracy and quality of the research findings and which may also be not representative of the population being assessed. Therefore it is vital to conduct research using at least two different research techniques to make sure that consequences of errors are minimised and to empower the understanding of consumers.
2)When considering the buying behaviour of consumer when they are purchasing athletic footwear there are a number of different factors and issues that need to be accounted for. Consumer buying behaviour is a decision process which acts upon the people involved in buying and using the products in question. Purchases are further influenced by such things as personal, psychological, and social issues. A good market researcher would study the thought process undergone by consumers, compare it with their demographic data, and use the resulting information to market their products. (Armstrong et al, 2005).
In order to do this the use of secondary data is required. Increasing sports participation is the key to growth in the market. Price is not a driver. People who are active sports participants are much less motivated by price than by the quality of a product. In marketing athletic footwear, the emphasis should be on performance and fashion elements of products rather than on the price. Interestingly, to consumers, lower prices can perceivably mean lower value and quality of products. The most important conclusion from articles is that there is a clear shift by consumers from casual athletic shoes to fashion designs for casual. The design and comfort are more important than the performance of shoes. According to Harris Interactive SportTainment (2001) people who participate in sport activities buy products that enhance their performance and enjoyment of the activity, but clearly, 95% of footwear purchasers over the last year cited fashion as a key factor in their product selections. Performance was second with 94% of footwear purchasers. So, while beauty is not a primary driver of sports participation, it is an important motive driving footwear purchases. Footwear was purchased more often at sporting goods stores (34%), proshops (30%), and discount stores (23%).
The results of Customer Focus(R) 2004: Sporting Goods study reveals that price and selection motivate consumer purchases more than quality. Only 9% felt that quality would motivate them to shop at an athletic footwear specialty store. "When purchasing athletic footwear at a specialty store, selection has the greatest influence on a shopper's behavior," said Therese Mulvey, vice president marketing research at Vertis. The results of the study show that consumers want choices and variety at a good price. A key tool in influencing buying behavior is advertising inserts and Customer Focus can provide guidance on the best way to use media synergistically. Vertis (2004).
3) The management decision problem for the Nike is: Should their traditional advertising campaign strategy be maintained or should it be changed in order to for Nike to retain their position as the market leader?4) The marketing research problem is: How effective is the current advertising campaign strategy and is their scope for developing or changing it in order to make it more effective?To answer our management problem it is important to evaluate effectiveness of our current campaign and how we can make it more effective. Marketing research problem allow the researcher to obtain all information needed to address the management decision problem.
5) Based on the market research required to address the management decision problem for Nike the following research questions have been
formulated:Research Question 1 – What are customers concerned more about when making buying decisions; the fashion aspect or the product's performance?Directional Hypothesis:H0: The fashion indicator is not more important than the product's performance indicator.
H1: The fashion indicator is more important than the product's performance indicator.
Research question 2 – Do celebrity endorsements, in relation to a product, in advertising have an influence on customer buying behaviour?Non-directional Hypothesis:H0: The celebrity endorsements do not have an influence on customer buying behaviour.
H1: The celebrity endorsements in adverts have influence on customer buying behaviour.
6) The following three major sources of data/research in regards to the athletic footwear market, which provide detailed information that, can be used to assess the UK market, have been identified as following:Sports Fashion – UK – October 2006This provides monthly information on the state of the UK Sports fashion retail market detailing trends and predicting future market developments.
After a period of success and expansion during the mid- to late-1990s, the sports clothing and footwear market has been pitched into a period of stagnating sales, falling prices and very rapid consolidation.
The market has been convulsed recently by the rise of Sports World – formerly Sports Soccer – which has led the final round of consolidation among the sportswear multiples and overtaken JJB Sports as leader in terms of turnover. Its policy of heavy discounting of new styles by leading brands and of best-selling replica items has proved a major challenge to the business models of competing sportswear retailers and even the brands themselves.
Sports Goods Retailing – UK – September 2005The UK market for sports goods was worth an estimated £5,016 million including VAT in 2004. Demand has increased by 18.2% since 2000, compared to total consumer spending growth of 20.3% over the same period, and total retail sales growth of 19.4%. Thus the market has lagged behind both wider consumer measures, albeit only marginally.
Several factors have been driving the market in recent years. Among the more important ones are lower prices, the increased fashion appeal of sports brands, greater awareness of the importance of exercise and a healthy diet, marginally improving sports participation levels, rapid expansion of some comparatively new sports chains and a growing numbers of sports superstores. Various less tangible factors have also influenced spending. Certainly the aspirational and fashionable appeal of leading brands has been enhanced by endorsements from a growing band of 'sports celebrities'. Top sporting events are a market driver too and media coverage is far greater than it used to be. When England won the Rugby Union World Cup in 2003 it sparked an unprecedented demand for their team shirts. The Euro 2004 football championships in Portugal had a similar effect, on a much larger scale, in boosting demand for England strip. At the time of writing the England cricket shirt was outselling the football strip, as the national side strives to win the Ashes from Australia for the first time in two decades.
Breeze Technology, Inc.
Breeze is in the business of commercializing technology for the sports, leisure and recreation markets. Their launch product into the athletic footwear market was a footwear ventilation technology applicable to all closed shoes and boots.
In order to enter the athletic footwear market Breeze carried out a market analysis using the results from a major survey that the "The Athletic Footwear Association (AFA)" in 1992 to determine the decision criteria used by consumers when purchasing athletic footwear. The results demonstrate that nine of out of ten consumers place "comfort, fit, and feel" as the most important characteristics of athletic footwear. Other important criteria identified in the study include "suit active life-style", "has performance advantages", and "fashion."Based on this data, Breeze carried out a series of Focus group exercises using groups of Americans and Australians. This provided a qualitative assessment of consumer decision behaviour which extended the results from the AFA research.
Following this some competitor content analysis investigation was carried out to identify the content in advertisements for footwear. 46 advertisements by 42 manufactures were evaluated.
Discussions were then held with senior executives at a major US footwear manufacturer who provided access to the findings of primary research and marker research which confirmed what had been derived from the AFA results, focus groups and the competitor content analysis.
It was found that users require comfort, performance, style and value from their footwear (Value being the ratio of benefits to price).
References:
(1)- ESOMAR. (2006). ESOMAR Marketing Glossary. [Online]. Available form: http://www.esomar.org/index.php/glossary-m.html [Accessed 15th December 2007].
(2)¬- Business Wire. (June 1, 2004). "Price and Selection Are Key Motivators for Where Consumers Purchase Athletic Footwear; New Vertis Study Identifies Purchasing Trends among Sporting Goods Shoppers". [Online]. FindArticles.com. Available form: http://findarticles.com/p/articles/mi_m0EIN/is_2004_June_1/ai_n6048884 [Accessed 13th December 2007].
(3)- Harris Interactive SportTainment. (2001). "Marketing to the Masses: Improving Existing Customer Loyalty More Important Than Increasing the Customer Base". [Online]. Available from: http://www.harrisinteractive.com/news/printerfriend/index.asp?NewsID=408 [Accessed 15th December 2007].
(4)- Mintel Group. (2006). Sports Fashion – UK – October 2006. [Online]. Available from: http://academic.mintel.com/sinatra/oxygen_academic/search_results/show&/display/id=173674/display/id=241582 [Accessed 15th December 2007].
(5)- Mintel Group. (2005). Sports Goods Retailing – UK – September 2005. [Online]. Available from: http://academic.mintel.com/sinatra/oxygen_academic/search_results/show&/display/id=125583 [Accessed 15th December 2007].
(6)- Business Resource Software. (2007). Inc.Breeze Technology, Inc. [Online]. Available from: http://www.businessplans.org/Breeze/Breeze00.html [Accessed 15th December 2007].
(7)- Malhotra, N.and Briks, D. (2006). Marketing Research: An Applied Orientation. 3rd edition. Pearson Education.