Northwestern Mutual Essay Sample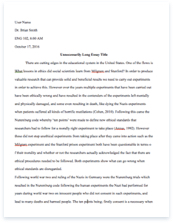 The whole doc is available only for registered users
OPEN DOC
Download Essay
A limited time offer!
Get a custom sample essay written according to your requirements urgent 3h delivery guaranteed
Order Now
Northwestern Mutual Essay Sample
Northwestern Mutual is one of the top insurance companies listed on the Fortune 500 whose annual report is effective in showing the company's value and mission, and in promoting its image. The company has been providing and will continue delivering beneficial insurance and financial products to its customers. By repeating select words in varying contexts, using powerful and illustrative photos of the company's customers and employees, as well as applying easy-to-navigate and accessible design, Northwestern Mutual created an effective Annual Report of 2011 that benefits its intended readers with important and targeted information.
Repeating positive select words in varying contexts emphasizes customers' confidence in using Northwestern Mutual's insurance and financial products. In fact, this emphasis is the key message that the company desires to deliver to its readers. The word "confidence" is located on every page that is fully covered by a background picture of the customers including the old, the young, the individuals, and the families. By combining this positive word with photographs of customers, the company emphasizes its customers' satisfaction while using its products. Moreover, the word "confidence" is written in different grammatical formats, and used in varying contexts such as "live confidently," "have confidence in your decisions," or "be confident in your future."
These words are all highlighted and distinguished from other texts by their larger fonts and unique orange color. With a brief explanation underneath, each of the statements about customers' confidence illustrates a specific dimension of the product values, and together, they deliver the key message throughout the report. The company's products and services make its customers feel secured and confident about their lives, future and financial situations. Repeating positive select words in varying contexts is an effective tool that emphasizes and helps the key theme recognizable to the readers.
In addition to the verbal strategy of repeating select words, the company uses powerful photographs of its customers and employees to visualize the implied message in its report. Most of the pictures that cover full pages are portraits of the customers who can be identified in different categories of ages, genders, and ethnicities. These customers suggest the diversity among Northwestern Mutual's policyowners and the variety of products types provided by the company. The picture of a couple can be related to the financial plan option for the families, or the picture of a baby can be linked to the education savings plans.
The customers in the photographs all look happy and have big smiles on their faces. Their portraits are important to help the readers visualize the key theme of the report by suggesting how Northwestern Mutual insurance and security planning satisfy its broad range of customers. In addition, there are photographs of the company's employees who do not only look professional in their suits, but also appear to be approachable with their friendly smiling faces.
These images of employees are arranged next to the photographs of the customers who are enjoying their regular life activities. This arrangement illustrates the good impacts that insurance plans have on customers. Organizing the photographs of its customers and employees throughout the annual report is an effective strategy for the company to emphasize its products and customer service quality, helpful and friendly.
Besides repeating positive select words in varying contexts and using powerful photographs of customers and employees, the company benefits by applying an easy-to-navigate and accessible design to its report. If the readers are not familiar with the firm and desire to learn about it, they can relate to the CEO's letter for the brief information about the company's products and customers, and its business performance. If the readers are looking for more details about product options and customers' reviews, they can access to the later sections of the report whose titles are highlighted in large fonts and distinguished orange color.
As the document is written on a simple white background, these orange titles are glowing, and they attract attention from the readers. Each of these sections for product types has photographs of a specific customers category, helping the readers navigate information regarding these product types easier and faster.
Moreover, in order to help the investors and financial analysts access important numbers about Northwestern Mutual's financial performance, the company includes in its report a brief summary of financial results accompanied by simple graphic charts and diagrams. As all important points and numbers are bold or highlighted and the sections are classified according to product types, the annual report becomes convenient, accessible and readers friendly.
Throughout its annual report, Northwestern Mutual desires to bring a key message to the readers about its growing business. Having life insurance or other financial security plans with Northwestern Mutual, customers will be confident in protecting their lives, their families and their futures. By repeating positive select words in varying contexts, using photographs of its customers and employees, and applying an easy-to-navigate and accessible design, the company did a good job in creating an effective annual report that could communicate and deliver this key message to its intended readers.