Nucor Corporation Essay Sample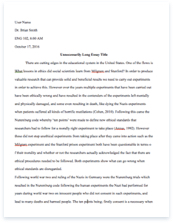 The whole doc is available only for registered users
OPEN DOC
Download Essay
A limited time offer!
Get a custom sample essay written according to your requirements urgent 3h delivery guaranteed
Order Now
Nucor Corporation Essay Sample
What are the primary competitive forces impacting U.S. steel producers in general and the producers like Nucor that make new steel products via recycling scrap steel in particular? Please do a five-forces analysis to support your answer. As mentioned in the case the main problem is the excess of steel in the steel market. Right now foreign steel is being dumped in the US. This results that supply exceeds demand which results off course in decreases of profit for many steel companies. This gives a lot of pressure to the companies and most of them are not able to survive the pressure and go bankrupt. Nucor adapted their strategy and made sure that they were able to survive the fierce competition. They did this by focusing on 2 main lines of business:- Production of Steel from recycled scrapped metals – Joist productionThe focus strategy made sure that Nucor Corporation became one of the biggest steel companies in the US. Looking at the five-forces of Porter the following can be concluded: Competitive forces is HIGH! When we look at the global competition the biggest rivalry is between the US industry and China's steel industry. China is producing at a lower cost than the US and Europe. When we look at the economies of scale China is able to get more benefit over rivals.
Trends of acquisition and merger is increasing for economies of scale to be able to compete with the competitor. Threat of new entrants is MODERATE! There are many reasons why the threat of new entrants is moderate. First of all you need large capital to enter the market and be able to compete with competitors that are good at producing economies of scale. Second point is the low switching costs for buyers of steel and not to forget the government rules and regulations that are imposed. This all increases the threat also because of the low product differentiation. Threat of substitute products is LOW! There are a few products that may be seen as substitute products like: plastics, Stone, Aluminum, Bricks and fiberglass. But the threat of these substitutes are too low to compete with Nucor's products. The reasons are the lack of durability and the high switching costs. Bargaining power of buyers is MODERATE! There is a large variety of buyers but steel is a widely used commodity meaning that buyers switch easily to other competitors (low switching costs) Therefore the buyer's bargaining power is decreasing.
Bargaining power of suppliers is MODERATE! It is moderate because there are new ways to create own raw materials or cheaper materials. After analyzing this model we can conclude that the overall effect of the forces is moderate. It is not difficult to become the market leader in the steel industry. There is more access to raw material, innovation in technology and better customer service. What driving forces do you see at work in this industry? Are they likely to impact the industry's competitive structure favorably or unfavorably? There are a few driving forces that we will mention and explain in detail.Economical due to the bad economy 25% of the US steel companies are facing bankruptcy also the fact that the dollar is weak and increase price of steel results in an unstable economy. Political there are some protective tariffs on the steel industry which results in increased prices of steel.Sociological The trend that people or more conscious of the environment, going green changes customer mindset. Technological companies continuously have to adapt to new technology to improve efficiency and be more low-cost orientated.
Environmental there are some strict laws to maintain the environment. One example is the clean air laws that companies have to consider. How attractive are the prospects for future profitability of U.S. steelmakers? Should Nucor consider expanding in this type of industry environment? Why or why not? Looking at the prospect for future profitability in the US steel industry we believe that it does not look promising. The reasons are the following: Because of globalization all the markets are open and easier to enter for companies all over the world. This increases the entrance of foreign competitors like Chine, Italy, South Korea etc. Another factor are the energy and raw material costs that effect the profit of a company. Not to forget that the economy itself is really unstable. Last but not least the government regulation and laws that can increase the prices of the products as well. We believe that they should expand. Nucor is self-reliant and has a good strategy which made the company the second largest producer in the US. They should expand to global market to be able to increase their market share.
They can go to markets such as Russia, China or Brazil, since they are dumping into the US market. However they should evaluate the Porter five forces before making any decisions since these markets are really competitive. What type of strategy has Nucor followed? Which of the five generic strategies discussed in Chapter 5 is Nucor employing? Is there any reason to believe that Nucor has achieved a sustainable competitive advantage over many of its steel industry rivals? If so, what type of competitive advantage does Nucor enjoy? The core strategy of Nucor is that of cost leadership via the use of technology. Through innovation and the use of high quality technology to process their steel, Nucor was able to achieve this cost advantage. They are also very efficient they invest a lot in R&D and Nucor developed a good management structure which gives them even more efficiency. The decentralized company with autonomous power get things done quickly and managers enjoy the freedom. How it started: right when F. Kenneth Iverson become CEO he used the focused low- cost leadership strategy, emphasizing in high quality technology in order to keep labor cost low. After entering the market they saw an opportunity through expansion and acquisition and continues with a low cost strategy.
They increased the product line and changed their strategy completely to an overall low-cost strategy. Nucor did achieve a competitive advantage through this strategy and their investment in technology they were able to earn higher profits than their rivals. To maintain a sustainable advantage they invested a lot in technology and great savings in cost by selecting the geographical location carefully looking at the plant where the electricity costs are not expensive. All together the extensive investment in technology in effort of increasing employee's performance and lowering cost, makes sure Nucor maintains a cost advantage over their competitors. What are the specific policies and operating practices that Nucor has employed to implement and execute its chosen strategy? The most important policies and operating practice are the aggressive implementation of cost- saving technological improvement at its plants. The incentive compensation for employees and managers is highly effective in generating labor productivity and motivating employees. Nucor's HR practice and policies for example the no-layoff policy. The low cost culture and cost conscious operating practice and the company's pursuit of innovative technologies are all policies and operating practices that the company employs.