Nuts & Bolts of a Business Plan Essay Sample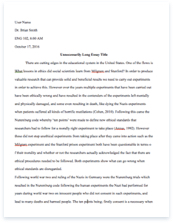 The whole doc is available only for registered users
OPEN DOC
Pages:
Word count: 3484
Category: capital
Download Essay
Get Full Essay
Get access to this section to get all the help you need with your essay and educational goals.
Get Access
Nuts & Bolts of a Business Plan Essay Sample
The genesis of any business venture starts with an idea. A retail store concept should satisfy three objectives. 1. First, the pursuit should be something that the retailer is passionate about. With the intense effort required for successful entrepreneurship, why would a person want to be involved in something that he or she does not enjoy? Sustainability in a retail business becomes virtually impossible if the owner does not have a burning desire to see it succeed. 2. Second, the concept must provide sufficient value to its customers. The purpose of a business is to make a profit, and if people are not willing to pay for the products or services offered, then failure is ensured. 3. Third, the concept must provide an offering that is differentiated—not available from competitors and not something that competitors can easily copy.
An important issue to consider is the application of intellectual property to the retail concept. Do you have a patentable concept? Do you have a trademark for your brand name and logo? If an entrepreneur crafts a business venture on company time at his or her day job, it is considered that company's property.
July 18, 2012
THE "QUICK SCREEN"
The first step in deciding whether to start a retail business is to examine the retail concept in detail. Essentially, the prospective retailer wants to determine whether he or she merely has an interesting idea or a viable opportunity. Four questions that help determine the viability of an opportunity are as follows:
1. Does it create or add significant value for customers? 2. Does it solve a significant problem or meet a significant demand or need in the marketplace for which someone is willing to pay a premium? 3. Is there a large enough market and sufficient margins to generate profits? 4. Is there a good fit between the skills of the management team and the skills required to operate the business?
If an idea does not fulfill these four requirements, the potential retailer needs to revise it, or else create a new one. For example, if you love the beach and want to start a retail store that sells bathing suits and beach accessories, but you also live in Colorado, the concept lacks the key elements of success. The market for beach goods will not be significant enough, no financially realizable value is being created for the people in the community, and even with a competent team, the idea would be unattractive. Answers to these questions may not be as readily apparent for different concepts, but this simplified example illustrates the effectiveness that the "Quick Screen" can have in testing an idea for true value. Revising an idea is much more efficient in the planning stages than it would be mid execution. A potential revision of the beachwear retail concept in Colorado would be to open a sporting mountain sports such as skiing, hiking, climbing, and rafting. This concept passes the "Quick Screen," in that it creates value for customers, fulfills a need, has good market potential, and has a suitable risk/reward balance. If a potential venture passes this quick test, it is time to become immersed in the details of its potential by preparing a business plan.
PREPARING A BUSINESS PLAN
The preparation of a business plan is an excellent way to take a hard look at the concept in a structured, practical way. A well-done business plan can help mitigate or address the potential risks involved in starting a business before they actually occur. By thoroughly considering both the merit and the execution strategy of a vision, a prospective retailer can significantly improve its chances of success.
A good business plan should concisely and effectively demonstrate the value of the concept to others—especially potential investors. The more prepared the retailer is to demonstrate and execute the value of the proposition, the less risk it poses, and the better investment opportunity the retail concept presents. Business plans are dynamic and should evolve with the business. There is no set formula for a business plan, but there are some elements that every good business plan should include.
First and foremost, a business plan should be well written, concise, and professional. No one will ever invest in a new venture if the business plan is verbose, boring, sloppy, or unprofessional. Nowhere is this more important than in the executive summary. Investors often see hundreds of business plans, and many of them read no further than the executive summary. If a plan does not grab their attention, or inadvertently casts a negative light, the venture proposal will not make it past a cursory reading at best. Structurally, a business plan should include at least the following content:
1. Executive summary. 2. Environmental analysis (trends, customers, competitors, economy). 3. Description of the retail concept and strategy (target market, retail format, competitive advantage). 4. Implementation plan, including the approach for attracting customers. 5. Team, or the other people involved in business. 6. Funding request. 7. Financial plan. July 18, 2012
The key points of writing a retail business plan are illustrated below with the c reation of a fictitious retail business. The examples include less detail than an actual business plan would require, but they are designed as a starting point from which the entrepreneur can initiate further research. The overarching themes also can be applied to a wide variety of retail businesses.
Environmental Analysis
The scope of the environmental analysis depends on the long-term objective. If the retailer's objective is simply to operate one or two outlets, the environmental analysis should focus on the local environment, such as the trade area of the store.
However, if the long-term objective is to open and operate multiple retail outlets, the retailer needs to examine all the elements in the macroenvironment, such as industry size and trends and the competition and profitability of the industry The elements in the environmental analysis detailed next apply to supporting a venture that starts in Colorado Springs, with ambitions to expand regionally and potentially nationally.
Industry Size and Trends
Various databases can provide detailed information about industrywide figures. For example, Hoover's Online and IBISWorld US Industry reports both provide detailed industry data, analyses of publicly traded companies, and customer demographics. Many libraries subscribe to these types of services, and a local librarian can be helpful in providing guidance on accessing them. Many publicly traded companies offer information on their Web sites, and they are required to publish financial data with the Securities and Exchange Commission. Trade organizations and publications such as the Sporting Goods Manufacturers Association July 18, 2012
(sgma.com), the National Sporting Goods Association (nsga.com), and Sporting Goods Dealer often provide detailed information about specific retail sectors. Census data, available at census.gov, give great insight into the population of the focal community in terms of companies and people. For example, there are 625 specialty-line sporting goods establishments in Colorado, according to the Census Bureau.
For smaller local businesses, it can more difficult to find information. Knowledge of the local area therefore can be a great asset. Also, gathering information from the customers and suppliers of competitors in the industry can provide valuable information. Resourcefulness and persistence are a key to discovering certain information, and it can be very beneficial to take the time to do so. Visit similar retailers and look at what they have to offer. Where is the unmet need? How can a new retailer rise to meet it? Market size also is critical. How much money is being generated in the specific retail area? How is the money distributed within the industry? For example, the sporting goods industry in the United States generates about $55 billion in sales annually. This number is a significant starting point, in that it illustrates the overall monetary potential of the industry, but more focused data also are necessary.
Research shows that the sporting goods industry is highly fragmented, with many small retailers rather than dominant control by larger players. Therefore, opportunity appears to exist for the growth and expansion of a smaller retailer. Information like this is important to investors, because it can be used to illustrate that the industry is ready for a new retail business concept. For example, the implementation plan for the new store could demonstrate the growth potential that would enable it to consolidate smaller businesses and gain a significant market share in the sporting goods industry. The correlation of industry data to real opportunity makes for a compelling narrative that entices financiers to invest in the company. In other words, an implementation plan should demonstrate how an interesting opportunity can provide a high return on investment.
To find where the specific opportunity lies, you must whittle industry data down to the niche level. In the United States, sporting goods sales derive from retailers such as Sports Authority, July 18, 2012
Walmart, and a multitude of smaller retailers. These stores sell equipment, apparel, and shoes for every sporting need imaginable all across the country. For simplicity, Mountain Sporting Goods might focus only on sporting equipment, which makes up 46 percent of the sporting goods industry. It can further narrow its focus by defining what mountain sports mean for Mountain Sporting Goods. What mountain sports segments will be targeted?
Examination of the sports equipment data makes it apparent that camping, fishing tackle, hunting, and firearms account for 6.9, 9.0, and 12.1 percent (hunting and firearms combined) of the sports equipment market, respectively. Should the concept therefore be expanded to include these segments, in addition to skiing, hiking, rafting, and climbing? A moral disagreement with hunting might be a factor to consider as well. Does the significant financial opportunity outweigh the ethical uncertainty that selling hunting equipment might cause? What are the federal and local licenses required to sell firearms? Will the store sell tags for hunting certain animals? The reconciliation of these types of conflicting issues will help refine the concept.
Target Customers
Another critical element is defining the target market. What age demographic is the typical customer? What is his or her socioeconomic status and gender? Where do customers live in relation to the proposed store location? Where do they work? Will the store provide goods for the whole family or focus on individuals? How will the retail concept provide them with value? Will it compete on the basis of low prices or differentiated, higher-quality products? Finding the right balance of these factors is key. An overly narrow focus can be problematic, because it implies insufficient demand for the offering. A focus that is too broad also can hinder the retailer's ability to forge its own identity. Research findings might narrow these options. For example, if Mountain Sporting Goods opened in Aspen, Colorado, it would be reasonable for it to deal in specialty, highquality, high-price goods because of the affluent customer base that resides there.
Competitors
The final step in analyzing the retail environment is to study potential competitors. How does the retail concept compare with those of others that offer similar merchandise? How do these competitors reach their customers? What kind of advertising strategy do they use? How long have they been in business? Do they have an e-commerce component to their business? How similar are the products they sell? How high are their goods priced? How well do their employees know their product? What is their store layout like?
Many larger sporting goods retailers carry a broad array of sporting products, so naturally there will be some overlap in what Walmart sells and what Mountain Sporting Goods offers. How important is this overlap? Walmart may take a small portion of customers, but it offers only a general sampling of what Mountain Sporting Goods specializes in providing. Sports Authority would be a bigger threat though, because it offers only sporting goods, spanning the spectrum of equipment, shoes, apparel, camping equipment, and and persistence are a key to discovering certain information, and it can be very beneficial to take the time to do so. Visit similar retailers and look at what they have to offer. Where is the unmet need?
Market size also is critical. How much money is being generated in the specific retailarea? How is the money distributed within the industry? For example, the sporting goods industry in the United States generates about $55 billion in sales annually. This number is a significant starting point, in that it illustrates the overall monetary potential of the industry, but more focused data also are necessary.
Retail Concept
After completing the industry analysis, it is time to combine the original conceptual idea with the data uncovered through industry research in the form of a company description. Who is Mountain Sporting Goods? To whom will it sell its products? How does it do so better than others? How can it exploit competitive advantages to make the company grow? Mountain Sporting Goods has decided to include the following information in its company description: It will locate in Colorado Springs, Colorado, to exploit the rapid growth of the community and the prevalence of a young, ecocentric population. Colorado Springs has an unmet need for ecofriendly stores and a large enough population of people who are willing to pay a premium for that attribute. Therefore, the store will sell the best-quality, most environmentally friendly skiing, hiking, whitewater rafting, mountain climbing, and camping equipment available. Customers will range in age from 23 to 35 years, and they will place environmental friendliness at the top of their priority list. These young single or coupled professionals without children have a fair amount of disposable income.
In turn, the management for the company must have an extensive background in sustainability and a passion for outdoor activities. As Mountain Sporting Goods gains customers and increases sales revenue, it might begin to acquire other, similarly sized firms to gain market share. These firms must be geographically accessible so that the company can pool resources and increase its purchasing power, as well as reduce costs through the consolidation of tasks such as distribution, purchasing, and accounting. In this way, the firm will be able to achieve the benefits of size and develop economies of scale. A business plan must present these facets of the business in such a way that they draw the reader into the concept. The company description segment therefore should illustrate the founder's passion for the concept. It should also emphasize the opportunities that it creates and explain the competitive advantages that enable those opportunities to reach fruition.
The marketing, operations, management, and financial segments of the business plan thus tell the investor how the concept will be executed, what the retailer intends to sell, who will execute the process, how much money will be required to make it happen, and the money that can be earned as a result.
THE IMPLEMENTATION PLAN
The main goal of an implementation plan is to determine how the retail business will attract consumers in the target market and convert them into loyal customers. This essential portion of a retail business plan not only describes how the company will position itself in the market but also outlines the components required to make it a reality. The plan should describe the following elements in detail: 1. Merchandise offered. Number and breadth of lines to be carried, styles of merchandise and accessories, names of suppliers, supplier credit terms, quality of merchandise, opening stock, inventory levels, and expected turnover rate. 2. Customer services offered. Customer service levels and contact provided, credit policies, exchange and return policies, alterations, and gift wrapping. 3. Facilities. Store appearance, any renovation required, interior decor, storefront, layout, lighting, window displays, wall displays, and overall atmosphere.
4. Location. Buy, lease, or rent; terms of contract; local ordinances; zoning regulations; parking; accessibility; local demographics; and conditions for remodeling 5. Pricing. Price ranges to offer, competitive pricing, profitable pricing, margins, markdowns, and discount prices. 6. Promotion. One-year promotional plan, advertising budgets, selection of media, cost of local media options, promotional displays, cooperative advertising efforts, and public relations. 7. Employees. Compensational plan and wage scale to be offered, job specifications, employee training program, career and promotion schedule, employee benefits, social security taxes, sources and types of employees to hire (e.g., age, gender, appearance, education level), and policy on family employees. 8. Security. Security guards, fire and theft alarms, computer security system, windows, locks, merchandise protection services, liability insurance, and other insurance. July 18, 2012
9. Equipment. Cash registers, sales desk, computer systems, display racks, office equipment, office supplies, telephone systems, management information system, software, security, and personal computer requirements. 10. Controls. Inventory control and replenishment methods and financial performance analysis.
Team
Who will help to execute the vision? One of the most important factors in starting a business is finding a group of people whose skill sets complement those of the founder. It is virtually impossible for one person to possess all of the requisite skills for creating and growing a business. For example, if Mountain Sporting Goods intends to follow through with its plans to acquire other businesses, it would be beneficial to bring someone into the group with experience in the area of mergers and acquisitions. Also, the owner/manager of Mountain Sporting Goods has a background in sustainability, which represents a great asset in setting up a business whose cornerstone is environmental awareness. The team section showcases the talent of the people who will run the retail start-up.
It is both a "who's who" of the business venture and a way to assure investors that their money will be handled by people of quality. This assurance is especially effective if someone with experience in starting retail stores joins the team. Such a person le nds significant credibility to the business endeavor, as well as a great deal of sage advice. Experienced people do not necessarily have to be paid employees or managers but instead could serve on a board of advisors or board of directors. Each person should be listed, with his or her credentials outlined and role within the company clarified.
Funding Request
One of the objectives of a business plan is to seek financing and show how the firm might use investors' money, whether debt or equity financing. For a small retailer, a loan request (debt financing) is more common. If Mountain Sporting Goods' aspiration is to be a local lifestyle business, it still needs to show where the money is going and how the lender will receive a return on its investment through the company's ability to generate enough revenue to repay the loan, as well as the timing of the repayments. A company with higher aims might seek venture capital support for its major growth. The owner/manager of this company would negotiate with venture capitalists about what portion of their equity should be provided for the desired financial support. Investors would receive shares (equity) in the company in exchange for the financing that they provide.
At a certain point, probably within a few years, venture capitalists typically can monitize those shares after the company is bought by another company, has its initial public offering (IPO), or buys the investors' share of the company back. For example, Mounta in Sporting Goods might explain how it will execute its growth plans and generate a return on investment for its financiers. At a specified time, Mountain Sporting Goods will have enough revenue growth and profits to go public, represent a significant enough threat to larger competitors that they buy it out, or pay back the investors at the desired rate of return. Investors base their evaluation of the venture on how much they predict the company will be worth at the designated time of sale, IPO, or buyback. If they believe the company can generate the intended value that they seek, they will invest.
Financial Plan
The financial plan can be one of the more intimidating aspects of business plan writing, but it also is essential to determine the value of the retail business. The financial plan provides investors with information that enables them to decide whether the business concept is worth their risk. Taking the time to learn how to create the financial plan therefore has great value. Moreover, the financial plan offers the prospective retailer a detailed understanding of the major contributing factors that might result in success or failure. With this knowledge, the retailer can safeguard the business and deal with accomplished businesspeople and investors with greater confidence. Financial projections vary depending on the degree of complexity sought for the financing, but the following discussion provides a simple overview of the process. The only way to learn, though, is to roll up your sleeves and do it. Financial projections for a completely new business are especially difficult, in that they must be based solely on assumptions.