Objectivity In Photography Essay Sample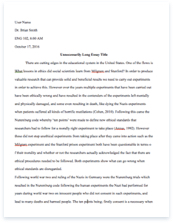 The whole doc is available only for registered users
OPEN DOC
Download Essay
A limited time offer!
Get a custom sample essay written according to your requirements urgent 3h delivery guaranteed
Order Now
Objectivity In Photography Essay Sample
We should always be focused in any aspect of life activity that we do.  To achieve better results in the activity being done, one should intentionally actively participate fully with an objective.  For instance a documentary photographer should be objective and focused.  As an individual, your mind should be set on covering an item that every mind will be able to understand and interpret.
The main ideas being expressed should be realistic and the coverage itself easily interpretted with the message and very appealing to the audiences' intellectual minds.  For instance one would assume excitement and fulfillment from the material covered or literature written depending on what and how they are interpreted.  This in itself is expressing a characteristic of a person …….. (Coles 49)  "was not only meant to serve an intellectual purpose"  The way one plans his or her opinions and works to be expressed is far from what an audience is able to understand and interpret comfortably with enthusiasm  mind, environment and the social life.  How an individual interprets her own life and surrounding builds his/her ability to perform certain works hence interest.  This has always build the quality of the work being done from what one has focused on objectivity out of his own personal initiative and interest.
 Attitude is the greatest asset in performance and the ability to hook up with the audience if controlled and exercised positively …. "Dr. William's persistent notion that he ought somehow to do some of his writing in medias res".  Everybody knows with the right or correct knowledge and positive minds, it is obviously that your energy is geared towards a successfully course when interpreted with any minds leaves no doubt.  It is also important to consider the risks of the work one is doing in terms of the moral uprightness humanity, lessons and also the psychological effect we have on our minds after actively getting involved in what has been done.  Here in most cases we need to objectively evaluate and analyze the person impact positively we have on the society and the people around us.  Consider also the changes an individual will have to cause in the community.  For incident for every action taken one must evaluate the moral impact.
Lack of objectivity could be disastrous to the whole project or documentary.  Being objective helps one understand the work load, set goals, strategize on meeting set goals and implement as per self guidelines.  Firstly one need to have the intellectual knowledge for the purpose of interpretations, build strong inter relational skills or collaboration and be able to distinguish between right or wrong.  It is on this intellectual ground on who's ones mind are based and believed to perform and function.  The intelligence one holds and educational background helps him or her distinguish between what is wrong or right.   This means an individual's mind must actively imagine and get involved in the whole process of photography documentary so as the right message can be brought out clearly.  To the audience they should be inspired and be able to share out the passion …… (Coles 72).  This means ones intelligence and knowledge helps him or her control all aspects in life enabling one to live with discipline.  It is the intelligence that makes one capable of uniquely make sound decision, plan and strategize on how it should be implemented correctly so as to enable the audience understand, present their arguments and pause or find a solution.
            A photographer is just like the camera a tool to help the society systematic cultural, reality and a psychological investigation.  For instance when it comes to a photographer being objective, one would ask if there is place to get the best decisions and minds to be objective.  For instance a character, William Carlos Williams revealed to an author that he considered being his greatest problem in writing a documentary about his patients in New Jersey.  In this case, if he would have been a photographer using knowledge or intelligence to perform or work effectively, it reveals through the camera the intended opinions; different from the situation he/she is in and capable of doing.
 The photographers prose and pictures influences the observers or audiences terms of mind, reference in terms of their political beliefs, personal morals, educational background and social life.  Intellectualism helps avoid being judgmental or depicting a certain theme that is not accepted by the audience or the view.  A photographer should be intelligent enough not to give directly people his or her opinion and intentionally in a way suggestive to the topic in question.  This helps them to be more interestingly constructive and capture the audiences mind and attention of the observer
            It has been always asked by observers of a documentary on what is real.  This can only be answered by the photographers and editors.  Keeping this in mind we can only acknowledge what has been done intellectually.  A step by step explanation and skillful approach to documentaries will provide no answers since the work will be perfectly done hence no questions.  The audience perspective would be changed at the end of a documentary.
            In order for one to do any kind of work, you need knowledge or skills photographers need excellent training and sharpen their physical and mental skills for production of standard works. One would need technical skills for handling the cameras and other equipments.  Cameras are sensitive to water and dust thus the photographer should be very careful not to accidentally destroy the lens…….. (Goodman and McGrath 237).  The photographer is also challenged to maintain the equipments correctly for longer use.  Amidst own individual life pursuits of wanting to successfully and best than others we need as photographers have best skills in capturing perfect photo shots accurately and be able to process by cropping and editing uniquely according to the story line developed……..(Goodman and McGrath 107).
Among other challenges those photographers get is that they are always at risk of loosing their expensive equipments since they might be in a conditional that is unbearable by many like violence?  In such cases one might loose the equipments faces death risk.  In some cases it is always difficult.  Some people are hostile.  One also needs to use the machine with professionalism and moral uprightness since some scenes are an appealing to the public and under age.  In addition we should not fail by using the tools of trade 'camera' as a tool to sale or trade propaganda.  This could be disastrous to our life as photographers.  It could be used as a tool for photo essays which when documented could detect of give an answer to the evil and risks in the society as it is over a period of time.
            Sometimes a photographer could be mistreated or treated as an outcast in the society may be due to wrong interpretation of the photography view or stand point for portrayed a certain theme which wasn't intended for.  These are all risks to the photographer.  One should be objective in photographic to applying skillfully knowledge of his/her work with high degree of intelligence for perfection and avoid controversies hence right interpretations and provide editing skills with more uprightness.
            Objectivity, ethical, intellectual and technical skills coherently works together to perfect photography.  The major part objectivity plays is to direct the mind of the photographer on what conditions and lines one should work on.  It is with directions that we are able to make sound decisions and act according to what positive impacts we are able to do resulting into a transformation.  Lack of objectivity means the works are self centered and one can not be able to interpret what has been done the photography or documentary as an audience or an observer.  In some cases it portrays ignorance of the photographer, gives observers a different interpretation and themes which might create controversy in focused and has been enabled to plan ahead…..(Coles 212).  In addition to this one worked independently and comfortable since there are a direction, guideline and work ethics guiding the photographer.
            Depending on the topic honesty being the sight for what one sees as a photojournalist will be true by providing the correct and right information for the photo essay and to the observers giving a different meaning.  One thing that one intends to do and always forgets is by working when his or her own rules which have been formulated for guidance, this is objectivity keeping our focus in line with what we do and as a result capturing the minds of our observers and audience.  Lack of objectivity means lack of results.  One might argue it out that photography is easy and can be done with any one.  On actual ground should be treated with same approach other topics and careers are treated.  Most challenges some times are from an individual perspective in terms of his thinking capacity, lack of good interpretation skills, financial constraints and poor organization of the whole session or career.  With negative attitude also one will automatically loose since what is captured by the photography will portray what you feel than actual what is intended.  Photography should provide basics of profession and inhibit uniqueness that is correctly done and not interpreted.
            With objectivity one is able to choose what kind of documentation or photography one wishes to do with what purposes.  This conclusion provides a broader mind leaving one with options on what should be done, how it should be done and on what cost depending on affordability.  Photography with objectivity can present and tell truth as evident providing a representation of an event and alternatively lack of objectivity in technical pens could also make one as successful and great as well…(Goodman and McGrath 237).
            However, photography has many controversies which arise due to what kind of photography is being practiced at that time and location. Positively one should be morally upright and also apply code of conduct in public to be objective enough and make sound decisions.  A documentary photographer should be objective since it has a role in the overall value of the photographers work. Though focus and depth of the field could be the biggest challenge to most of the photographer since documentary and photography are part of a process who's end results should be to the audiences have a message or a theme. It's with this perspective that we understand photography with a value that not even the photography could be able to explain. Practicing photography should be objectively done or implemented to help control falling ethics standards of the profession upholding human values despite different types of practice. Practice in every profession needs guidelines, personal commitment, technical skills and knowledge to in order to be a successful career …….. (Coles 272)
 Its amazing how on presumption one can easily assume the artistic value in technical sense of the profession. It depends on the values one holds as an individual since in some areas critics denounces certain kinds of photography as inadequate with moral values, with allegorical subjects and literary theatrically contrived.
In conclusion the decision to be either objective can be interpreted as for an individual depending on the area of photography that is being covered, what areas or regions of the country, what regulations are available, what kind of audience is targeted and who is responsibly.
As an individual would advice and advocate for photography with objectivity for sustainability growth and promote good moral values.
WORKS CITED
Coles, Robert. Doing Documentary Work. USA: Oxford University Press. 1989.
Simon, Dan. Digital photography Bible. UK: John Wiley and Sons. 2004.
Rosenblum, Naomi. A World History of photography. Michigan: Abbeville Press. 1984.
Kamps, Haje.Macrophotography Photoworkship. UK: John Wiley and Sons. 2007
Goodman and MC Grath. Editing Digital Video Journal.UK: McGraw-Hill Professional. 2003