Occupational Safety and Health Act Essay Sample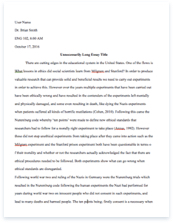 The whole doc is available only for registered users
OPEN DOC
Download Essay
A limited time offer!
Get a custom sample essay written according to your requirements urgent 3h delivery guaranteed
Order Now
Occupational Safety and Health Act Essay Sample
There are few common accidents that usually caused by moving machinery. Working with moving machinery can be dangerous if the machinery is in a poor state or the workers lack of proper training. There are some companies wish to get things moving along quickly, very often workers are asked to operate machinery with little or no training. They think that this will waste their time and finance to give training and practice to their workers thus the production process will slow down.
Workers start to work without any knowledge of the machine and this can pose a real danger as mishandling a machine or using it incorrectly could result in serious injuries. To prevent injuries when using work equipment or machines, a risk assessment must be carried out to identify the hazards and the risk may happen when using the machines and identify the ways to reduce the hazards. Employers must ensure the safety, health and welfare of their employees under the Occupational Safety and Health Act 1994.
Besides, loose fitting and inappropriate clothing can easily become trapped in moving machinery, causing an accident and injury on workers. In addition, poorly maintained machinery can cause eye injuries of workers if the flying debris didn't clean up regularly. Use of personal protective equipment and clothing is a must for a worker when applying the machines. Examples of equipment and clothing are safety helmets, well-fitting gloves, safety goggles, ear protectors, safety footwear like heavy-duty boots and type of clothing which are for instance high visibility garments. The employees should wear a clothing that suitable for the work and fit properly and comfortably. Wear dangling chains, rings, jewellery or accessories also could get caught up in moving parts and cause accidents. Long and messy hair also a cause that injury or accident happened.
Instead, accidents can also happen when employees are asked to clear blockages or carry out running repairs on moving machinery. People can be crushed, both between parts moving together or towards a fixed part of the machine, wall or other object, and two parts moving past one another can cause shearing. It is dangerous and risk when the worker is trying to repair the running machinery by their own.
All the operations must be stopped before they start to repair although it may spend lots of time on it but the worker's safety is the most important things compared to other things. Parts of the machine, materials and emissions such as steam or water can be hot or cold enough to cause burns or scalds and electricity can cause electrical shock and burns to workers during the repairs. Employers should maintaining the machinery regularly to refrain from the injury of worker during repairing the machinery and also giving top priority to necessary repairs so the production or operation would not be delay.
Poor environment will obstruct the employees during work. Inadequate lighting is responsible for a number of accidents each year. Workers are not able to work properly due to the insufficient light on the workplace. They are not able to know the direction and the dangerous part of the machinery that will cause them injured. Besides, wet and slippery floor will also causes the workers slip and fall down or towards the machinery. Messy environment like equipments and tools that at everywhere at workplace, rubbish that throw anywhere and more will cause the workers can't put all of their attention, focus on the operation.
Employees must report any concerns or faults to their employer immediately so they can take action as fast as possible.
Sharp edges can cause cuts and severing injuries, sharp-pointed parts can cause stabbing or puncture the skin, and rough surface parts can cause friction or abrasion. `Moving machinery accident claims typically relate to injuries to the hands, fingers, limbs and eyes. For example, workers can be struck and injured by moving parts of machinery or ejected material. Parts of the body can also be drawn in or trapped between rollers, belts and pulley drives.